Wizards hope home court advantage continues in Game 6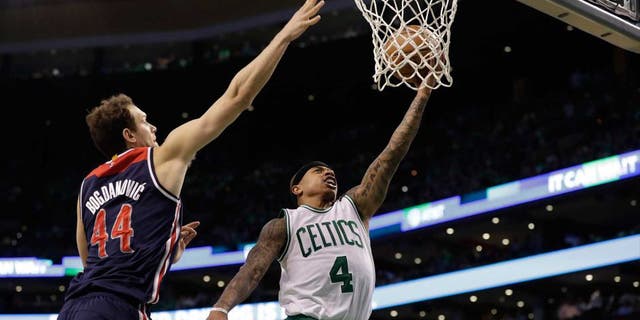 WASHINGTON -- The Boston Celtics and Washington Wizards have played nine times this season, including five games in their Eastern Conference semifinal series.
The home team is 9-0.
That bodes well for the Wizards with Game 6 on their court Friday night. It won't matter the location if the Celtics' role players produce as they did in the previous meeting.
Boston leads the best-of-seven series 3-2 following a 123-101 romp over Washington on Wednesday. Avery Bradley scored 25 of his 29 points in the first half and fueled a 16-0 run in the first quarter that gave the Celtics all the breathing room they needed. The margin never dipped below eight over the final 41 minutes.
"The great start got us going on both ends of the floor, and we have to be that type of team," said Bradley, who scored 12 points combined in Games 3 and 4. Washington, which dominated the first quarter for most of the series, won both games at home by average of 23 points.
"We had yet to get a good start this entire series. Tonight we were able to start the right way," Bradley said. "Everyone was prepared, and that is what it's all about. We're a team, and it's going to take a team effort to be able to beat the Washington Wizards."
Isaiah Thomas, Boston's leading scorer in the playoffs, remained the focus of Washington's defense. The Wizards were content to let his teammates beat them. They didn't in Washington's wins, but with the point guard playing more of a distributor role, other Celtics came alive with the series back in Boston. Al Horford had 19 points and seven assists, while Jae Crowder matched Thomas with 18 points.
The Celtics shot 65 percent from the field in the first quarter and 53 percent overall, including 16 of 33 on 3-point attempts.
"As a basketball player, you got to read what the defense is giving you, and they're really having two to three guys on me at all times," said Thomas, who had a game-high nine assists Wednesday.
Part of what worked for Boston involved beating Washington at its own up-tempo game with 15 fastbreak points in the first quarter.
"We were on the floor. We weren't getting back in transition from the corners," Washington coach Scott Brooks lamented. "We didn't have the focus we had to have going into this game. We knew that they were going to come out aggressive, and they did.
"Everyone knows that once you make some easy shots, the next shots become easier. We outplayed them the (in Games 3 and 4), and they outplayed us (in Game 5). Hopefully, we can come back and play a much better game Friday."
The Wizards cruised at home thanks to runs of 22 and 26 consecutive points. They won't need such a dominant surge to force a Game 7, but they will need a better effort than what they delivered Wednesday. Washington shot 38.5 percent from the field and a dismal 7 of 29 from beyond the arc. All-Star guard John Wall had 21 points but a playoff-low four assists.
"I really don't think we relaxed, I think they kinda surprised us," Wall said of the lackluster start. "When we took shots, they started leaking out and getting out. They made adjustments, it must have been something they saw in the film, and they killed us with it in the first quarter. We kinda took their fastbreak point away from there, but guys were already in the rhythm of making shots. When we aren't making shots, we let it affect us defensively."
Kelly Oubre Jr. returned from a one-game suspension following a Flagrant 2 foul in Game 3 to score 13 points off the bench, but Washington's other reserves shot 3 of 16 from the field.