Wish comes true for MLB with Astros, Rangers AL West race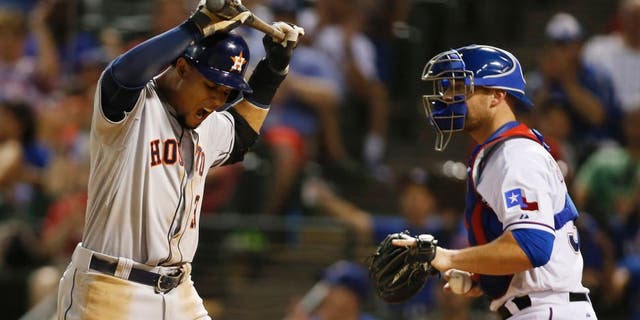 NEWYou can now listen to Fox News articles!
The Houston Astros moved to the American League West division in 2013. The idea behind the then-worst team in baseball trading in years of history in the National League was the prospect of building a true rivalry with Texas Rangers with both teams being in the same state.
At the time of the move, the idea of a rivalry budding between the two teams was nearly laughable. The Astros were far from the level the Rangers were experiencing at the time, with Texas fresh off two World Series appearances in 2010 and 2011 along with a playoff berth in 2012.
Fast forward to 2015, and the Astros are suddenly one of the best teams in baseball, having made themselves comfortable in the first place slot in the AL West for most of the season. The Rangers, however, aren't standing idly by, moving to just two games behind their in-state division rivals as of Sept. 3, looking poised to take the division for themselves.
It may not yet be Yankees-Red Sox, or even Cardinals-Cubs, but this is what MLB wanted all along.
In a state where baseball often takes a backseat to football, people of Houston and the Dallas-Forth Worth Metroplex may be excited about their Texans and Cowboys; but the idea of the Astros and Rangers going toe-to-toe (finally) for something that matters is moving up the totem poll of sports importance in the state of Texas.
Seven games remain between the Rangers and Astros heading into the post-Labor Day regular-season stretch. That means the AL West is shaping up to be an epic race to the playoffs. While a consolation prize for second in the division could be a Wild-Card spot, neither team wants the one-game playoff, the chance to play in the American League Division Series -- and beyond -- is the goal.
At the time of Houston moving to the AL West, it was just another nail in the coffin for the then-reeling Astros, with many in the city feeling angry about the big change. Now that Houston finally found it's winning ways once again, fans have forgotten the ordeal and now embrace the thought of playing deep into October for the first time in 10 years -- even if it's in the American League. Racing the Rangers, having the chance to beat Dallas-Fort Worth in the never-ending competition between the two regions? That's just the icing on the cake.
Congrats, MLB, you have finally gotten your wish. Baseball in the state of Texas just got a lot more interesting.
Follow Shawn Ramsey on Twitter: @ShawnPRamsey
MORE FROM FOX SPORTS SOUTHWEST:
- PHOTOS: Cowboys Cheerleaders Auditions
- Ranking NFL quarterback salaries
- Oldest player on every NBA team
- College football's highest paid coaches in 2014