Wimbledon big man Adebayo Akinfenwa has perfect response for joke he ate his twin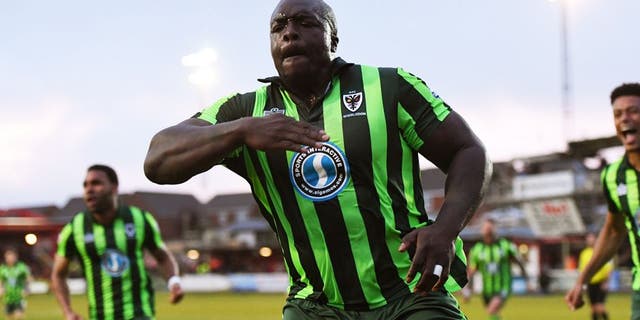 Adebayo Akinfenwa doesn't fit the build of your typical soccer player, especially a striker. Standing at 5-feet 11-inches and weighing in at 189 pounds, he seems more suited for rugby rather than soccer. But guess what? Akinfenwa doesn't care.
He's a fan favorite wherever he goes, and a cult legend on the FIFA video game franchise. (He's routinely one of, if not the strongest player in the whole game).
So when AFC Wimbledon called upon the stalwart striker to help their charge in the second leg of League Two playoff semifinals, all eyes focused in on the big substitute. And the 34-year-old Englishman delivered with a 68th-minute header that forced extra time against Accrington Stanley. A Lyle Taylor goal in the extended period booked Wimbledon's spot in the final on aggregate goals.
After the Thursday match, Sky Sports announcer Ian Holloway made note of Akinfenwa's impact (and girth) on the pitch, joking that Wimbledon striker "had a twin but he ate him." Well, good sport that Akinfenwa is, he posted a response via Instagram on Friday. Take a look:
We can't wait to see Akinfenwa marauding on the pitch at Wembley.
MORE FROM FOX SOCCER: