Wildcats, Sun Devils among those in Pac-12 failing to live up to expectations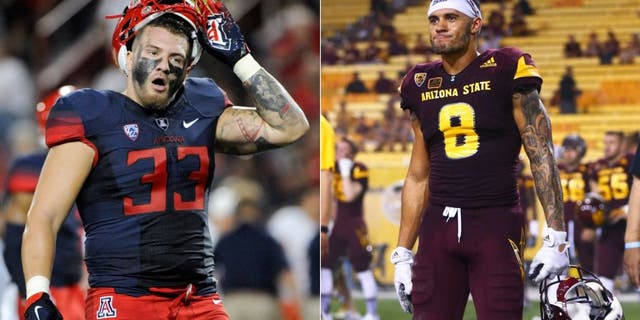 NEWYou can now listen to Fox News articles!
PHOENIX -- The Pac-12 had six teams in The Associated Press Top 25 preseason poll for the second straight season, second only to the SEC's eight teams.
The conference has one team left from that original group still ranked: No. 10 Stanford.
Utah moved up to No. 3 this week and California is holding steady at No. 20, but the rest of the conference's supposedly top teams have failed to live up to expectations in one way or another.
As a reminder of what a difficult-to-predict season it's been in the Pac-12, here's a rundown of the teams that were ranked in the preseason poll, along with where they stand now:
OREGON
Preseason rank: 7.
Record: (4-3, 2-2 Pac-12).
What went wrong: The start of the Ducks' post-Marcus Mariota era has not gone well. Oregon thought it had a replacement for the Heisman Trophy winner in Eastern Washington transfer Vernon Adams, but things have not worked out as the Ducks expected. Adams injured his finger in an opening loss to Michigan State and later missed two games after struggling. Oregon was on the wrong end of a home blowout against Utah and followed with a double-overtime loss to Washington State. The Ducks rallied to beat Washington in Adams' return last week, but look more like a team just trying to become bowl eligible than compete for the Pac-12 North title.
SOUTHERN CALIFORNIA
Preseason rank: 8.
Record: (3-2, 1-2).
What went wrong: With Cody Kessler returning under center, this was the year the Trojans were supposed to make their big comeback. Instead, the season unraveled right in front of them. USC followed a close loss to Stanford with a blowout win over Arizona State and still looked like a contender in the Pac-12 South. Then came an inexplicable home loss to Washington, the subsequent firing of coach Steve Sarkisian, and a road loss to Notre Dame under interim coach Clay Helton. There's still some belief in these Trojans, though; they're three-point favorites over. No. 3 Utah this weekend.
UCLA
Preseason rank: 13.
Record: (4-2, 1-2).
What went wrong: The Bruins opened the season with a win over Virginia, ended BYU's surprising string of last-second victories and blew out Arizona in the desert to reach No. 7 in the AP Top 25. Things have not gone well since then. Arizona State outlasted UCLA at the Rose Bowl two weeks ago and the Bruins were blown out at Stanford last week. UCLA also has gone through a string of injuries on defense, the big one being linebacker Myles Jack's season-ending knee injury. The schedule doesn't get much easier with Cal, Utah and USC still left.
ARIZONA STATE
Preseason rank: 15.
Record: (4-3, 2-2).
What went wrong: Coach Todd Graham called this team the best he's had and it was hard to argue with the talent the Sun Devils had coming back. Arizona State has certainly failed in living up to those lofty expectations. The Sun Devils opened the season with a difficult loss to Texas A&M and followed two so-so victories over smaller-conference opponents by getting blown out at home by USC. Arizona State seemed to get back on track with wins over UCLA and Colorado, but is now a longshot to win the Pac-12 South after losing to Utah last week.
STANFORD
Preseason rank: 21.
Record: (5-1, 4-0).
What went wrong: Not much; the Cardinal are the one team from the preseason poll that isn't having trouble. Stanford inexplicably lost its opener to Northwestern, leading to calls that the Cardinal were overrated. They've steadily climbed the polls since then, starting with an attention-grabbing win over USC at the Coliseum in Week 3. Stanford followed with a victory over Arizona State and cemented its place as the Pac-12 North favorite by blowing out UCLA last week.
ARIZONA
Preseason rank: 22.
Record: (5-2, 2-2).
What went wrong: The Wildcats' soft nonconference did not seem to do them any favors. Arizona opened the season with victories over UTSA, Nevada and Northern Arizona, but was crushed at home by UCLA in its Pac-12 opener and lost quarterback Anu Solomon to a concussion. The Wildcats followed that with a lopsided loss to Stanford to open conference 0-2. Arizona has since beaten Oregon State and Colorado, but has a brutal schedule that includes 12 straight weeks without a bye.