Why we still haven't seen the best from the Boston Red Sox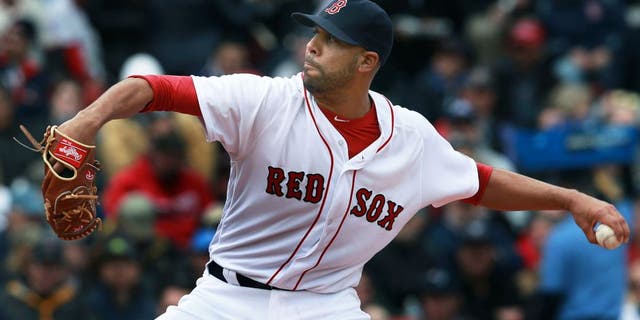 NEWYou can now listen to Fox News articles!
The Boston Red Sox finished last in the AL East in each of the past two seasons. That came after they won the World Series in 2013. To say both campaigns were absolute disasters would be a grave understatement because they were worse than that.
This season has been a different story, though. A much different story. At the quarter mark, the Red Sox are 25-16 and sit just a half-game back of the Baltimore Orioles in the AL East. At this point last year, they were 19-22 and reached third place in the division just once thereafter.
Their record is impressive, of course, but it's the way they're getting it done that's the most eye-opening. No team has scored more runs than Boston (240). The Cubs are second with 218. The Red Sox have the highest team batting average in baseball: .296. The Pirates are second at .280. They're the only team with more than 100 doubles, 19 clear of the next-closest team.
Sure they have power, but speed is plentiful, too -- their 31 steals are second in MLB. In 2014, they swiped 63 bases in 162 games. By comparison, Boston is on pace for 122 steals this season.
All of this is well and good, but the Red Sox haven't even reached their potential. We have yet to see the best from them, which is scary. Here's why.
Boston's team ERA is 4.22, which is 18th in MLB. The Red Sox have walked more batters than all but six teams in the majors despite striking out the third-most. David Price was signed to be the ace of the staff, however he's been anything but that. His ERA sits at a bloated 5.53, well above his career mark of 3.18.
So what are the Red Sox going to look like when he get backs on track as he's assuredly going to? Just look at his last two starts for a glimpse. He's struck out 17 batters in 14 innings and allowed just three earned runs. Additionally, he's walked only two batters in that span while lowering his ERA from 6.75 to 5.53.
When Price allows two or fewer runs, which he's done five times in nine starts, the Red Sox are 5-0. And in those five games, they've given him plenty of run support with an average of 7.4 runs. So it's not like he has to go out and pitch gem after gem. He just needs to give Boston quality starts -- the offense will do the rest.
The Red Sox's other big offseason acquisition was Craig Kimbrel. How's he fared this season? Not great, by his standards. He's blown only one save, but his 2.50 ERA leaves plenty to be desired. His walk rate is up with eight in 18 innings, and he's already surrendered two big flies. He's been light's out of late, though, surrendering just one hit in his last nine innings. That's what the Red Sox stand to expect going forward.
Boston has remained fairly healthy this season, with Pablo Sandoval being the only big name player on the sideline. But one player who's gotten overlooked due to the team's success is Eduardo Rodriguez. Last year as a rookie, he started 21 games, posting a respectable 3.85 ERA and 98 strikeouts in 121.2 innings. He has yet to throw a single pitch in the bigs this season due to a knee injury and could come in and be the No. 3 starter when healthy.
He suffered a setback in his rehab recently, but that's far from a major problem for the Sox. They're scoring nearly six runs per game. But when Rodriguez does return, he'll ease the burden of having Clay Buchholz struggle as often as he has this season. Instead of needing to score eight runs to make up for his five earned runs allowed, the Red Sox will be able to afford to score less and still win with Rodriguez on the mound.
Though it's hard to complain about anything the Red Sox are doing at the plate, but there's room to improve, which is again, frightening. Hanley Ramirez has become less of a power hitter, with just four home runs on the year. That's not to say he doesn't still have pop in his bat. Through 41 team games in 2015, he had 10 home runs and 23 RBI with a .263 batting average. Right now, he has four homers and 23 RBI, but his average is up to .314. He's using the whole field more often, which is great, yet the power hasn't come along. But it will.
When playing at least 100 games, Ramirez has never finished with fewer than 13 home runs, and the 13-homer season was in 2014 when he still had 71 RBI in Los Angeles.
There are several reasons the Red Sox haven't realized their potential just yet, most having to do with pitching. The offense, led by Jackie Bradley Jr., of all people, is going to continue to put up runs in bunches with the likes of David Ortiz, Xander Bogaerts Mookie Betts and Dustin Pedroia at the top of the lineup. It's the pitching that has to come around, and when it does, look out, MLB. The Red Sox are on track for another World Series appearance.