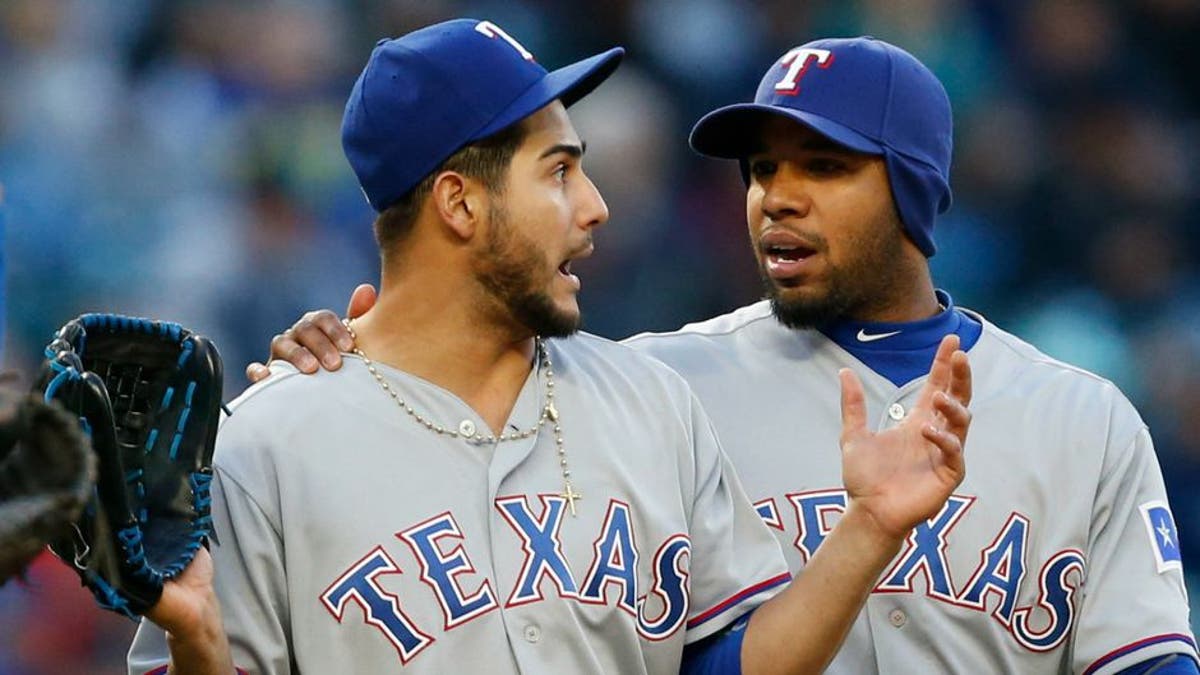 So, what if the Blue Jays, Rangers and Giants really do stink and end up sellers at the non-waiver deadline?
A buyers market could emerge, one that could even include some of the rebuilding clubs as sneaky players.
The Braves already plan to act as buyers and sellers, and the Reds also would consider adding controllable pieces, according to major-league sources.
The Phillies, Brewers, Twins and Padres conceivably might take similar approaches, but an executive from one of those clubs says that July is not the best time for such teams to make significant upgrades.
The July market tends to be more emotional than the offseason market, the exec said. So, it seems unlikely that an out-of-contention team would be the most motivated to swing a trade like that. Not impossible, but unlikely.
Obviously, the performances of each club will help determine their strategies. The Reds, for example, probably would be more compelled to act if they remained in contention unlikely, considering their 5.29 rotation ERA is the highest in the majors.
In any case, this will be a different market, if only because of the new rules regarding draft-pick compensation for free agents who reject qualifying offers and sign with new clubs.
Unlike in the past, only a revenue-sharing recipient will receive a pick immediately following the first round for such a player and only if the free agent signs a contract for a total guarantee of $50 million or more.
All other circumstances will yield lower picks, reducing the incentive for teams that are out of contention to carry players to free agency; the better returns would come in trades.
The non-waiver deadline is nearly three months away. Teams will not get serious about trades until after the amateur draft, which runs from June 12 to 14. But things will be interesting. Things always are interesting.
The dynamics are different every year.
YANKEES FOR REAL?
Well, yeah, but offensive regression seems inevitable.
The Yankees rank first in the American League with a .317 batting average on balls in play; the major-league average is .292. Starlin Castro (.400 BABIP), Matt Holliday (.345) and Chase Headley (.342) are hitting into particularly good luck, while Aaron Judge, Jacoby Ellsbury and Brett Gardner also are a good bit above the league average.
Judges average exit velocity, which ranks fourth in the majors, helps produce a high BABIP, but as one rival exec puts it, Every Yankee right now looks like his best self.
I wouldnt go that far weve yet to see the best of Gary Sanchez and Didi Gregorius, both of whom missed significant time with injuries. But only six teams have outperformed their weighted on-base average to a greater extent than the Yankees, according to exit velocity/launch angle data on Statcast.
One also could argue that the Yankees rotation also is bound to regress, whether through injury, inconsistency or both. The team boasts numerous alternatives at Double-A and Triple-A, but Jordan Montgomery likely will face an innings restriction of some kind.
A trade for another starter almost certainly will be a consideration if the Yankees remain in contention.
HERE COME THE MARINERS?
The Mariners, who have gone 13-9 since opening the season 2-8, might actually be in position to challenge the Astros once four significant players return from injuries.
Reliever Steve Cishek could be back this weekend, while right-hander Felix Hernandez, left-hander James Paxton and right fielder Mitch Haniger could return on the next homestand, which runs from May 15 to 21, general manager Jerry Dipoto said.
Thats the most optimistic scenario, assuming no setbacks. But the Mariners, despite their multitude of injuries, rank third in the AL in runs per game and fourth in rotation ERA. Their bullpen numbers are far less attractive, but part of that is due to poor performances by journeymen and youngsters who were pressed into unexpected duty.
The Ms, believe it or not, already have used 12 rookies, matching the Reds for the most in the majors. Two others, closer Edwin Diaz and left-hander Ariel Miranda, have less than one year of service.
That is why I always refuted the idea that we had blown up the farm system, said Dipoto, who made 13 trades involving 36 players during the offseason. What we did is take the lower levels and turn it into the upper levels. Right now, its really benefiting us.
Still, the Mariners start has been jarring, to say the least. In addition to the injuries, theyve demoted two Opening Day starters, center fielder Leonys Martin and catcher Mike Zunino, and gone from Danny Valencia to Dan Vogelbach back to Valencia at first base.
Can the Mariners threaten the Astros?
Ill believe it when I see it, but its not out of the question that the Ms will turn their season around.
Dipoto, while highly complimentary of the Astros, said, If you lined up all the worst-case scenarios for us, they all hit … this guys hurt, that guys hurt, this guy under-performed.
For the Astros, the opposite happened. They got the Cy Young version of Dallas Keuchel. Lance McCullers is really good. Their bullpen is terrific, Dipoto continued, overlooking the Astros one significant injury, to righty Collin McHugh. If their pitching is as good as we think it is and I think it is excellent, particularly once they get into the middle of the game and can launch (Chris) Devenski and shorten the game up it is particularly ominous.
Weve also seen Cleveland -- theyve got that dynamic bullpen. Those two teams are exceptional, we understand they are that good. But we cant focus on anybody else in the situation were in. Weve got to play day by day and hopefully hold our ground while these guys heal up. So far, weve been able to do that.
THE DIFFERENCE WITH THE CUBS …
A teams record in one-run games is not necessarily a reflection of its overall strength; most executives believe that luck plays a significant role in one-run decisions, with outcomes often dictated by a pitch here or a hit there.
A better measure of a teams quality is how often it blows out an opponent, which brings us to the 2017 Cubs, who are 16-15 after 31 games as opposed to 25-6 a year ago.
The Cubs last season were an astonishing 42-13 in games decided by five or more runs. They finished the season with a run differential of plus-252, the highest in the majors since the 2001 Mariners were plus-300.
This season? Different story so far.
The Cubs run differential is only plus-10, and theyre 3-3 in games decided by five or more runs. The improvement of the Reds and Brewers also is tightening the NL Central. The Cubs, after going 50-25 against the Central last season, are 10-8 within the division thus far.
LETS DREAM ABOUT THE REDS …
After all, it might be the last chance we get.
Seriously, what happens if this team patches together a rotation? Its not out of the question left-hander Brandon Finnegan and right-hander Homer Bailey could return in late June, righty Anthony DeSclafani in July.
The Reds, second in the NL only to the Nationals in runs per game, are proving they can hit, even though first baseman Joey Votto is their only regular with a lengthy track record.
Their bullpen -- thanks to the dominance of righty Raisel Iglesias, emergence of lefty Wandy Peralta and creative usage by manager Bryan Price, among other reasons -- has gone from the worst in the game to, at least thus far, one of the best in the NL.
Perhaps the most interesting development, though, is the performance of the Reds defense.
The Reds actually were quite good defensively last season, ranking seventh in the majors in converting balls in play into outs. This year, though, they are first, with shortstop Zack Cozart and third baseman Eugenio Suarez ranking among the leaders at their positions in defensive runs saved. (Suarez currently rates as the top third baseman, and second only to Cubs shortstop Addison Russell among all infielders).
Cozart, earning $5.325 million in his walk year, remains a prime candidate to be traded no matter where the Reds are in the standings. Second baseman Jose Peraza can move to short, enabling the Reds to promote second baseman Dilson Herrera from Triple-A.
AROUND THE HORN
*Infield defense remains a concern for the Diamondbacks, who rank 24th in the majors in converting balls in play into outs. Second baseman Brandon Drury, shortstop Chris Owings and third baseman Jake Lamb all rate as negatives in defensive runs saved.
All of those players, though, are 26-and-under, so its not as if improvement is out of the question. Drury, in particular, is relatively new to his position, and one club official compares his intensity and work ethic to that of an NHL captain.
Nick Ahmed is Gold Glove-caliber when he starts at short (he actually has played more innings at the position than Owings, who also has filled in at second while producing an .833 OPS). And Ketel Marte, who is playing well at Triple-A, could enter the middle-infield equation at some point this season.
*Good to see Rays shortstop Tim Beckham, the No. 1 overall pick in the 2008 draft, finally gain some traction in the majors while replacing the injured Matt Duffy.
Beckhams on-base percentage is just .284, but his OPS is .766 in part due to his six home runs. He also has rated as a plus defensively.
Duffy is expected to return from left-heel surgery in late May. He almost certainly will not be ready to assume a full load immediately, and Beckhams versatility should help him get continued playing time he can play all four infield positions and left field.
*Cody Bellinger has electrified the Dodgers with his power and athleticism, raising questions about where he will play once first baseman Adrian Gonzalez returns from right elbow soreness good questions for the club, obviously.
Right fielder Yasiel Puig remains his usual intriguing self excellent defensively, inconsistent offensively. Puigs groundball percentage is the highest of his career, and he has grounded into a major-league high 11 double plays.