Why it's important for NASCAR to embrace its past by going retro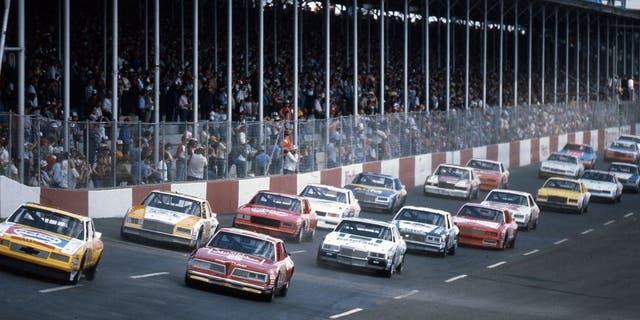 The theme for this weekend at Darlington Raceway has been hard to ignore. From paint schemes, to firesuits, to facial hair and uniforms, most of the NASCAR garage has gone retro for the Southern 500's return to Labor Day weekend.
The retro movement was a massive undertaking by NASCAR, the track, teams and sponsors. But why is a throwback weekend so important for the sport?
"We have such a new generation of fans, there a lot of people that are watching these races today don't know what Harry Gant's car or Buddy Baker's car looked like. These are guys that built our sport to where it is today, so I think it's crucial," crew chief Tony Gibson told FOXSports.com Saturday at Darlington. "I think it's great. I wish they would do it for a three- or four-race stretch, because it shows our new fans what our cars looked like back in the day. It's no different than looking at a 1967 Corvette to a 2015 Corvette. It's like, 'Holy cow, that's what it looked like back then?' I think it's the same way with this."
As NASCAR transitioned from the 1990s into the 2000s, the sport expanded and grew to new heights of popularity. But over the past decade that popularity flattened out, popular drivers retired, the Car of Tomorrow project caused a fan backlash and some fans turned away from the sport.
While some walked away, a whole new generation of fans was embraced. NASCAR introduced new tracks, new rules and new cars. As technology and social media developed, NASCAR embraced it full-heartedly and now uses mobile apps, video games and social media to branch out in ways it never had before.
By bringing back old paint schemes, uniforms and more, NASCAR is making an effort to bring its past back to the future and reintroduce it to a new batch of fans. In addition to the retro paint schemes and threads, a host of NASCAR Hall of Fame members have also been brought to Darlington this weekend to meet with fans, share their stories and be a part of the tradition.
"We're real proud of our heritage," said crew chief Chris Heroy, who calls the shots for Kyle Larson. "The Southern 500 has come back to Labor Day weekend. When I first got into (NASCAR), I was with Terry Labonte when won it (in 2003). It's a big deal for the region, it's a big deal for the town and it's a big deal for our sport. We just kind of get behind it and celebrate it. It's fun to mix it up."
Running one of the iconic Mello Yello paint scheme made famous in the movie "Days of Thunder" this weekend, Heroy said he and Larson might rattle off a few lines from the film over the team radio during the race. But he said they both know the job at hand is earning a victory and securing a spot in the Chase for the Sprint Cup.
"I'm sure we'll end up throwing some lines around at some point. Everybody and their mother knows 'Days of Thunder,' at least in this garage," said Heroy. "We'll throw some out there for the fans, but we've still got to be all business. We're trying to get this thing in the Chase and we need a win. We just watched Scott Dixon (a Ganassi teammate) win a championship from a long shot, so we won't get too wrapped up in eating ice cream."
"I think it's good to pay respect," said Richard Childress Racing driver Ryan Newman. "It probably means a little more since (NASCAR) went down the path that was not as successful with the winged car and all that stuff a few years ago. I think it's really cool everyone has embraced this. It may not be your thing, but you don't dislike it."
Unlike Gibson, his former crew chief, Newman thinks a one-off retro event is perfect and would not be as special if done over and over again.
"You can only do it so often," he said. "You can't do something like that all the time. It kind of loses some of its luster if it becomes like the things we do the rest of the year."
The new faces to NASCAR are not just showing up in the grandstands, either. There are a host of new and younger faces in the garage area as well.
"I think the biggest thing is that you have so many new faces in the garage that it's important to do," said Richard Petty Motorsports crew chief Trent Owens, who is rocking a retro crew uniform complete with bright red pants. "It makes people stop and check out tradition and how the sport has developed. It kind of gives you an idea of what those guys raced and what they wore.
"It also added energy. I think the timing was perfect. I think the Southern 500 was the perfect event for it and I think that's why everyone is so excited about it. It's probably educational for a lot of people."
While going retro is a history lesson for many in the garage and in the grandstands, for others it is a welcomed trip down memory lane.
"It's awesome because I can remember all those old cars like it was yesterday," said Gibson, who worked with 1992 Sprint Cup champion Alan Kulwicki. "It's pretty neat to talk to the guys and look around and see people say, 'Wow, that's what those cars looked like?' Just like Clint Bowyer's paint scheme being hand-painted. That's how we did it (back in the day). There were no decals. It's really big for our sport and I'm glad NASCAR did it. I wish they would do more."