Why Erik Jones has the potential to earn a 'storybook' first career victory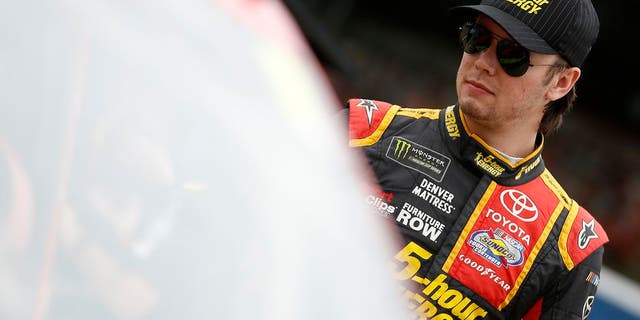 NEWYou can now listen to Fox News articles!
BROOKLYN, Mich. -- We've already seen three first-time Monster Energy Series winners so far in 2017 with Ricky Stenhouse Jr., Austin Dillon and Ryan Blaney.
That begs the question: Who will be the next young driver to get it done?
Chase Elliott, Erik Jones, Daniel Suarez and Ty Dillon are waiting in the wings for their opportunity to triumph at NASCAR's highest level.
But it's Jones that really sticks out as a driver who could be the next to roll into Victory Lane. And there's an excellent chance it could happen in Sunday's FireKeepers Casino 400 at Michigan International Speedway (2 p.m. ET, FS1).
Jones' hometown of Byron, Michigan is located about an hour-and-a-half north of MIS, making itthe perfect place for the rookie Furniture Row Racing driver to accomplish the feat.
And there's nothing like home sweet home, which is something that Jones has taken full advantage of throughout the week.
"(Thursday) I kind of got to take the day off, visit a little friends and family and then back it again, so just nice to come home," Jones said. "Nice to sleep in the house that I grew up in and stay there."
Getting his first race win in hisfirst-ever Cup race at Michigan is all Jones can think about this weekend.
Itd be really cool," Jones said. "I told somebody earlier today that I was jealous last year watching Kyle Larson get his first win here because I was saying, Man, that sure would be pretty storybook if I could do something like that. Id love to get my first win here."
The victory would be a momentous occasion that only movie writers could script, but it has all the makings of becoming a reality.
Jones has been impressive in the first 14 races of his rookie year and he's shown a ton of speed in his No. 77 Toyota throughout the weekend. He had the eighth-fastest time in Saturday morning's second practice session, while also recording the fourth-best 10 consecutive lap average.
"We have a lot of momentum right now and I think we brought a good car again this weekend, so it would mean a lot to me," Jones said. "It definitely would be cool with as many people that would be here watching and would get to enjoy it all with me in Victory Lane … so itd be pretty special.
Matthew T. Thacker | Matthew T. Thacker LAT Images www.latphoto.co.uk