Wes Welker's transition from Brady to Manning has been smooth, swift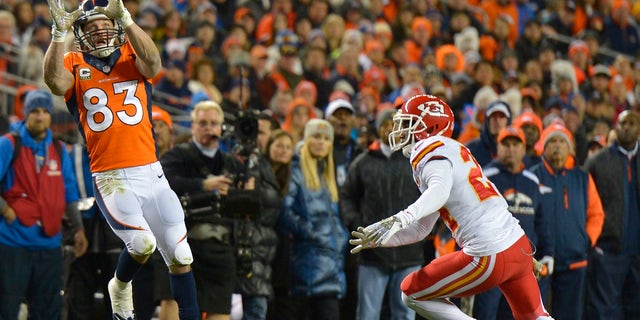 ENGLEWOOD, Colo. – There are some things in life that just get better with age. Love letters. Fine wine. The rapport between a receiver and his quarterback.
Yet, Wes Welker hasn't wasted any time becoming Peyton Manning's top target, just as he quickly became Tom Brady's bull's-eye in New England.
Welker set a franchise record with 112 catches his first year with the Patriots in 2007, when Brady set the NFL record with 50 touchdown passes
Manning is on pace to break that mark with 54 TDs this season, thanks in good measure to Welker, who has already matched his career high with nine TD catches.
The Broncos are on pace to score 636 points, which would break the NFL record of 589 set by the '07 Patriots.
"That was a great year for us," Brady said. "You watch what these guys are doing and they have better numbers than we had. It's incredible to score points like that."
Welker is the common denominator.
With a team-best 61 catches, he's had an immediate impact in Denver, where the Broncos were already rich at receiver and even though in Manning's mind, it takes years, not months, for a QB and a receiver to work out the kinks.
Those who know Welker say he sped up that process through an uncommon mixture of talent, work ethic and determination, the very attributes that have made him the league's pre-eminent slot receiver.
"The biggest thing I see is the competitive nature," Broncos interim head coach Jack Del Rio said. "Those two guys are as competitive as they come, and I think that's part of the fuel that drives him to work the way he works at being prepared and at being on the same page."
Former teammate Rodney Harrison, who is now an analyst at NBC, said, "Everyone looks at all his catches and what he's done from a numbers standpoint, but I think the thing that goes unstated is how much effort he puts in as far as the mental aspect of the game. I mean he's chasing Tom Brady down, he's always in constant communication with the offensive coordinator, the wide receivers coach, always wanting to learn, always wanting to get it right. And you can see the frustration on the field if it doesn't go perfect with Wes."
What makes Welker so special, Harrison said, isn't what he does on game day but what he does the rest of the week in the meeting room, the weight room, the film room, even the locker room.
"The thing that really makes him great and really has elevated his career was his willingness to learn the system and learn his quarterback. I think with all those years that he's been with Brady, obviously when he goes to another great quarterback similar to Brady — maybe a little more of a 'brainiac' than Brady — he's already prepared because he knows, because he just came from one of the best," Harrison said.
Welker's smooth, swift transition is no surprise to Brady.
"Well, he's got a great understanding of the game and coverages, defenses, how to run routes, how to set up routes," Brady said. "I know that he's got great awareness and you can see with those two already, I've seen a lot of their games and their offense and they do a great job and they have a great connection."
Manning looks at Welker as a sage who has brought along youngsters Demaryius Thomas, Eric Decker and Julius Thomas, teaching them the finer points of the position.
"Wes has a great work ethic and he's provided just good leadership to our offense. He was voted a captain, which is a real credit to him, in his first year," Manning said. "... And he loves football. He's a tough guy. He plays through injuries. And those are things that you appreciate about a football player, especially playing in that slot position where he's taking a lot of hits."
In fact, Welker sustained a concussion in the fourth quarter of Denver's win over Kansas City on Sunday and missed practice on Wednesday, although he participated in warm-ups, suggesting he had passed his baseline test earlier in the week.
If that's the case, he'll be able to do non-contact work Thursday and practice Friday in anticipation of facing his former team Sunday when the Broncos (9-1) visit the Patriots (7-3) in the latest Manning-Brady showdown.
Welker was getting a massage during the media access period Wednesday and didn't speak with reporters.
Manning sounded as though he expects to have Welker to throw to Sunday, and Brady said he's sure he'll see his old buddy in action.
"He's a tough guy, so he's played through everything," Brady said. "This is a big game for both teams so you have to expect their best players."
Notes: Manning hasn't practiced on a Wednesday since Oct. 16. Also sitting out this week was Julius Thomas (knee) and TE Joel Dreessen (knee). ... The Broncos are 20-2 since losing 31-21 at New England on Oct. 7, 2012.
___
AP NFL website: www.pro32.ap.org
___
Follow AP Pro Football Writer Arnie Melendrez Stapleton on Twitter: http://twitter.com/arniestapleton