Weight cuts, elevation and hostile crowds: Myles Jury on fighting out of the country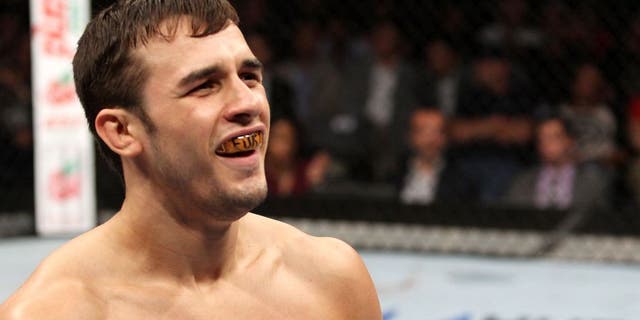 NEWYou can now listen to Fox News articles!
The UFC has grown tremendously since the first "Ultimate Fighter" finale in 2005. I was in high school and at a party watching the war between Stephan Bonnar and Forrest Griffin on live TV. That UFC event, like all others, were primarily based out of Las Vegas, the highly touted fight capital of the world. The UFC's world dominance started expanding in 2012 as the organization hosted events in Japan, Brazil, China, Sweden and other parts of the world.
Fighting out of the country is an added challenge for a fighter. Although it's not the most important factor to take into account, it is one that's worth paying a lot of attention to, because it does affect the outcome of a fight.
It may look on the surface that fighting in Brazil or Japan would seem like an extra perk or vacation for a fighter. Unfortunately, there are much more responsibilities that the fighter must prepare for when fighting out of the country.
For example, at UFC 188, Cain Velasquez and Fabricio Werdum battled for the UFC heavyweight title in Mexico City, where the elevation is 7,382 feet above sea level, making it harder to breathe.
Going into the fight, Werdum spent a majority of his training camp in Mexico City, training at the high altitude. Velasquez, on the other hand, only spent two weeks preparing in high altitude.
I was shocked witnessing Velasquez --€" affectionately known as Cardio Cain to some fans -- very exhausted within a couple minutes into the fight, no power on his punches, and appeared to be walking as if he was standing in quicksand. Werdum was a monster coming forward, landing a lot of strikes and eventually submitted Velasquez in the third round.
Could it be that Werdum is that much better than Velasquez?
Possibly, but I truly believe the biggest problem was Velasquez's failure to factor in the high elevation and how that would affect him, compared to the United States.
Let's take a look at a few challenges a fighter will face fighting out of the country:
Getting used to different time zones and elevation
A fighter "should" get into the location of the fight, early enough to adjust their bodies to the different time zone and elevation, when in another country. For my fight in Japan in 2014, Tokyo was 16 hours ahead of Pacific Standard Time, so I had to stay awake during the entire 11-hour flight to be on par to fall asleep upon arrival in Tokyo.
It wasn't easy, but it was crucial to have my sleeping pattern on the right track for my big fight. A fighter must also get into the country soon enough to adjust to the elevation or any other changes such as climate.
Getting into the country a week before the fight, training and getting workouts at the same time you will be fighting, is a great way to make sure you're 100 percent ready to go on fight night. If the elevation is a lot higher, I would suggest getting out there three to four weeks prior to the fight, so your body has enough time to get adjusted.
Cutting weight
Almost every fighter cuts some type of weight in the UFC. Staying on track of your weight cut is crucial to making weight and having a great performance.
When fighting out of the country, it makes simple things like finding food for your diet or water, a pain in the butt. When I was in Japan, it was nearly impossible to ask someone on the street where a grocery store was, due to the language barrier.
I had to resort to a mix of body and sign language, to find anything in the town. Luckily, I got into Tokyo seven days before the fight. That gave me time to get used to the city, and find out where the grocery store and good restaurants were.
Fighting in front of a hostile crowd
When fighting outside of the country a fighter faces the challenge of a different and sometimes hostile crowd. In Brazil, the crowd is very hostile. A Brazilian crowd was screaming "you're going to die," at one of my teammates, as he walked to the UFC octagon. It's not uncommon for Americans to be "booed" in Brazil or have loud chants of "Brazil, Brazil" as they're fighting in the cage.
For my fight in Tokyo, Japan, it was completely different as I walked to the octagon -- instead of a hostile crowd, it was almost silent.
This was very unusual at the time, because I am used to fighting at the MGM Grand Garden Arena in Las Vegas, where the crowd is very energetic and loud when walking to the cage. This was something I had to overcome and was definitely different for me, but I was prepared as Japanese fans are known for being respectful and silent at UFC events.
There was a very large group of Japanese fans waiting in the lobby every single day. I couldn't understand a lot of them, but they were very supportive. A few of them even brought me gifts. My experience with the Japanese was amazing.
I expect things to be completely opposite for the foreigners traveling to Ireland.
The crowd in Ireland is notorious for being the loudest and most energetic crowd in the world. In fact, a July 2014 UFC event in Ireland, reached the highest decibel point ever for all UFC events, according to UFC president Dana White. That mark was a constant 103, compared to a rock concert at 110. You can expect the Dublin event this Saturday to pick up where they left off, in support of all their Irish lads, while screaming obscenities at all non-Irish lads.
The different atmosphere in the crowd is definitely something a fighter will need to take into account and be prepared for all of fight week.
Downtime
I like to call the week before a fight, "hurry up and wait," because a lot of the time is spent lounging around with your team and trying to keep your mind off the fight. When fighting out of country, a fighter doesn't have all the luxuries that he or she is used to back home, such as going to your favorite restaurant for a bite to eat or grabbing a coffee with a friend or family.
There is a lot of isolation involved in fighting out of the country, so a fighter must find things to do in order to stay sane. In Japan, for example, I spent a day roaming the city with my coaches and training partners, immersing myself in the culture of Japan, walking around checking out different stores and visiting temples.
It was a great way to keep my mind fresh and motivated for the big fight ahead.
At UFC Fight Night this Saturday, Oct. 23, in Dublin, Ireland, the main event features Paddy Holohan vs Louis Smolka.
The fighters on the card must prepare for various challenges, especially when traveling to another country. Since Ireland doesn't have high elevation, arriving to Dublin 7-10 days before the fight, is enough time to get used to the time change and any other differences. They will have ample time to get their weight cut in order by arriving early, and find things to do with their down time, all in which will equal a better performance on fight night.