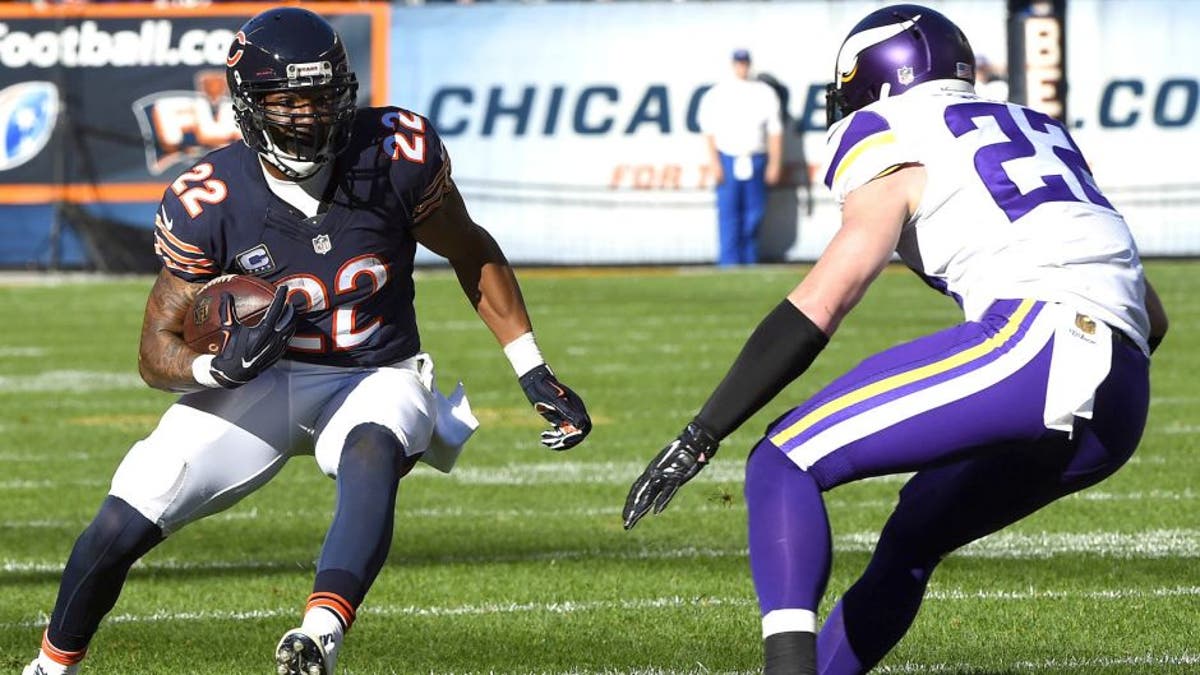 We've reached the midway point of the 2015 NFL season, but not without a particularly taxing Week 8 in which numerous stars went down with injuries.
Matt Forte
The Bears are expected to be without Forte for at least a week, after the Pro Bowl running back suffered a sprained right knee. The team has not revealed many specifics regarding the injury but did say that it's not considered season-ending.
Based on this information and the mechanism of injury, the issue is likely a sprained medial collateral ligament (MCL). The MCL is most often injured when the knee is subjected to a valgus force. This occurs when the outside of the knee is hit, forcing the inner (medial) portion of the joint outward. This appears to have occurred when Forte was taken down with his right foot planted. Fortunately, low-grade MCL sprains are capable of healing without surgical intervention and Forte should be back this year.
However, the severity of the sprain and any other damage, such as a bone contusion, will determine just how long this absence will last. The Bears continue to suggest there is an outside chance Forte could suit up in Week 9, but I wouldn't use him even if he does. MCL injuries restrict lateral movement, and any functional limitation would negatively impact Forte's ability to make sharp cuts and elude would-be tacklers. Rookie Jeremy Langford will start in the meantime and should be added in all formats.
Le'Veon Bell
The Steelers' Pro Bowl running back wasn't quite so lucky, as the MCL tear he suffered Sunday was much more significant than Forte's injury. Bell suffered a high-grade MCL sprain, meaning the ligament fibers were torn, and he was placed on season-ending injured reserve.
Bell injured the same knee in Week 17 last season and was forced to miss Pittsburgh's playoff game. At the time, that injury was simply coined a hyperextended knee, though it did give him problems throughout the offseason. Bell may ultimately need surgery but appears to have avoided significant damage to the anterior cruciate ligament (ACL). If this is the case, Bell should be ready to go for next season.
For now, the Steelers turn to DeAngelo Williams for the remainder of the year. Williams looked good in Weeks 1 and 2 when he covered for a suspended Bell, even turning in a three-touchdown performance in Week 2.
Keenan Allen
FOXSports.com editor update:
Turf Burns
Dez Bryant: Bryant was back on the field Sunday in a modified cleat, designed to protect his surgically repaired foot. While he didn't seem to be physically limited, his final stat line of two receptions for 12 yards was unimpressive. However, it seems the low production had more to do with being blanketed by Richard Sherman and an ineffective Matt Cassel. Bryant will try to find his rhythm this week against the Eagles, a team he has historically played well against. It still remains to be seen if Cassel can get him the ball, limiting Dez's overall value.
Tony Romo: The Cowboys' quarterback is expected to return to practice this week in a limited capacity. Out since Week 2 with a fractured collarbone, Romo cannot return until Nov. 22 when Dallas faces Miami. However, the team will need to win a game somewhere between now and then to ensure that putting Romo back on the field is worth it. Matt Cassel remains the starter, though his play through two weeks keeps him largely irrelevant for fantasy purposes.
Carlos Hyde, Reggie Bush: The 49ers backfield took a big hit Sunday after Bush suffered a torn MCL while filling in for Hyde, who was out with a stress fracture in his foot. Bush is expected to undergo surgery on Tuesday, while Hyde remains limited and likely out Week 9. The team will now turn to Kendall Gaskins and the recently signed Shaun Draughn, but neither appears to be a long-term fantasy option.
Calvin Johnson: Megatron limped off the field Sunday with an ankle injury that prevented him from closing out the contest. He has been down this road before and has shown an impressive ability to play through ankle sprains. While he no longer remains the top receiver in the NFL, he's simply too good to consider benching.
Steve Smith: The veteran wide receiver has been lost for the year after tearing his Achilles' tendon against the Chargers. Smith had planned on retiring following the season, but the injury may alter those plans, even though a torn Achilles' tendon is particularly difficult to overcome. Although the Ravens have a Week 9 bye, Kamar Aiken is worth a roster spot in most formats.
Kendall Wright: The Titans receiver is nursing a MCL sprain that reportedly feels "horrible." Between injuries, coaching turmoil and spotty quarterback play, I'd advise looking to another team for Week 9 help.
Stotts works as a Certified Athletic Trainer (MAT, ATC, PES, CES) and is a former winner of the Best Fantasy Football Article from the Fantasy Sports Trade Association.
Follow @RotowireATC on Twitter.
Get a FREE RotoWire 10-day trial (no credit card required) at RotoWire.com