Week 17 Six Points: Eagles vs. Giants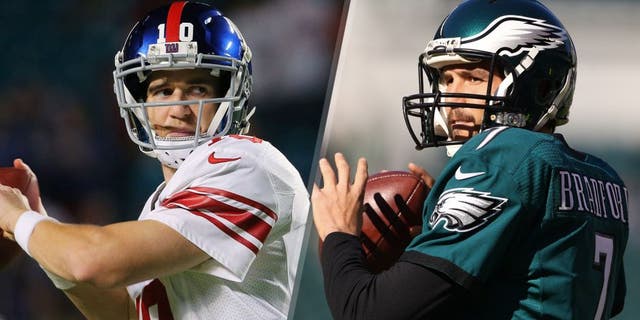 With Tom Coughlin of the New York Giants on the coaching hot seat, and Chip Kelly already forced out of the head coaching position with the Philadelphia Eagles, the two fledging programs head to battle for one final time in their dreadful 2015 season.
Both teams will use this matchup for a little bit of experimentation, and both teams could see a significant amount of offensive production.
Here's the three key points that each team should have as they head into their Week 17 contest.
Can you beat the Crowd's Line? Submit your final score prediction below. Good luck!
Philadelphia Eagles
1. Air it out
Jordan Matthews should have an absolute field day against the Giants' secondary. New York has given up 297.9 passing yards per game this season, more than any other team in the NFL. And with starting strong safety Craig Dahl listed as questionable with a concussion and second-string corner Jayron Hosely already listed as inactive, New Yorks' secondary may be even weaker on the long ball than they already are.
2. Give DeMarco Murray more carries
Over the last five games, DeMarco Murray is averaging eight carries per game. He's had just seven in his last two games combined. Murray was the 2014 Offensive Player of the Year, carrying the ball 392 times (first in the NFL) for 1845 yards (first in the NFL) and 13 touchdowns (also first in the NFL). This year, Kelly has scarcely used Murray, and it's growing very apparent that the relationship between Murray and Philadelphia is already growing stale. He's just in the first year of his five-year, $40 million deal he signed just this offseason. Let him end the season on a high note, and give him the ball a respectable amount of times.
3. Don't let Odell Beckham Jr. run wild
Look, Odell Beckham Jr. is going to be nearly impossible to stop, as no defense seems to have an answer for him this season. In the Giants' Week 16 matchup against the Minnesota Vikings, Beckham Jr. was out, serving a one-game suspension, and Eli Manning's numbers took a bit of a hit. Sure, he threw for 302 yards in a game in which he was forced to pass, but none of his receivers were a legitimate threat against the Vikings. Stopping Beckham Jr. is easier said than done, but if it can be done, the Eagles need to do it.
New York Giants
1. Air it out
Much like the Giants themselves, the Philadelphia Eagles have a pretty weak secondary. Last week, they gave up 351 yards of passing offense to Kirk Cousins and the Washington Redskins. That's the second consecutive game they gave up 350 passing yards. What's been the problem? It definitely doesn't help that Byron Maxwell is out of the lineup with a sprained SC joint in his left shoulder. He's questionable for this game.
2. Run it up the middle
The Giants have run the ball for 1,401 yards this season, and according to NFLsavant.com, 464 of those yards have come from running the ball right up the middle. In fact, NFL Savant claims that 105 Giants plays have been runs up the middle, meaning they are averaging 4.4 yards per carry up the middle. Now, defensive tackle Bennie Logan is listed as questionable with a calf injury. That means the Eagles could lose their big man with 39 tackles that is responsible for plugging up that middle ground that the Giants have seen success against.
3. Get Will Tye involved
When Larry Donnell went down for the season with a neck injury, a door of opportunity opened for Will Tye, an undrafted free agent who went from a September cut to a practice squad member, all the way up to a starting tight end. Tye is still fairly raw, but has shown that he can potentially be a pass-catching tight end in the NFL. Why not look his way a bit more often in the final game of 2015 to really see what he's really made of?