Watch Julia Roberts geek out over meeting Ronaldo and Messi at El Clasico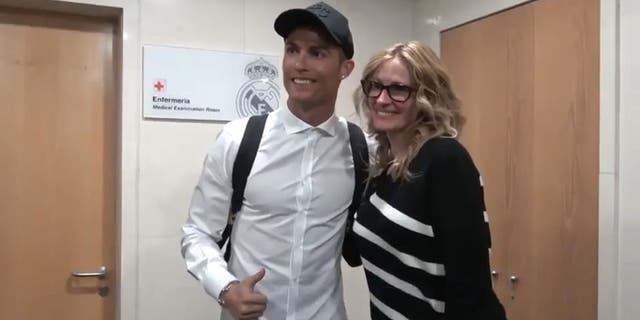 NEWYou can now listen to Fox News articles!
When it comes to A-list celebrities, Julia Roberts is firmly among the Hollywood stars on that list. But, as it turns out, the actress can get pretty starstruck herself.
Around who? Cristiano Ronaldo, Lionel Messi and the superstars of the El Clasico rivalry, of course.
Roberts was in Madrid for Sundays thriller and she got a special meet-and-greet with all of Reals biggest players:
Where do we start with this one?
First, how weird/amazing is it that the Real Madrid social media team inserted random clips of "Pretty Woman" into the video? Sure, it's one of her best movies, but it'snot really the most fitting choice for her El Clasico visit. We would've used a scene from "Ocean's Eleven."
Second, it appears this meeting happened after the match because she tells Sergio Ramos, You played great. After such a tough loss, all the Real Madrid guys were beyond gracious in meeting her and being nice about it.
Lastly, Julia Roberts appears to be a huge fan of La Liga soccer. Who knew?! Shes positively beaming throughout the entire experience and snapping shots of Gareth Bales locker like a true fan.
She apparently also got to meet the man of the match, Lionel Messi:
We do have to dispute Barcelonas social media team here. The Oscar belongs to Roberts (for her role in "Erin Brockovich") but Messi can have his Ballons dOr, of which he has four.
Regardless, it's always fun to see who among the A-list celebrity crowd is a soccer geek, like one of us. Welcome Julia Roberts to the club.
MORE FROM FOX SOCCER