Was Lovie's love for his coaches & players his ultimate undoing?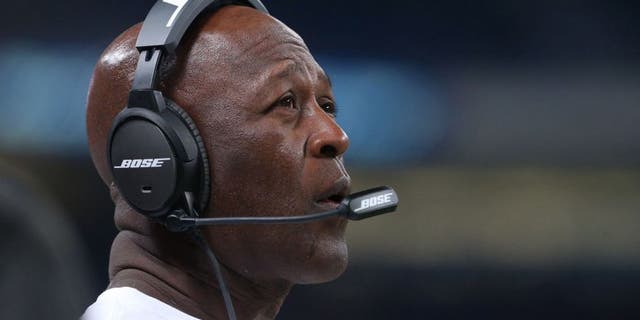 NEWYou can now listen to Fox News articles!
The universal reaction to Lovie Smith's stunning firing as Tampa Bay head coach Wednesday night was reflected by one of his best players on Twitter.
"WTF YO," is what linebacker Lavonte David posted in a since-deleted tweet.
WTF, indeed.
This was a move that nobody outside the Buccaneers' hierarchy saw coming. Even assistant coaches were unaware there was any chance of Smith being let go.
Smith was given two years on the job to try to transform the Buccaneers into a winner once again. Tampa Bay initially dipped, finishing a league-worst 2-14 in his first season from 4-12 the season before, but showed signs of improvement in 2015 with a 6-10 record.
The Buccaneers are publically trying to make it look like Smith didn't make sufficient progress quickly enough after four straight losses to end the regular season.
"This decision was difficult on a variety of levels," Bucs co-chairman Joel Glazer said in a news release. "I am disappointed that we were not more successful these past few seasons, but we are committed to doing what is necessary to give our fans the winning team they deserve."
The true reasons for this move, though, are believed to go beyond Tampa Bay finishing in the NFC South basement for a fifth straight season.
In speaking to several NFL sources, there is a strong belief that Smith was fired after refusing to make changes to his coaching staff. While he may have his drawbacks as a head coach, loyalty isn't one of them.
General manager Jason Licht, who was hired along with Smith, will address the media on this topic Thursday. Licht now heads the search for a new head coach.
It likely will start inside 1 Buccaneer Place with offensive coordinator Dirk Koetter, who earned high praise for his work with rookie quarterback Jameis Winston. Koetter's body of work -- he is a former college head coach and the first coordinator in 30 years to field top 10 offenses with three different franchises (Tampa Bay, Atlanta and Jacksonville) following Tampa Bay's success this season -- has him on the radar for head coaching vacancies elsewhere. Promoting him would allow the Buccaneers to keep the same offensive system in place, which would provide a huge boost in Winston's development.
On Twitter, ex-Bucs general manager Mark Dominik said he expects Koetter would be promoted "within the week."
First things first, though. Tampa Bay will have to interview at least one minority candidate under requirements of the NFL's Rooney Rule. Licht also worked in the front office for New England, Philadelphia and Arizona between 2008 and 2013 before becoming Bucs GM so he may have coaching candidates from those teams in mind.
Plus, the Glazers are known for outside-the-box thinking on head coaches. They promoted a little-known secondary coach (Raheem Morris) to replace the fired Jon Gruden in 2009. When Morris was canned after three seasons, the Bucs hired a college head coach (Greg Schiano) after failing to land another (Chip Kelly).
That failed, too.
Whoever gets the gig now must work to establish the kind of trust and strong bonds Smith built with his players that had made him the anti-Schiano. Bucs rookie linebacker Kwon Alexander called Smith "The Truth" on Twitter for his candor. David also added more of his thoughts when posting another since-deleted tweet, "This is stupid, we can't even have a consistent coach, 3 coaches in 5 yrs."
Make it four in six now that Smith is gone.