Vitor Belfort: I've lost millions of dollars in sponsorships under current UFC rules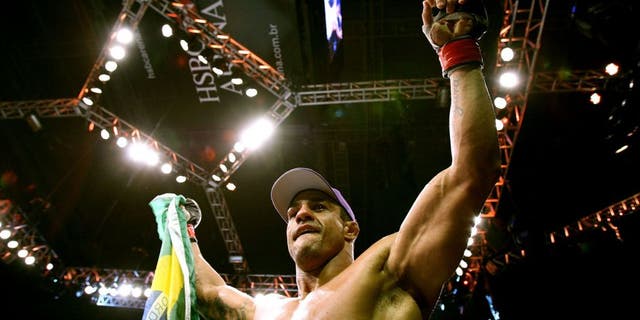 Former multi-division UFC champion Vitor Belfort is glad to have a big bout signed for May against top contender Ronaldo "Jacare" Souza in their home country of Brazil, but "The Phenom" isn't happy about everything.
Up until last year, UFC fighters were allowed to represent branding from sponsors during fight weeks and fight nights, when the cameras were on them and their physical real estate was valuable to companies.
However, with the introduction of the UFC's exclusive apparel and uniform deal with Reebok (which, unlike licensing deals in many other major sports organizations, was negotiated without athlete representation through an association or union at the table), UFC fighters no longer are allowed to offer branding opportunities to companies interested in sponsoring them when the lights shine brightest -- during fight weeks and nights.
Once fight week visibility was taken away, many sponsors stopped investing heavily in fighters like Belfort, who say that their incomes took a huge hit. In years past, it wasn't uncommon for fighters to make half or more of their total yearly income from sponsors.
Now, only a small percentage of fighters have separate deals with Reebok, and the rest of the UFC's expansive roster takes home an amount of extra cash from Reebok after each fight which is predetermined by the UFC, and not negotiated by fighters' management.
Belfort, who has fought in the big leagues for two decades and is one of the most well-known and popular international fighters in the UFC, recently told MMAFighting that he has lost out on millions of dollars in sponsorships because of the way the UFC has fashioned the deal with Reebok.
"I lost a lot of money," he said. "I'm not happy."
Belfort went on to say that while he understood how much the UFC has invested in their company and the sport of MMA, and how exclusive apparel deals like the one they have with Reebok are not the problem, more recognition of how much fighters invest in themselves is needed, and some tweaking of the uniform policy is needed so that fighters have more sponsor options.
"The fighters ... that's what it is all about. I think now is the time for athletes to have that kind of value," he said, calling for UFC fighters to have the type of collective bargaining power and representation available to other high-level athletes in organizations that also have exclusive licensing deals.
"I think there's a lot of change that we have to accomplish in that area, especially now with the way we're building the sport. We're investing a lot of money. I'm investing a lot of money. I lost a lot of money with sponsors. So, I think it's time for us to come to a conclusion, and I believe the UFC will come to that conclusion that we need to become like an ATP, or the NBA.
"Right now, we cannot wear anything. We don't have any kind of sponsors. The players invest themselves. They need money. They need resources.
"When a fighter like Rafael dos Anjos was preparing and he got hurt, he invested a lot of money in his camp and who paid for his expenses? He wasn't sponsored by a major company like Reebok or Monster. So, he had to pay out of his pocket and who is going to reimburse him? No one. That's why in sports and teams, they have sponsors -- in soccer, in the NFL. Everyone has sponsors who invest and help to pay daily expenses."
Unlike athletes in organizations like the NBA, NFL, NHL and MLB, UFC fighters don't bargain collectively, or reap the benefits of such arrangements like pensions. Belfort doesn't seem to mind wearing Reebok gear, he says he'd just like the ability to once more offer other, non-competing brands the chance to associate with him on fight weeks and then pay him for his endorsements.
"Maybe we can't have an apparel [sponsor in addition to Reebok] but I can have my bank, I can have a phone company, I can have another energy drink," Belfort suggested.
"Most of [the UFC's fighters], they are not happy. Reebok can only sponsor 11 athletes. Even those, some people say, the UFC helped them pick them.
"That's not fair. That's not fair, with a guy like me. I've been doing this 20 years. I lost millions of dollars with this type of deal. I've been doing this a long time and I have a great image. Big companies, they want to be with me but they cannot. It's not right, and I think it's time to change."
Ultimately, Belfort says the UFC is the place to be, and plans to stay there. He also believes that the UFC's owners are too smart not to adjust the current fighter sponsorship rules to be more fair.
"I'm staying. I'm very grateful for the organization," he insisted. "But in that set of infrastructure, they are wrong. It's wrong, what they are doing. It's not right. I'm not happy. Not just me, but, I think, most of the fighters.
"I think they are going to change to the ATP model. They are smart businessmen. They are going to say, 'Man, we've got to find something to make [fighters] happy.'"