Utah pokes fun at Harbaugh with '#BLACKisthenewKHAKI' tweet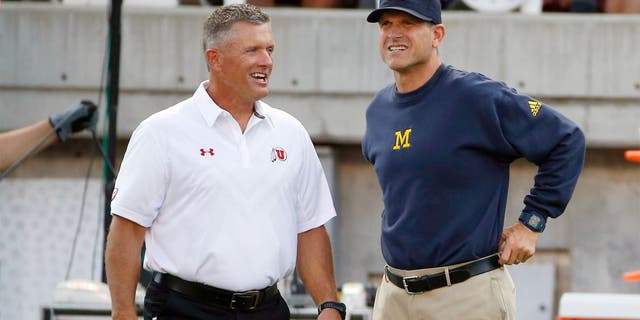 NEWYou can now listen to Fox News articles!
Utah defeated Michigan on the field during the schools' nationally televised season opener on Thursday. The Utes also won the social media battle.
In addition to their public cupcake celebration jab at Popular Mechanics magazine, they took a shot at new Michigan head football coach Jim Harbaugh on Twitter. Harbaugh, of course, is so notorious for wearing khaki pants that the "HarBus" was khaki-themed in its design:
But whoever ran the official @UtahFootball account couldn't resist dressing down Harbaugh's debut and hyped Utah head coach Kyle Whittingham's classic outfit of black pants instead with this post.
Bonus points for the pop-culture reference to hit Netflix series "Orange is the New Black." With some luck, #BLACKisthenewKHAKI may become the new trend.
(h/t CollegeSpun)