USC's most explosive offensive weapon won't be playing offense in 2016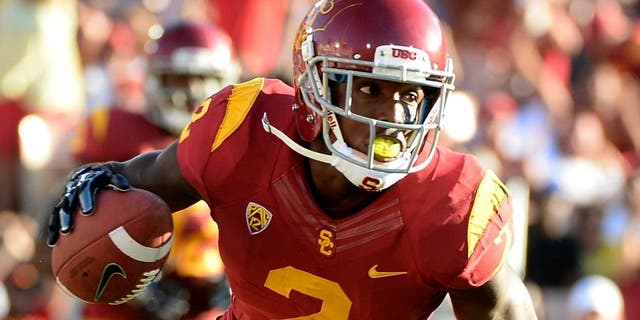 NEWYou can now listen to Fox News articles!
The college football season is still weeks from kicking off, but on Thursday fans were dealt a devastating blow: One of the single most explosive offensive players in college football won't actually be playing much offense at all in 2016.
"I talked to Coach Helton the other day and we came to the decision that I'm going to play defensive back, focus primarily on that," USC's Adoree Jackson said at Pac-12 Media Days. "And then do some returning, and if I want to go on offense I can."
What the USC secondary just gained the rest of college football just lost, as Jackson was one of the single exciting players -- on both sides of the ball -- in the sport last year. While he's known primarily as one of the best cornerbacks in the country, Jackson made 27 catches and scored two touchdown at receiver in 2015.
Add two more TD's in the return game, and you can see why college football fans were so excited to see what he could do in his junior year at USC playing offense, defense and special teams.
Jackson referenced USC's deep receiving corps as the reason for the move full-time to defense, while his coach referenced something different all together: Having Adoree focus on corner doesn't just help the defensive backfield -- it helps USC's entire defense as a whole.
"You've got to look at the team aspect. What's our weakest point?" USC head coach Clay Helton said. "It's probably, going in, it's our defensive front. How do you help a defensive front? You load the box, you play man coverage. Who does that put more pressure on? It puts more pressure on the defensive backs."
There's no doubt USC's defensive backfield is loaded. It might be deeper than any group in college football. At corner, Jackson is opposed by Iman Marshall, who was a freshman All-American last year after tallying 38 tackles and adding three interceptions in 2015. At safety, Marvell Tell and Chris Hawkins return, with Helton adding that freshman Jack Jones has the ability to be "Adoree-lite."
Frankly, 'SC will need all hands on deck in the defensive backfield, as they face a loaded schedule, full of dynamic offenses. That includes an opener with Alabama and a season-ending game against Notre Dame, with Pac-12 contests against schools like Stanford, UCLA and Washington mixed in between.
Still, those opponents know better than to sleep on Jackson, who is projected by many as a first-round pick in next year's draft. Because of his offensive and defensive capabilities, he has often been compared to former Heisman Trophy winner Charles Woodson, but it's a comparison Jackson isn't really a fan of.
Instead, he says he likes to take different parts of his game from different players, mentioning Woodson, Deion Sanders and the Arizona Cardinals duo of Tyrann Mathieu and Patrick Peterson, specifically.
Jackson was asked about what he likes about Peterson's game, and gave a great answer. He loved Peterson's "griminess."
"Just the way he goes about his game," Jackson said. "The way he goes about it is (his) griminess and being at LSU, he was always out there on punt returns, taking punt returns back, his flashiness, having that swagger and confidence."
In addition to that griminess, swagger and confidence are things Jackson isn't lacking either, which is no surprise.
Jackson is also a star on the track, a guy who has won the Pac-12 long jump championship two years in a row and nearly qualified for the Olympics. He came up a bit short of Rio, but he's still thinking about the Olympics -- the 2020 Games.
"It's always disappointing (to not make the Rio team), it's always been a dream," Jackson said. "But now I've just got to shoot for 2020 and try to go to the next one."
As for his coach, Helton is obviously happy to have Jackson back on the gridiron but also admits the track experience could help him, too. Heck, if you're jumping for a chance to go to Rio, lining up against receivers from Alabama and UCLA should be no big deal, right?
"What a moment, to be on your last jump to go to the Finals, and you know 'this is it,'" Helton said about Jackson's performance at the Olympic Trials. "To be able to be in that type of pressure situation and be able to perform?
"What an experience. How that doesn't carry over to football -- you're going to be in fourth down, and you're going to be lined up on maybe the best wideout in the country, and to be able to perform on that level on the grandest of all stages, that can only help you when you get back to football."
A motivated, experienced Adoree Jackson is a scary thought for all of USC's opponents this coming season.
Even if he is playing on only one side of the ball.
Aaron Torres covers college football for FOXSports.com. Follow him on Twitter @Aaron_Torres or Facebook. E-mail him at ATorres00@gmail.com.