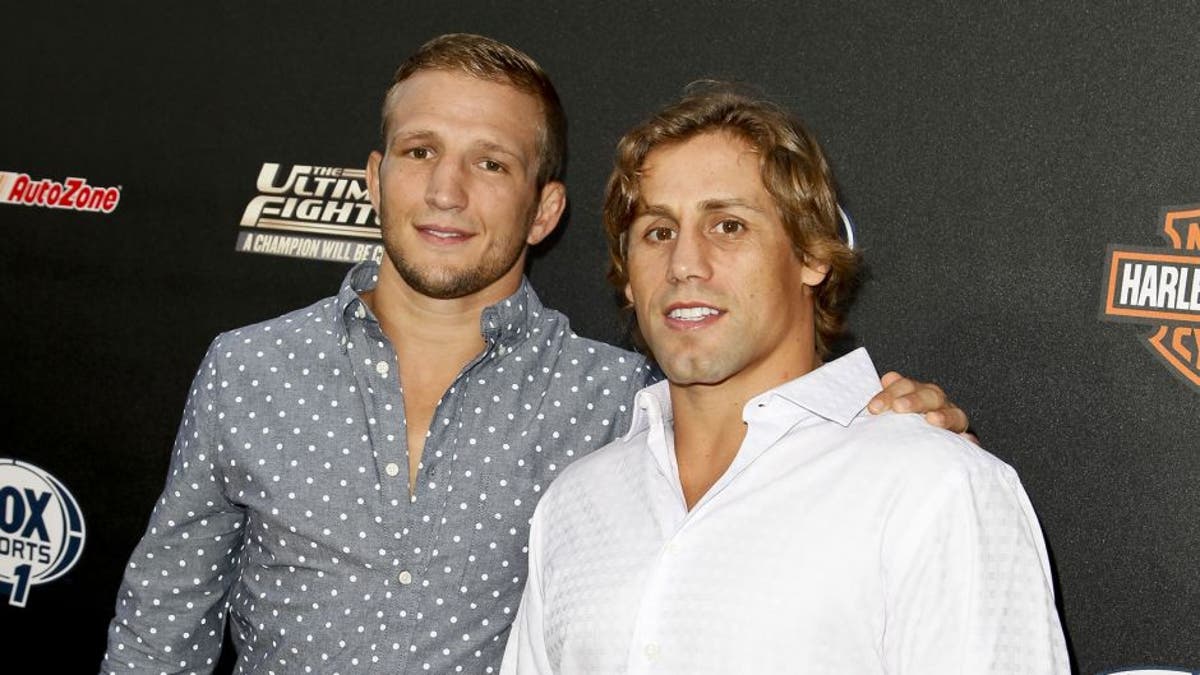 Former WEC champion Urijah Faber is at a very interesting point in his career as he approaches his coaching job on the latest season of "The Ultimate Fighter."
He's fresh off a loss to top-ranked featherweight contender Frankie Edgar in May after jumping back up to 145 pounds, but has won his last two fights while competing at 135 pounds. Faber has fought for the bantamweight gold on two occasions, losing both times to former champion Renan Barao and right now his good friend and teammate TJ Dillashaw is the king at 135 pounds.
It leaves Faber stuck in limbo while trying to figure out which direction to head next, and he sounds as confused as anybody when it comes to who he'll face in the Octagon once he finishes filming the reality show in six weeks.
"There's been a couple of ideas of fights thrown out for me. I'm still undecided if I want to go 45s or 35s. I feel like there's a big opportunity at both and I know my management has been talking about possible matchups. I'm just looking for those fights that continue to get me in a position where I can strike at a title shot," Faber told FOX Sports last weekend in Las Vegas.
"That means stepping up for a 145-pound title shot or 135-pound title shot. Being right there, ready and poised, gun cocked and ready to rock and roll is kind of my M.O. I've been at the top of the sport for 12 years and I've been a top contender. I feel like I'm a bad matchup for guys in both divisions and it's just about having my best day."
Faber mentioning a title fight at 135 pounds brings back up the subject of his willingness to fight Dillashaw, who is preparing to defend the belt this weekend against Barao as part of the FOX UFC Fight Night card in Chicago.
Ever since Dillashaw won the belt in May 2014, Faber has stated on numerous occasions that he had no desire to face his teammate and a fighter he helped recruit to his gym, Team Alpha Male, straight out of college.
But with Faber turning 36 earlier this year, he knows that he doesn't want to fight well into his 40s. So if he wants to compete for a title again, the bantamweight division probably yields his best chance to retire with another championship reign on his resume.
"I would say people have talked about that and you never know what's going to happen," Faber said about fighting Dillashaw. "I, myself, am not gunning for that fight but I'm always gunning for a title. I don't have a lot of time left in this sport, just by choice. I'm a healthy, physically fit, durable guy that could keep going but I'm not going to be doing this forever. I'm going to be in here while I'm still at the top of the game.
"It's not the fight I'm looking for but you never know how the chips will fly and what will happen. I think there's some other big fights out there as well."
Throughout his career, Faber has been recognized as one of the most popular and watchable stars in both the featherweight and bantamweight divisions, so attaching his name to any fight will always bring a certain level of attention.
Faber can't disagree with the statistics that show he's been a solid draw throughout his career, but he also knows guys like Dillashaw have that same potential if they are given the time and platform to develop.
"We really haven't seen T.J. blow up yet. I know people talking about fights for the belt that are huge, but there are some fights for the belt that no one cares about. It takes the right two people to tango to make it really, really count so I'll be looking for those opportunities but not going against what makes me feel good," Faber explained.
"There's no question there are guys who have stood out in the sport and those who haven't. My fights have traditionally been the bigger fights for the weight class for a long time. I believe in TJ. I think that he has the ability to be somebody who really stands out at the weight class, but it does take time. Until that time, it's still me at the weight class."
That's where things get interesting.
Faber says that for all the ways he never wants to face his friend and teammate, he also knows a fight with Dillashaw could be good for both of their careers -- particularly for the fledgling champion who is still trying to build his fan base.
If Dillashaw felt like a fight with Faber would be the right move for his career, then his teacher and mentor would sign on to face him.
"That's something that I always told TJ -- if he thought that was the best opportunity for him whether it be monetarily or exposure or whatever it would be, if he wanted to ask for that fight, I would do it," Faber said. "That's about the only way it would happen."
To double down on the answer and to make sure there was no confusion, if Dillashaw asked for the fight, Faber would accept?
"Of course," Faber said.
Right now, Faber is more focused on coaching this season of "The Ultimate Fighter", which will prevent him from sitting cage side for Dillashaw's bout with Barao this weekend in Chicago. It won't stop him from rooting for Dillashaw because whether or not they are future opponents remains to be seen, but Faber is still his pupil's biggest fan both in and out of the cage.
Make sure to catch Dillashaw's title defense against Renan Barao this weekend and don't miss a minute of the action with our FOX UFC Fight night viewing and schedule guide.