Urijah Faber: Conor McGregor is a lot cooler than Dominick Cruz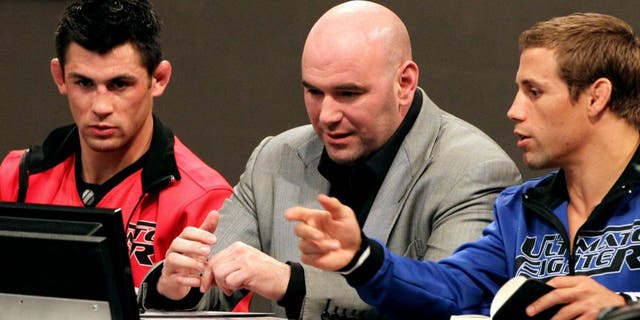 NEWYou can now listen to Fox News articles!
Urijah Faber will coach the upcoming season of 'The Ultimate Fighter' opposite Conor McGregor, but this isn't the former WEC champion's first stint on the long-running reality show.
Back in season 15, the only year 'The Ultimate Fighter' was shot live and in real time, Faber was matched up with rival bantamweight Dominick Cruz.
The two fighters coached separate teams over the course of 12 weeks and at the end of the season they were expected to fight. Unfortunately, Cruz suffered a knee injury that changed the course of his career forever and the fight with Faber never happened.
Considering that Faber has now coached against two fighters with much different personalities and approaches to the show, who does he prefer going up against during the season?
"I think Conor's a lot cooler than Dominick just in general," Faber told FOX Sports. "So the banter's been better. There's a little more mutual respect and some good banter back and forth.
"Conor's a dangerous guy, Dominick's not a dangerous guy. So that's a difference also. It adds an element that I like."
Faber and McGregor had their fair share of verbal altercations and things even got physical a couple of times according to the Sacramento native, but overall when the show was completed, he still had a healthy respect for the interim featherweight champion.
The same can't be said when Faber addresses Cruz, who will probably never be one of his favorite people to deal with whether it's coaching on a reality show or just standing in the same room together.