Upon further review: Packers vs. Rams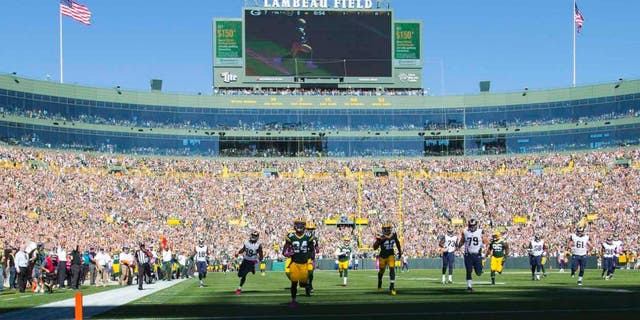 And still they go on.
Aaron Rodgers' vaunted no-interceptions-at-home streak ended. Three more major contributors left the game with injuries. The heretofore robust rushing attack was rendered impotent, while the opposing running back gained 159 yards.
And still, as imperfect as it looked, the Green Bay Packers remained undefeated after their 24-10 win over the St. Louis Rams at Lambeau Field. While Rodgers proved that he is indeed human, even at home, where he had three turnovers Sunday, his teammates -- especially on defense -- continued to protect their house, at which they haven't lost since the 2013 season.
With the offense constrained by several concerning factors -- Rodgers' uncharacteristically mediocre performance, a powerless ground game, the depleted receiving corps and the loss of a key offensive lineman -- the Packers' defenders stepped up. Then they stepped in front of multiple Nick Foles passes. Then they stepped on the Rams' throats.
Ravenous linebacker Clay Matthews led a rapacious pass rush, rookie cornerback Quinten Rollins made a couple of big plays in the secondary and the Packers kept Todd Gurley, the Rams' dynamic rookie runner, out of the end zone.
Let's take a look back and recap how Green Bay, inverting its usual offensive-defensive operation, ran its record to 5-0 with the win over St. Louis.
SUNDAY SCHOOL
-- The Packers can win when Rodgers isn't great. It was undeniably the quarterback's worst game of the season, but it was still enough to keep Green Bay ahead the whole day. Posting his lowest completion percentage (63.3) and passer rating (82.8) thus far, Rodgers still threw for 241 yards and two touchdowns, so even his bad days are not backbreaking. One of Rodgers' two interceptions was tipped, which makes it hard to completely blame him, but he also lost a fumble on a sack. For a quarterback that loathes turnovers, it was startling to see him walk off the field three times after giveaways. Still, the Packers and their fans learned that this team doesn't need its quarterback to be superhuman every game in order to win.
-- Matthews can incontrovertibly still be a pass-rushing force from inside linebacker. There's no disputing that Matthews is now practically a full-time inside 'backer, but there's also no question he can still do what he does best from that spot. With four quarterback hits and 1.5 sacks, the All-Pro made life miserable for Foles. On one fourth-quarter sack, Matthews lined up right in between the center and guard, looming menacingly, and then burst untouched into the Rams' backfield for an eight-yard loss. The benefit of Matthews excelling on the inside -- he also read and pursued plays well and had five total tackles -- is it allows the Packers to rotate pass-rushing specialists Julius Peppers, Nick Perry and Mike Neal, giving them more snaps doing the thing they do best, and saves Green Bay from playing a worse player on the inside.
-- Another game, another guess as to whether the Packers really can effectively run the ball and stop the opposing run. On a day when the quarterback struggled, Green Bay really needed a strong performance from its running-back tandem of Eddie Lacy and James Starks. Unfortunately, what it got instead was Lacy's worst game (13 carries for 27 yards, 2.1 average) and the third straight underwhelming effort (five for 17, 3.4) from Starks, who, outside of the Seattle win, hasn't been the speedy, turn-the-corner back the Packers need him to be to complement Lacy. On the other side, after hearing about how great they were the previous three weeks -- shutting down Marshawn Lynch, Jamaal Charles and Carlos Hyde -- Green Bay gave up 159 yards on 30 carries to Gurley, the hyper-talented first-round pick. Clearly, the Packers were focusing more on disrupting Foles and making plays in the passing game, but Gurley's 55-yarder in the fourth quarter was especially alarming. Next week, though, the Packers face the Chargers and another rookie runner, former Wisconsin Badger Melvin Gordon, and they must regain their form.
DULY NOTED
-- Rollins and Randall are quick studies. With their first two draft picks, the Packers took two cornerbacks that had limited experience playing the position in college. It appears they got a couple good ones. First-round pick Randall, a safety at Arizona State, has been dependable on the outside, especially the past three games; second-rounder Rollins, a basketball player who joined the Miami (OH) football team his final year, burst onto the scene on Sunday. Operating in the slot, the shifty Rollins snagged the first two interceptions of his career, including one that he returned 45 yards for the Packers' second touchdown. It was a banner day not only for him, but for the entire defensive backfield: Without starting safety Morgan Burnett, the Packers limited Rams receivers to 161 yards and totaled four interceptions.
-- James Jones can still run. Jones, only 31, was cut twice before the season and the report on him was that he'd lost a step or two. While that's probably true, he's more than made up for any diminishing footspeed with craftiness, chemistry with Rodgers and sure hands. On Sunday, he had two receptions for 77 yards, including a 65-yard touchdown in which most of the yardage came after the catch. It was his fifth touchdown in five games and it showed the veteran wideout can still move his legs a little bit.
-- Ty Montgomery has already earned the league's respect. For the second straight game, the rookie wasn't given the opportunity to return a kickoff, as big-legged Rams kicker Greg Zuerlein opted to blast the ball out of the end zone rather than risk tempting Montgomery's talent. After averaging 31.5 yards per return in his first four games, including a 46-yard long, Montgomery hasn't been kicked to in the last two contests. He hasn't had enough returns to qualify to be among the league leaders for average, but if he had, his six returns for 189 yards would rank third.
WHAT IT MEANT
The Packers winning with defense again means a lot. When they won the Super Bowl, the defense rushed the passer and took the ball away. In 2010, Green Bay tied for second in the NFL in sacks (with 47) and was second in interceptions (with 24). Since then, thanks to Rodgers' emergence as the league's best quarterback, the explosive offense has led the way. But perhaps a return to defensive dominance -- or at least a better balance between the two sides of the ball -- will get the Packers back to the Super Bowl for the first time since that championship season five years ago. They're currently second in the NFL in sacks (with 20, on pace for 64) and second again in interceptions (with 8, on pace for 25.6).
PLAYER OF THE GAME
Rollins. Two interceptions in one game is impressive enough for the rookie who got his first sustained playing time Sunday, but factoring in that one was returned for a touchdown on a day when the offense struggled makes Rollins even more valuable. He earned himself more snaps in the Packers' oft-used nickel and dime coverage packages.
DON'T FORGET ABOUT ME
Correction: Don't forget about us. The other two defenders to notch interceptions Sunday, safeties Micah Hyde and Ha Clinton-Dix, were all over the field against the Rams. After hyperactive defensive lineman Mike Daniels (a team-high eight tackles), the duo led the Packers in tackles (six each) and broke up a few passes. Without Burnett, the sixth-year veteran leader and primary communicator who's only been able to play in one game this year due to a calf injury, Hyde and Clinton-Dix have admirably organized the secondary and made plays for the Packers.
THAT MOMENT
It's got to be Jones' 65-yard touchdown catch from Rodgers. Early in the third quarter, on second-and-10 at his own 35-yard line, Rodgers dropped back and fired a pass to Jones, who was cutting across midfield from left to right. After briefly bobbling the ball, Jones secured it and ran 40 more yards for the end zone, where he was tackled at the goal line. After review, the clinching touchdown was confirmed.
THIS NUMBER
12 QB hits. After totaling 13 sacks in the previous two games, the Packers only finished with three official takedowns against the Rams on Sunday. But the pressure was unrelenting and fierce, resulting in hurried throws and mistakes from Foles. Besides Matthews' four hits, Peppers had three, Neal and Perry each had one and defensive end Datone Jones had three. Jones didn't register a single defensive stat besides those three hits, but he continuously won his one-on-one battles and was part of the forceful overall effort.
THEY SAID IT
"Good team win today, start with the defense. I thought they were clearly the key to our victory." -- Mike McCarthy
"It was a lot of fun. Have to start a new one. I figured might as well break the streak with a couple of interceptions today. Yeah, streaks are meant to be broken, so it's fun to put something together like that. But I'm sure someone will come along at some point and put up 600 in row maybe." -- Aaron Rodgers on his streak of 586 consecutive passes without throwing an interception at home
"Well, I mean, Aaron is human." -- McCarthy on Rodgers' turnovers
"It still is an offensive team, but it's nice when the defense can hold their own, especially in the last couple of weeks when opposition is having a big defense and maybe our offense isn't clicking." -- Clay Matthews
WHAT'S NEXT
Next week, the Packers host the San Diego Chargers in a 3:25 p.m. CT game at Lambeau Field.
Follow James Carlton on Twitter