UFC files lawsuit against Wanderlei Silva after fixed fight allegations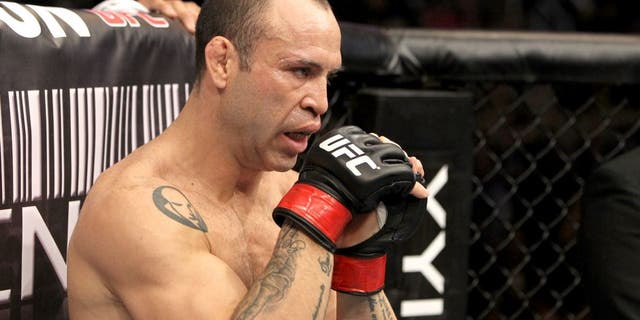 Zuffa LLC, the parent company of the UFC, has filed a lawsuit against Wanderlei Silva in a Las Vegas court for "intentional misconduct" stemming from the fighter's posts on Facebook recently where he claimed the promotion fixed fights.
Silva ranted on his social media page starting on July 23 after cutman Jacob "Stitch" Duran was relieved of working events for the UFC while also stating that he had information that the UFC fixed fights in the past.
"They have no respect for anyone," Silva wrote. "I've made it very clear to you all that I will never again fight for this promotion, the U.F. Circus. Fixed fights -- and I can prove it! I haven't yet dropped the bomb. I haven't said everything I know!"
Now the UFC is firing back at Silva's claims with a lawsuit filed in Nevada on July 28 alleging defamation and business disparagement in connection with the posts the former PRIDE champion made on Facebook.
"On or about July 23, 2015, Silva again launched another attack against the UFC, this time publishing his venomous statements on Facebook," the lawsuit alleges. "After weighing in on an independent contracted matter involving the UFC and another individual unaffiliated with Silva, the ex-fighter closed his post by stating publicly 'they don't respect anyone, I already left it very clear for you I won't ever fight again and for this event. Fixed fights and I can prove this. I still haven't dropped the bomb, I haven't told everything I know!'
"Not content to defame the UFC in a single post, Silva apparently decided to double-down on his scurrilous remarks. In a second post, published the same day, Silva continued his broadside attack. Though Silva published his posts in Portuguese, his statements nevertheless spread like wildfire throughout the MMA and broader sports community in the United States. Indeed a number of media outlets re-published Silva's statements (translated into English) in various online stories, thereby creating the potential for Silva's damaging statements to remain publicly available forever."
The suit goes on to claim that Silva's statements are particularly damaging on a global scale, especially in his home country of Brazil, where the UFC has a "large pool of fighters and fan base located there."
"Linking the UFC, its owners and senior management with illegal fight fixing is a direct attack on their reputations and alleged lack of fitness for business," the lawsuit states.
Obviously, the suit also states clearly that Silva's claims about the UFC were "false of fact and defamatory".
The second cause of action in the same lawsuit was aimed at Silva for "business disparagement" because of the allegations about fight fixing and the damage it could do to the promotion at large.
The initial lawsuit filed asks for compensatory damages in excess of $10,000 and different amounts to be determined at trial, including punitive damages, pre- and post-judgment interest, attorney fees and for other relief the court "may deem just and proper."
Silva has been in the spotlight for all the wrong reasons for the past year after he ducked out of a drug test ahead of a scheduled fight against Chael Sonnen in the UFC.
Silva fled when a drug tester from the Nevada State Athletic Commission arrived at his gym to get a urine sample, and he later admitted to taking a banned diuretic during his training camp that would have resulted in a positive test.
Because Silva fled the test all together, the commission ultimately handed down a lifetime ban in the state so he could no longer receive a license to fight there. Silva appealed and a Nevada district judge overturned the lifetime ban, but then ordered another disciplinary hearing be held instead.
With this latest defamation suit, Silva will now have to answer in court to the claims he made about the UFC fixing fights, and ultimately this could cost the Brazilian a lot of money in legal fees and potential penalties if found guilty.
Silva has not made a public statement about the lawsuit since it was filed in court on July 28.