UFC Fight Night: Namajunas vs. VanZant live blog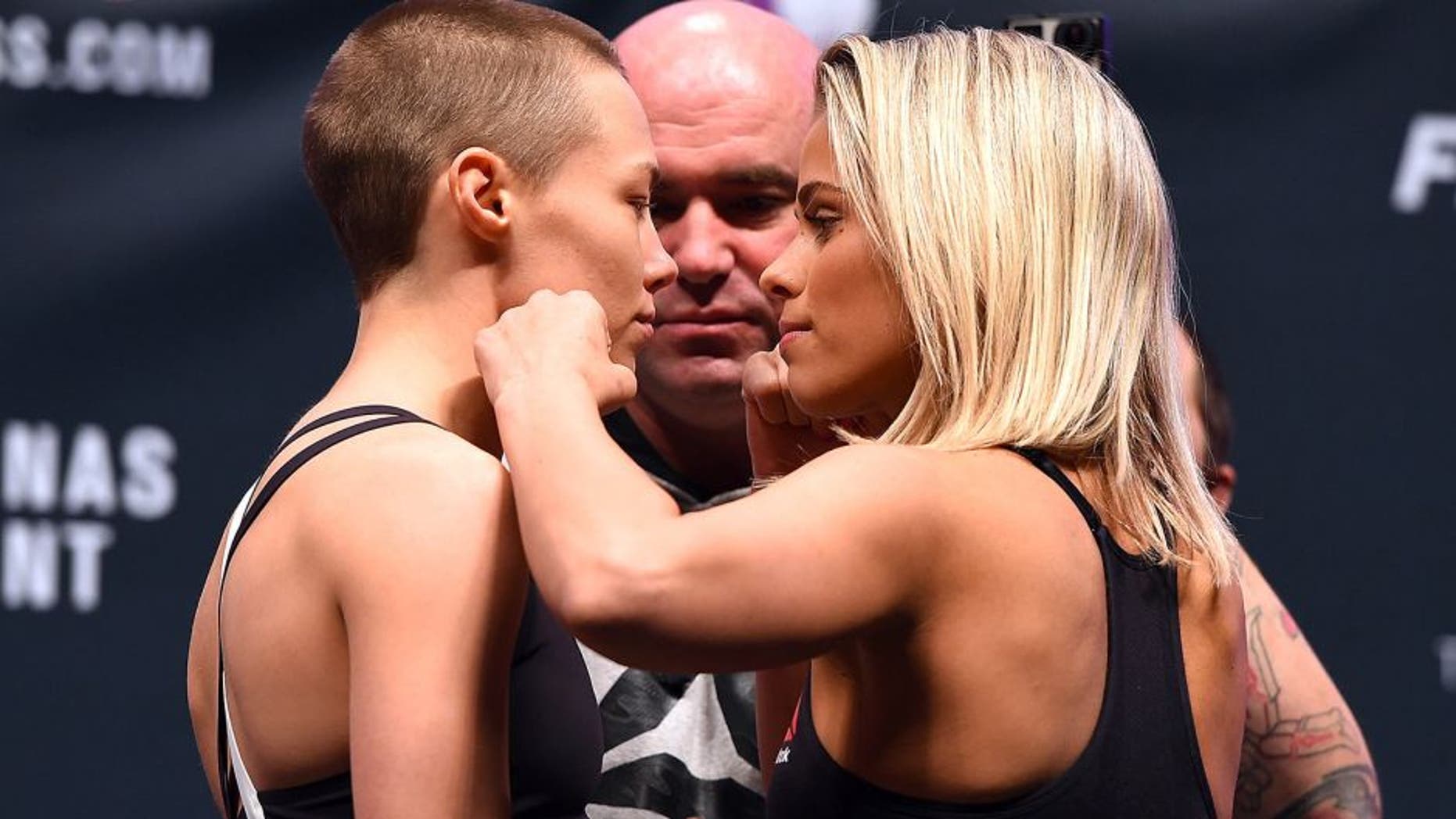 Strawweight title contenders Rose Namajunas and Paige VanZant headline a spectacular UFC Fight Pass event, and we're live-blogging the entire main card, starting at 10 p.m. ET. In the co-main event, top lightweights Jim Miller and Michael Chiesa clash in a fight sure to please.
Earlier on the card, hyped rookie Sage Northcutt fights fellow Texan, Cody Pfister.
Our live blog gets underway at 10 p.m. ET, so stick with us all night for that, as well as full post-event coverage!
Rose Namajunas vs. Paige VanZant
Round 1
Paige lands a hard kick to Rose's lead leg and then gets backed up by some glancing punches to the head. Rouse lands a hard one-two to the head and then scores a takedown.
From on top Rose lands a hard elbow and passes Paige's guard. Rose moves to a knee-on-belly and connects with big punches.
Paige rolls up and away and gets up. Paige throws a punch combo at Rose that misses. Another hard one-two to the head.
Paige tries for a hip toss that only gives Rose her back. Rose lands a punch from the mount, then moves back to the back.
She unloads a flurry of punches and then tries for the rear naked choke, again. Paige is on all-fours, defending the choke.
PVZ stands and faces Rose, but is pressed against the cage and taken down. Paige is bleeding badly. Rose continues to land more punches from on top.
Rose passes to half guard and continues to open up on Paige until the horn stops the beating.
Round 2
Paige goes back to her hip toss attempt but she gets nowhere with it.
Rose presses her against the cage and then scores another takedown.
Rose is in side control, now.
Paige turns and gives up her back. Rose takes it but then moves back to side control. Paige gets back up to her feet but is still in Rose's grasp, being pushed against the fence.
Rose lands another takedown and gets to work from behind Paige. She lands a knee to the back and Paige stands up once more.
Paige pulls guard and Rose moves to half guard with seconds left. Rose grinds away and looks to pass.
Round 3
Rose presses Paige against the cage right away and scores another takedown, against the fence. A completely dominant performance from the former title challenger, thus far.
Rose goes to work from on top in the half guard, landing knees and a punch before Paige hustles up and takes top position. Rose gets up in a few moments, hwoever.
Paige chases Rose with punches, but is not moving her head at all.
Rose angles-away from Paige's charge and lands a right body kick.
Paige stalks Rose but is slowed down a bit and not moving her head.
Rose lands a big right hand and side-steps Paige once more.
Rose lands another one-wo to the head and then presses Paige against the cage with a body lock. Rose scores yet another takedown and lands in half-guard!
Rose begins to pepper with lefts to the head as Paige tries to control her posture with a left arm headlock from on bottom.
Now, Paige switches arms for that and eats a big elbow. She turns and gives up her back once more but then gets back to her feet.
Rose pounces and jumps on her back, standing and brings her to the mat, backwards with a slam! Rose squeezing the rear naked choke but Paige refuses to tap!
Rose moves to top position and scores with huge punches and elbows.
Paige stands again but Rose is stuck to her back as the round ends.
Round 4
Paige comes out swinging but gets taken down again in short order.
Rose stands and turns to the far side while in half-guard to shoot for the straight arm bar.
She locks it up but Paige hitchhikes to escape! Rose maintains top position as Paige tries to drive in and score a takedown, from her knees.
She isn't able to and Rose lands four or five straight short elbows to her head before taking her back again. Rose is behind a turtled-up Paige and scores punches to the head and knees to the body before Paige stands, still with Rose glued to her back.
Paige tries to drop and roll to the floor, possibly for a knee bar but Rose defends, passes and locks on another straight arm bar. Paige hitchhikes once more and escapes but is caught in an omoplata shoulder lock.
Rose transitions from there to the back and scores with more knees to the body. Rose gets her hooks in and looks for a rear naked choke before Paige escapes and turns to the mat.
Rose maintains position but then Paige stands and turns. Rose pressing against the cage with trouble underhooks and then Paige gets free.
Rose lands a front kick to the body and scores another takedown. The round ends with her on top again, in side control.
Round 5
Huge ovation from the crowd. Paige comes out stalking but eats big punches to the head before being taken down again.
Rose is in side mount as Paige tries to headlock her. Rose gets the back again.
Rose lands more big shots from behind, to the head. Rose looks for the choke and finally gets the tap!
Official Decision: Namajunas wins by submission (rear naked choked) at 2:25 of fhe fifth round.
Jim Miller (25-6-1) vs. Michael Chiesa (12-2)
Round 1
After a couple punch combos from Miller, Chiesa clinches up and scores a takedown, landing on top in half guard. Chiesa showing good control from on top but not yet able to pass just yet.
He gets his posture and stands up in front of Miller. Chiesa goes back down into the guard, but this time with his right shin over the bottom leg of Miller's half guard.
Miller elevates Chiesa on his corner's direction and attempts a leg lock. Chiesa escapes but loses position and ends up on his back.
Chiesa very active and manually shoots for a triangle choke. Miller escapes, quickly passes and takes Chiesa's back.
Miller maintains great control with a figure-four back control. Chiesa fighting the hands and choke well and survives the round.
Round 2
Miller lands a hard overhand right to the head. Chiesa answers back by ducking under another punch and scoring his second takedown of the fight.
Miller wraps a full guard. Miller begins to work a high rubber guard mission control position to control the posture of Chiesa.
Miller releases the hold and Chiesa unloads with punches, and then a huge left elbow to the head. Chiesa passes to half guard but once more finds himself in a leg lock from Miller.
Miller extends a mean kneebar but Chiesa punches his way out and then takes Miller's back and secures a rear naked choke and gets the tap out!
Official Decision: Chiesa wins via submission (rear naked choke) at
2:57 of the second round.
Sage Northcutt (6-0) vs. Cody Pfister (12-4-1)
Pfister presses Sage from the get-go and takes him down. Sage works away from the cage with his full guard.
Sage appearing to look for a stand-up as he double-overhooks Pfister. No, now he opens up his guard and begins to angle out with his hips.
Pfister keeps his base and works to half-guard and then lands some punishing elbows and punches. Sage recomposes his full guard nicely but Pfister continues to land short shots to the head.
Pfister passes to half-guard once more and Sage tries to create distance with a half Z guard of sorts. Pfister successfully presses him, but Sage recomposes his full guard once again.
The referee does Sage a huge favor and stands them up. Sage shoots and scores with his own takedown, this time and passes guard and looks to lock in a choke from the back.
Pfister escapes but Sage looks for an arm-triangle choke and then finishes from on top with punches to the head.
Round 2
Sage and Cody collide in the center of the cage and Northcutt ends up on top, briefly. Cody gets up and scores his own takedown but goes right into a guillotine choke.
Sage locks it up and forces the tap out.
Official Decision: Northcutt wins by submission (guillotine choke) at 41 seconds of the second round.
Elias Theodorou (11-0) vs. Thiago Santos (11-3)
Round 1
Elias comes out kicking - going to the body and head with his right shin. Santos mostly evades and blocks them.
Santos playing a waiting game, for the most part - getting out the way of kicks but not countering much, yet. Perhaps he's measuring up, or perhaps Elias is doing a good job of being unpredictable, to this point.
Elias throws a superman punch that misses but it appears as though he used it to disguise a right leg kick at the end of it. The kick lands.
Elias throws a let leg kick, followed immediately by a right kick to the body. A high kick barely misses Santos' head.
The two middleweights clash shins but continue swinging. Santos presses Elias against the cage with punches but trips and takes a seat before quickly getting back up.
Round 2
Santos begins the round pressuring Elias but it's the TUF winner who scores a double-leg takedown. Santos is on his butt but wisely scoots backwards to get his own back and shoulders against the cage.
After he does, he begins to wall-walk and regains his footing, though Elias continues to press him with a body lock. Santos working to defend and lands left elbows to the head at the same time.
Elias continues to work for the takedown, but is having trouble scoring it against the cage. At the same time, Santos can't quite get free o his hold.
"Marreta" lands more elbows to the side of the head of the Canadian and the referee soon after.
Elias pressures again, working some more against the cage for the takedown. Santos reverses positions, and quickly gets his own takedown.
Elias turns and faces him, scores another takedown, but Santos gets right back up and scores another for him, at the horn.
Round 3
Santos rushes in and hurts Elias with strikes at the start. Elias covers up, recovers a bit and presses Santos against the cage, looking for another takedown.
The referee steps in and stops them from working. Santos lands a knee to the head, and then a left hook to the head.
Elias shoots in for a takedown. He doesn't initially get it but he presses Santos against the cage, again.
Elias is cut and the referee stops the action to let the doctor look at him. The doctor lets it continue and the action continues with Elias pressing against the cage, once more.
Santos lands a knee to the head from the Thai plum clinch, and another, then a big punch to the head. A high kick from Santos follows and Elias is out on his feet.
The kid is tough but he is hurt badly. Elias pressing against the cage, looking for another takedown.
Santos defending well but unable to get free. The referee warns a dazed and hurt and active Elias of something.
Elias shoots in on the re-start, gets hurt with big straight lefts and a knee to the head. A knee to the body and a crushing left shin to the head land.
Elias will not go down but he is bent over and hurt badly. He presses Santos against the cage and the fight ends.
Official Decision: Santos wins a unanimous decision with scores of 29-28, 29-27, 29-27.