UFC champion Rafael dos Anjos wants to fight Khabib Nurmagomedov again at UFC 200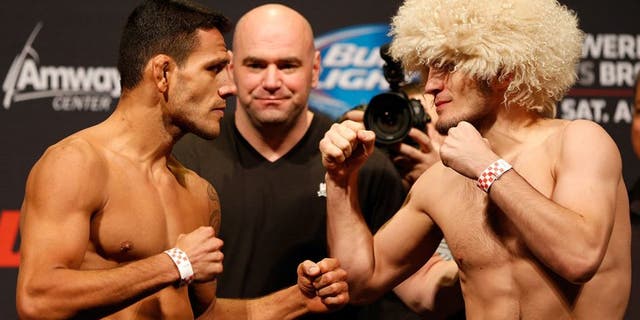 The winner of the now-in-limbo UFC Tampa main event between Tony Ferguson and Khabib Nurmagomedov would have likely gone on to challenge lightweight champion Rafael dos Anjos next.
But with Ferguson out due to injury, it looks like dos Anjos has set his sights on a rematch with Nurmagomedov, the last man to beat him inside the Octagon.
Dos Anjos and Nurmagomedov went toe-to-toe for the first time at UFC on FOX in Orlando back in 2014. The Brazilian was fresh off a win over Donald Cerrone and was looking for his sixth straight victory until he ran into Nurmagomedov and couldn't overcome the Dagestani's smothering grappling.
That bout, however, was the last time Nurmagomedov has fought inside the Octagon. In those two years since the loss, RDA has gone on to secure signature wins over Benson Henderson, Nate Diaz and Anthony Pettis, and scored a first-round TKO over Donald Cerrone in his first title defense.
Handing Nurmagomedov his first career loss would surely add to dos Anjos' growing legacy. We'll see if the UFC makes the matchup outright, or makes "The Eagle" win a fight or two before stepping into the Octagon with one of the more dominant champs the promotion currently has to offer.