UFC 144: Henderson Beats Edgar, Pettis Gets "Knockout Of The Night"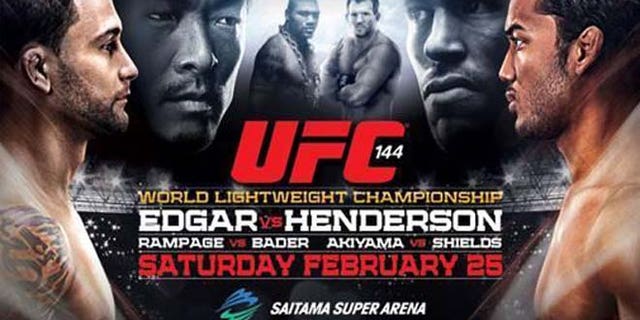 It's a great time to be a mixed martial arts fan when you have a lightweight division that's as stacked as the Ultimate Fighting Championship's is.
Frankie "The Answer" Edgar had shown a tremendous ability to come back when he looked like he was down but as Benson Henderson showed Saturday night in Tokyo Japan he is a force to be reckoned with.
The headliner for the UFC's return to Japan ended somewhat controversially as many people scored the fight for Edgar, however after 25 minutes and five rounds the 3 judges unanimously gave Henderson the victory and his moment as the new lightweight champion.
While Edgar threw more strikes, Henderson's seemed to do more damage.
In the second round off his back Henderson delivered an up-kick heel to the face of Edgar who was clearly rocked and began to bleed profusely.
Looking at both men afterwards, it was easy to determine who appeared to have won and lost the fight.
Edgar's eye was swollen, his nose cut and his face red from the many blows he took. Henderson looked almost as he did when he walked into the cage.
For the second time in a row a UFC Pay-Per-View ended controversially and mixed martial arts had yet another judging controversy as many fighters and critics are asking if there really is a consistent criteria when it comes to judging a fight.
Pettis wins in highlight reel fashion
In a match that began the special 4-hour PPV presentation, it took 81 seconds for Latino lightweight superstar Anthony "Showtime" Pettis to show the mixed martial arts world he was a still a title contender and had some unfinished business.
Pettis caught Joe Lauzon with a head kick, followed up by some hammer fists to end his match and set himself up for a possible rematch with Ben Henderson for the lightweight title.
Pettis, famously, was the last WEC champion, before the UFC's parent company Zuffa who had purchased WEC dissolved it into the flagship promotion.
He won the belt in dramatic fashion by leaping off the side of the cage and landing a head kick to Henderson that lead to the his victory and originally was to set up for a title shot with Edgar before a draw between Edgar and Gray Maynard and a loss to Clay Guida took him off track.
Other notable results from the large super card
Ryan Bader beat Quinton "Rampage" Jackson by unanimous decision in a light heavyweight match up.
Mark Hunt defeated Cheick Kongo with a first round TKO in a heavyweight match up
Japanese sensation Yoshihiro "Sexyama" Akiyama lost by unanimous decision over Jake Shields in what I consider a controversial decision.  It was a welterweight match up.
And Tim Boetsch upset Yushin Okami by TKO in a middleweight bout.
Follow us on twitter.com/foxnewslatino
Like us at facebook.com/foxnewslatino