Top Week 10 fantasy football matchups: Great spot for Cousins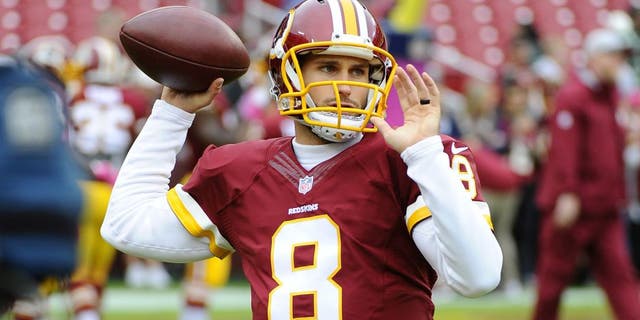 Through nine weeks, our Position vs. Fantasy Defensive Points Allowed tool is solidifying as a tool to help you find good matchups. It'll keep getting stronger as the weeks go by, and we'll have less reason to say things like, "But they played against Antonio Brown last week - of course their numbers versus wide receivers are horrible. He caught 149 passes against the Raiders!"
As always, please remember that the players listed are mostly meant to be borderline guys, who need reasons for you to play or bench them. You won't see recommendations to start Odell Beckham Jr. and Rob Gronkowski, because you should always start OBJ and Gronk. If a player is close to the start/sit fence, we'll push him one way or the other.
Note: The fantasy points per game (FPPG) referenced below are from FOXSports.com standard leagues.
Week 10 byes: Falcons, Colts, Chargers, 49ers
Thursday game: Bills at Jets
Quarterbacks
Stay away: Jay Cutler, Bears (at Rams)
Cutler has been pretty good lately, averaging 288 passing yards and throwing eight touchdowns over his last five games. Unfortunately, he's about to visit a nasty Rams' defense that ranks second with 12.4 FPPG allowed to opposing quarterbacks while giving up just five touchdowns through the air. This isn't a good spot for the man from Santa Claus, Ind.
(Question for my FOXSports.com editors: Am I allowed to accurately reference Cutler's hometown anymore, or should I call it something like Holidaytown? Do we have an official position on the War on Christmas? Starbucks cups? Glaciers instead of Christmas trees in malls? I DON'T KNOW WHAT OFFENDS ANYBODY ANYMORE!!!)
Play, play, play: Kirk Cousins, Redskins (vs. Saints)
Cousins ... really? Yes, really. Fantasy analysis can sometimes overreact to matchups, but the Saints' defense is terrible, giving up 24.5 FPPG and a despicable 24 passing touchdowns to opposing quarterbacks. If you're without Philip Rivers, Matt Ryan or Andrew Luck, Cousins is a perfectly acceptable bye-week option.
Also:
Blake Bortles has been a top-10 fantasy quarterback this season, so you might not need me to tell you to start him., But, if you've been slow to realize Bortles' success, understand that he'll visit a Ravens' defense that ranks 31st with 21.9 FPPG allowed to opposing QBs, and have permitted a putrid 106.9 QB rating. Roll with Bortles if you have him.
Running backs
Stay away: Chris Johnson, Cardinals (at Seahawks)
CJ2K has run for more than 100 yards in two consecutive games, and four of his last six. Why consider benching him? Partly because he's facing a Seahawks' defense that has allowed just 12 FPPG to opposing running backs, and partly because head coach Bruce Arians has said he wants to get Andre Ellington a bit more involved. Johnson is RB23 on my board this week.
Also:
Not that wading into the Giants' four-man backfield mess is a good idea under any circumstances, but the Pariots (14.1 FPPG allowed to opposing RBs) have been particularly effective against fantasy runners.
Play, play, play: James Starks, Packers (vs. Lions)
This recommendation was in place before Packers head coach Mike McCarthy named Starks as his starter for Week 10, because Starks and the Pack get a visit from the Lions' 29th-ranked fantasy defense (23.7 FPPG allowed to opposing RBs). This team doesn't seem willing to write off Eddie Lacy, but even if they don't, Starks can be productive with a workload similar to the 16 touches he received last week.
Also:
Philly's Ryan Mathews has been effective in a limited role, averaging 10 touches and 82 yards from scrimmage over his last four games. He's flex-worthy against a Dolphins' defense that ranks 30th with 23.9 FPPG allowed to opposing backs.
Wide receivers
Stay away: Larry Fitzgerald, Cardinals (at Seahawks)
Even though I think the Cardinals can win in Seattle, Fitz and CJ2K look like iffy fantasy starters. Fitz has averaged a so-so 74.6 yards over his last five outings, and faces a Seahawks' defense that is best in the league with 11.7 FPPG allowed to opposing wideouts. Fitz is just outside WR2 range for me – playable, but not a great option (though better in PPR).
Also:
Houston's Nate Washington has caught 13 passes for 201 yards and three touchdowns in his last two games – great, right? Maybe not. Cecil Shorts is expected to return to action this week, and the Texans face a Bengals' D that ranks sixth with 19.2 FPPG allowed to opposing wide receivers. Avoid all Texans' receivers not named DeAndre Hopkins.
Play, play, play: Sammy Watkins, Bills (at Jets)
Watkins isn't a great play, but is the best option that could possibly fit into this category, even with Darrelle Revis waiting for him. The Jets have ranked a surprisingly bad 24th with 25.2 FPPG allowed to opposing wideouts, while Watkins is coming off an impressive eight-catch, 168-yard, one-TD performance against Miami. Watkins was targeted on eight of Tyrod Taylor's 12 pass attempts, and should continue to dominate the attention of his QB. Watkins is WR24 on my board.
Tight ends
Stay away: Owen Daniels, Broncos (vs. Chiefs)
Daniels might look tempting after catching six passes for 102 yards and a score in Week 9, but remember that the Broncos added Vernon Davis last week, and add a Chiefs' defense that has given up a puny 4.5 FPPG to opposing tight ends. No, thanks.
Play, play, play: Eric Ebron, Lions (at Packers)
Ebron has been decent this season, averaging four receptions and 41 yards in six games while hauling in three touchdowns. On Sunday, he faces a Packer defense that has allowed subpar averages of 5.5 receptions and 68.3 yards per game to opposing tight ends. That puts Ebron squarely in the streaming conversation.
Also:
Is Jordan Reed to obvious to mention? I hope so. Cousins might throw to him 20 times against a Saints' defense that has allowed 12.7 FPPG to opposing tight ends.