Tomsula: Kaepernick's cautious approach not part of 49ers' game plan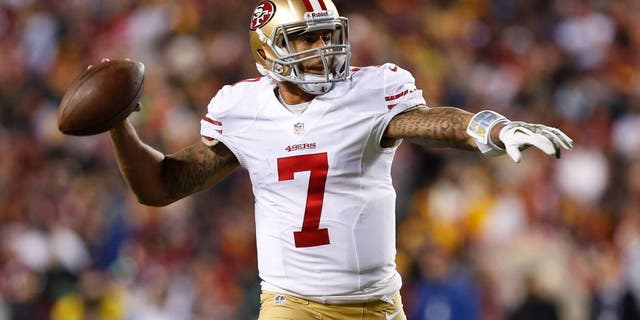 NEWYou can now listen to Fox News articles!
San Francisco 49ers quarterback Colin Kaepernick admitted he played tentatively in Sunday's loss to the Green Bay Packers.
Those are not the type of words Jim Tomsula wants to hear and the first-year coach reinforced that notion by telling reporters Wednesday his belief in Kaepernick is the reason he is not entertaining a quarterback switch.
"I want a confident man, knowing just full-bore ahead at that position," Tomsula said. "I believe it's critical. And I believe in the quarterback. I believe in Colin Kaepernick."
Kaepernick finished 13-of-25 for 160 yards and an interception on Sunday but conceded he took a cautious approach on some passes after he had two interceptions returned for touchdowns in a Week 3 thumping by the Arizona Cardinals.
Yeah, it's something where you're going to have that in the back of your mind," Kaepernick said. "You're going to make sure that you protect the football. I put our team in a bad situation in the Arizona game. I wasn't going to allow that to happen again. It did cost us, yes. But that's something I'll correct moving forward."
Tomsula, who made a point of saying any plans to change quarterbacks rests solely with him, said he is working on changing Kaepernick's mindset of protecting the ball.
"Stop, can't happen, can't play that way," Tomsula said. "It goes to the weight of the world on his shoulders."
MORE NEWS: Want stories delivered to you? Sign up for our NFL newsletters.