To be great, one must also be lucky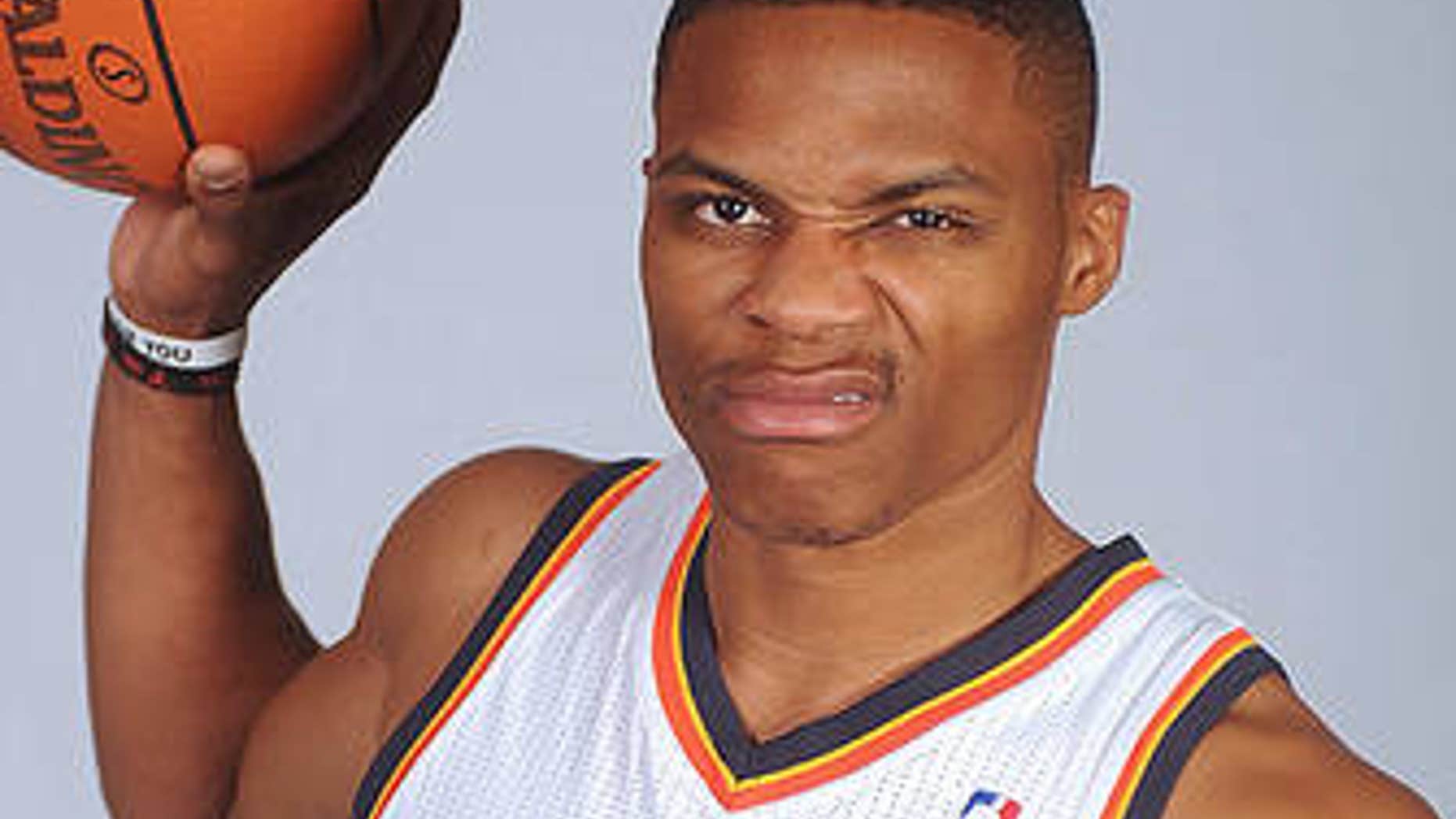 This week, from two remarkably different places on the spectrum of luck and fate, LeBron James and Russell Westbrook underscored the sometimes-arbitrary line between greatness and failure.
For LeBron, this reminder came from a podium in front of gathered media waiting to hear from the reigning two-time MVP, Finals MVP and NBA champion.
"I want," he said, "to be the greatest of all time. And that's my motivation. It's that simple. It's not that simple."
How right he is. It is simple, understanding what now motivates LeBron James. And it is not at all simple, what must happen for his goal to turn from hoped-for conclusion to real-life ending.
The reasons -- the things that rise up between a man and his dreams that he can not control -- were on vivid display this week across the rest of the league. That's especially so with Westbrook, whose new reality is a harsh reminder of how quickly promise and hope can fade under the weight of the uncontrollable.
Whereas LeBron spoke for himself in another bright moment, Westbrook had Oklahoma City Thunder general manager Sam Presti sharing his news: Westbrook will have a second surgery on the same knee he injured in last year's playoffs, a four- to six-week setback in the regular season and another creeping fear that a great player such as Westbrook can succumb to bad luck. In May, the operation was to repair a torn lateral meniscus. This surgery to fix swelling in that same knee is, to say the least, disconcerting.
In some alternative universe, where a simple tick of fate could turn one's road in vastly different directions, it might be Westbrook buoyant and triumphant before the microphones to start the NBA preseason and LeBron James dealing with some dark cloud over his career.
It was not long ago that LeBron entered a Finals series considered a star unable to sparkle enough in such moments against a Thunder squad full of young blossoming talent such as Westbrook, Kevin Durant and James Harden. It is not that large a leap in logic to look back and see a world, had things gone differently, where the Thunder emerged as the new power in the NBA and LeBron dug himself deeper into a hole made up of choking, missed opportunities and mounting ridicule.
Instead, LeBron is all that was promised of him when he was coined the Chosen One. And in Oklahoma City, Harden is gone, shipped to a Houston team with its own now-realistic designs on conquering the West, Westbrook is injured and Durant is at least temporarily on a team with one true star in a league that more and more requires three for real success.
LeBron's correct. His goal to be the greatest -- hell, anyone's goal to simply be great -- is far from simple. It takes luck. Time. Health. Support you counted on and support you never could have imagined a year earlier (hello there, Ray Allen). Yes, it takes innate greatness, too, and an ability to conquer both yourself and some parts of the outside world. But the world can never be fully managed, or won out against, and so some luck and fate also matter.
LeBron surely knows this. He has only to look at his own roster. There is Michael Beasley, once the No. 2 overall draft pick after Derrick Rose, a hard case looking for yet another chance at a career in the NBA. Greatness for him will have to wait, if it ever comes.
And there, next to Beasley on that practice floor, is former No. 1 overall draft pick and once-in-a-generation big man Greg Oden, felled by his own injuries, his own greatness curtailed by forces he could not control.
To beat Jordan, LeBron must beat the turns of ill-fortune and chance, just as the Thunder or any other team must beat the adversaries between them and their goal.
Ask the Lakers. Kobe Bryant will probably come back from an injury that would likely permanently set back lesser men of his age, but he still had in the end no power over Dwight Howard's decision to bolt for Houston. Whether that turns out to be a blessing or a curse for Los Angeles doesn't undo the fact Kobe could not will Dwight to stay.
Ask the Bulls. Derrick Rose was the youngest MVP in league history, and his Chicago team was a true threat to Miami. And now? Now they hope he returns to full health, having missed a year that saw his Bulls team be good but nowhere near great.
Ask the Knicks and Amar'e Stoudemire. Ask the Boston Celtics, who have Rajon Rondo returning from ACL surgery. Ask the Spurs, who know time is bearing down and who experienced in these past Finals the small margin in which a championship can be won or lost.
Ask Len Bias or Bo Jackson or Sandy Koufax. This is not limited to today, or to basketball. Greatness in any walk of life hinges on too many things to be able to control all of them.
LeBron James wants to be the greatest player of all time, and he says so, and few scoff at the goal or the ambition. Russell Westbrook's general manager shares the bad news of his second surgery and tries to put a silver lining around it -- the original injury is healed, his work ethic is great, this is all about caution -- but there is no backing away from the worries of what this may mean for the promising point guard and his once very-promising team.
Yes, what LeBron craves is simple. And it is also -- as Westbrook, Rose, Rondo and so many others know -- so very complicated.
You can follow Bill Reiter on Twitter or email him at foxsportsreiter@gmail.com .