TJ Dillashaw: That little (expletive) Dominick Cruz doesn't want to fight, he wants to run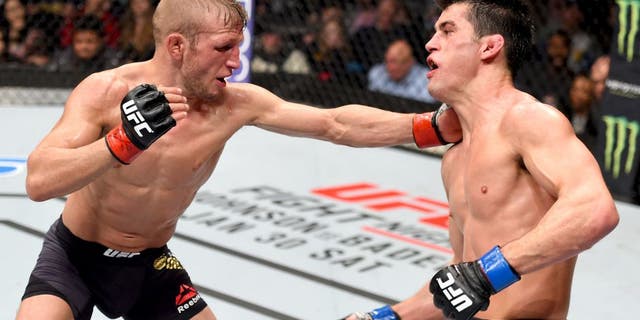 Former UFC bantamweight champion TJ Dillashaw still wants the chance to get his belt back from Dominick Cruz and he unleashed on the current 135 pound king on Instagram on Friday.
Dillashaw lost a very close, split decision to Cruz in January, which cost him the bantamweight title he had previously defended on two occasions.
Since the fight, Dillashaw has been campaigning for a rematch considering how close the fight was scored and it looks like he's getting ready for a second fight with Cruz by putting on his running shoes.
"Only equipment needed for the rematch against Cruz," Dillashaw said on Friday. "Next training camp is going to be strictly running marathons and pillow fighting. Cause that little b--ch doesn't want to fight he wants to run and throw his pillows around that he calls fists!"
The UFC still hasn't made an official decision on who Cruz will fight next with the bantamweight title on the line although all signs point towards old rival Urijah Faber getting the shot.
Cruz has already said he would be willing to fight Faber after the two of them were expected to rematch back in 2012 before the bantamweight champion suffered the first of several injuries that kept him sidelined for nearly four years.
Obviously, Dillashaw has other plans and wants nothing more than the UFC to grant him an automatic rematch so he can avenge the loss to Cruz and get back the bantamweight title.
"Give me the rematch to get back what is rightfully mine and should have never lost," Dillashaw wrote. "No more being respectful or nice cause that doesn't seem to get you s--t anymore."