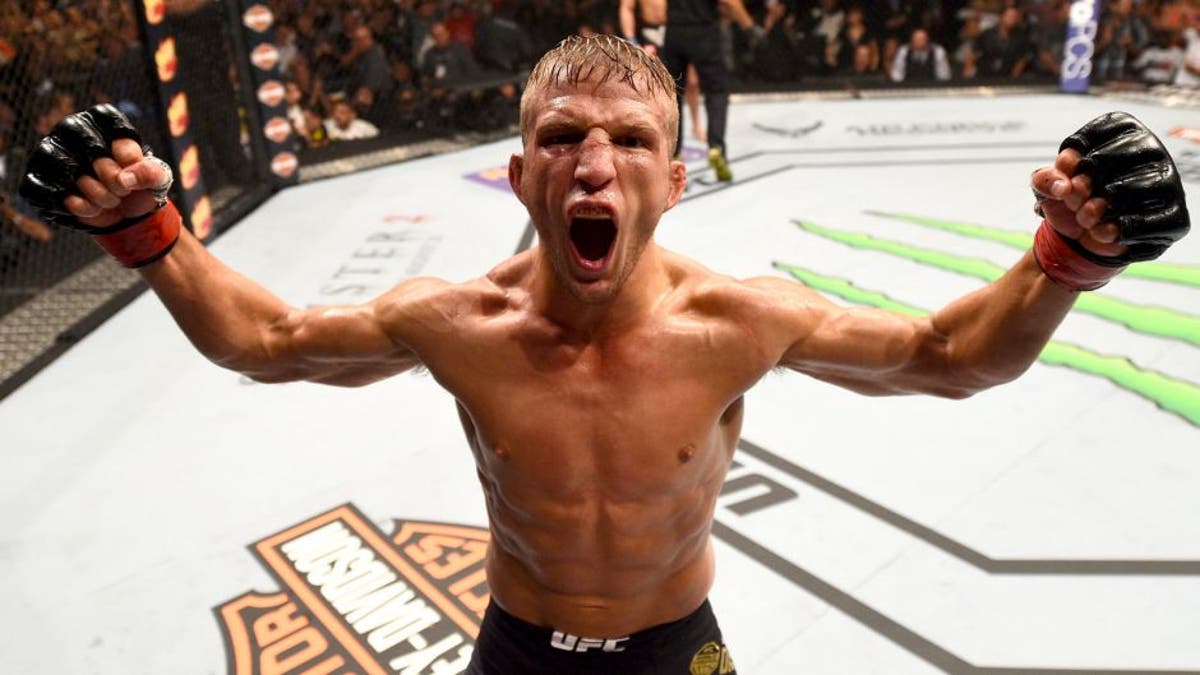 Like all of Team Alpha Male, UFC bantamweight champion TJ Dillashaw was likely upset when teammate Chad Mendes came up short in his short-notice UFC 189 interim featherweight title contest against Conor McGregor last month. In their hearts, they all feel as though the fight would have gone differently if Mendes had gotten an actual training camp and been in shape to fight the Irishman.
"Oh, absolutely. I mean, Chad was out drinking beer, fishing and hunting when he got the phone call," Dillashaw recently told Submission Radio.
"I mean, he got 10 days to train for a guy that's been training for three months for a title fight, you know, and Chad always had to work really hard to get in peak conditioning shape anyways because of the way he's built. You know, he's a very strong, muscle-bound guy, and he's gotta work really hard on getting that cardio up for his fights. And anybody on 10 days notice and that much pressure and that much adrenalin going into the fight, I mean for one, he had an adrenaline dump, and two, he was out of shape.
"So it was hard to even think that Chad would have enough cardio to last five rounds. ... I know he has the skills to do it, and he showed that in the fight. He was dominating the two rounds until the very end of the second round, and I still feel like it got stopped a little early."
Dillashaw, who on July 25 in Chicago successfully defended his own bantamweight world title against former champion Renan Barao, would like to get revenge for Mendes against McGregor. The only catch, in the champ's mind, is that he'd have to fight McGregor quickly, because he doesn't believe that the interim champ will hold on to his belt for very long.
"I don't think he's gonna last that long. I would like to do it now if I could, because I don't think he's going to last and be champion forever," TJ said of Conor.
According to the 135-pounder, even in victory, holes in McGregor's game were revealed. "He's definitely going to get beat," he concluded.
"I think Mendes showed the holes in his game, and I think people will take advantage of it. I think Chad Mendes beats him, I think Frankie Edgar beats him. You know, I don't know if he's going to beat [full featherweight champion Jose] Aldo after watching that."