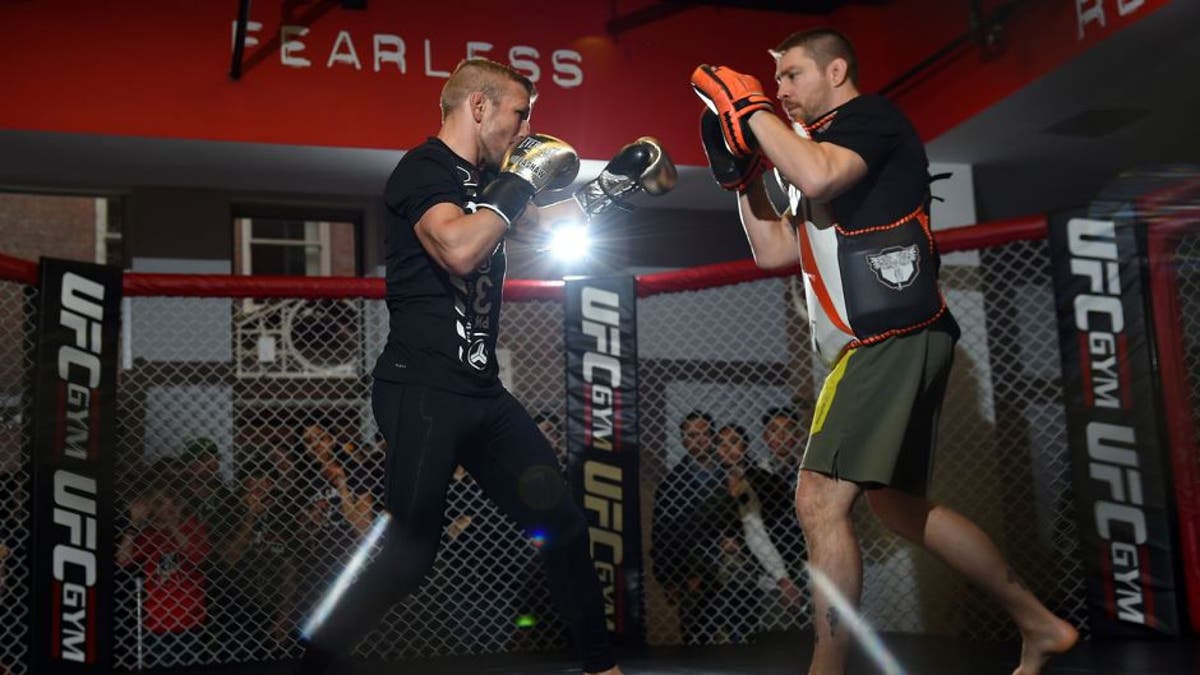 Many of the greatest athletes in sports will attribute their success in no small part to the incredible relationship they've shared with one particular coach that has influenced them during their career.
Mike Tyson called his trainer Cus D'Amato a "mentor, a friend and general." Michael Jordan described Dean Smith as a "second father" and said that no person outside of his parents influenced him more during his life than his former college coach.
In MMA, the coach/fighter partnership is one built on the trust that the coach will teach the fighter everything they need to know going into the battle and the faith they must show each other while standing and falling as they both learn to run together.
UFC bantamweight champion TJ Dillashaw knew on the first day he met Duane "Bang" Ludwig that this wasn't just another coach who was showing up to teach him some striking technique. Dillashaw recognized right away that Ludwig shared many of the same personality traits when it came to attacking training with the exact kind of ferocity that's required to win inside the Octagon.
"I knew that first practice. It's kind of crazy to say that after the first practice, but he came in and started running practice and the way he kind of demanded respect," Dillashaw told FOX Sports about his first session with Ludwig. "Also the way he ran practice is the way that I would run practice, the way that I actually drilling on my own in the past.
"When Duane showed up and started running practices that way, I knew me and him were going to be a match made in heaven."
In a separate interview, Ludwig expressed an almost identical sentiment when speaking about Dillashaw, which shows that the coach and fighter have been on the same page from the day they started training together.
"From the first time I saw him train when I went out and did a seminar, just to get a feel for Sacramento and so the guys could see my coaching, kind of like an interview process and when he ran through all the drills and a few guys always stick out and he was one of the guys who stuck out," Ludwig said about Dillashaw.
"TJ stuck out from the first time I ran a class. His work ethic, the questions he was asking, his attention to detail, how focused he was during the drills, it was impressive."
Attention to detail was something Dillashaw noted about Ludwig right away as well because as focused as he was on his own career, he saw a coach who was just as obsessed with making sure he found a way to succeed. Dillashaw was already a tremendous fighter working with UFC stalwarts like Urijah Faber, Joseph Benavidez and Danny Castillo, but a head coach seemed to be the missing piece he needed to complete the puzzle.
Over time, Dillashaw saw Ludwig's meticulous preparation both in and out of the gym and it not only impressed him as a student, but he knew that this was somebody who was truly putting his own sweat into his eventual success.
"I can't do what Duane does because it would be too much for me," Dillashaw said. "What Duane does is, my goals are now Duane's goals. When you have a coach that works just as hard as you if not harder, that's hard to find.
"That's hard to find someone that 'OCD' (obsessive compulsive disorder) about how you do and how you perform and looks at it as a direct reflection on him as a coach. Me and him grew together. He grew as a coach because he had never been a coach before. He taught classes but had never been in charge of a fight team and when he came out to Sacramento, he grew as a coach and I grew as a fighter and it was nice for both of us. We created our own style."
Ludwig was a fighter for many years before transitioning to coaching and he had plenty of influences to help him during his career but he rarely ran across someone else who not only looked martial arts as a profession but as a way of life.
What Ludwig found in Dillashaw was another person who was just as captivated by every facet of martial arts as he was and as they continued to study together, they both learned a lot. Ludwig discovered what it meant to be a coach and a mentor and Dillashaw was educated on what it took to become a champion.
"We're both just crazy about martial arts and improvement and the pursuit of excellence," Ludwig said. "That's where we connect. We'll be doing combinations and he's right there with me and then sometimes he'll ask about a detail right before I can say it. The kid is one step ahead of me and that just goes back to the fact that I'm not trying to make him Duane Ludwig or anybody else. I'm teaching a system and trying to help him realize his full potential.
"He understands that I have his best interests at heart. He understands the information that I'm giving him, it's to help him in that particular scenario or situation. It turns out that most of the things I ask of him end up being correct. With the flipside, I'm in tune with TJ so I know what's natural for him, what combinations he throws along with his intuition."
Dillashaw can't say enough about Ludwig's influence over the past couple of years because he found the perfect formula that eventually led him to a world championship. Most recently, Dillashaw relocated to Colorado to work with Ludwig full time while also switching his training camps from Team Alpha Male to the Elevation Fight Team in Denver.
So now in addition to Ludwig's advice, Dillashaw has surrounded himself with even more people who not only add to his game, but have his best interests at heart and his confidence is at an all-time high going into his third straight title defense this weekend.
"It gives me so much more confidence to have that behind you. I feel very prepared. I feel confident and prepared and ready to show what I've been doing," Dillashaw said. "Not only working with Duane but the other three or four coaches who have had eyes on me.
"It's been awesome to have Leister Bowling watching my wrestling and Eliot Marshall has been awesome. I think he's the greatest MMA jiu-jitsu coach I've ever worked with and having a strength and conditioning coach like Loren Landow and an extra striking coach like Christian Allen, it's just been amazing the growth I've made. I'm ready to show it off."
Ludwig never takes for granted how lucky he has been to run across someone like Dillashaw because the retired UFC veteran knows that he's likely working with a once-in-a-lifetime kind of talent -- and that's an experience he will never, ever forget.
"It's awesome to be in this position and to cross paths with TJ," Ludwig said. "Whether it was random or meant to be, it's perfect. I love the guy and it's fun to have someone at this level to develop martial arts. I'm a super fan nerd of martial arts and to be in the presence of someone like TJ to bounce my ideas off of and we are able to work together for the next evolution of martial arts together."