Time for Toews? Hawks captain ready to break out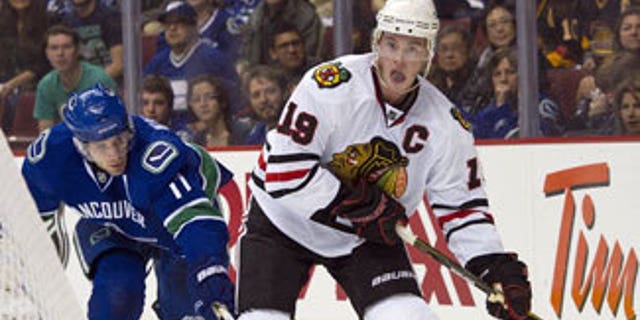 VANCOUVER, B.C. -- Jonathan Toews feels like it's his night to break out.
The timing for it would be fitting for the Blackhawks' captain, who usually wraps a giant bear hung around the big stage, embracing it with the fervor of a true leader, All-Star and potential MVP candidate.
"You just have to go out with that feeling and think you're going to get lucky and hope you do," Toews said Tuesday after Chicago's morning skate. "This is the game to do it in."
Toews hasn't scored yet in this series against the Canucks, but Chicago hasn't needed his production. The Hawks have won three straight to force the need for this Game 7 Tuesday night at Rogers Arena thanks to the goaltending of Corey Crawford and the scoring of Duncan Keith, Dave Bolland, Michael Frolik, Bryan Bickell and even rookie overtime hero Ben Smith.
They may not need Toews to score to win the series, but the Blackhawks fully expect something special from him because, well, that's just what he does.
Toews won the Conn Smythe Trophy last season months after he was named the most valuable player in the Olympics, which, ironically, took place right in this very building. He's had several close chances to beat either Roberto Luongo or Cory Schneider, but it just hasn't happened for him yet.
"The bigger the situation, the bigger the stage -- he just seems to welcome the challenge," Blackhawks coach Joel Quenneville said. "I'm sure he's excited about tonight."
Without a doubt he is, but Toews has a new way of showing it. Instead of the hard, straight forward, serious stare that has become almost his public trademark, Toews is smiling a heck of a lot in this series despite being frustrated by his lack of production.
"I'm a happy guy," he said.
He feels the Blackhawks got to Game 7 not only because they've played well.
"You gotta feel like it's our team's fate that we found a way to get to this Game 7, coming back from 3-0," Toews said. "Kaner (Patrick Kane) and I feel like we can be more productive, me especially, but hey, our team has made it this far without that. So hopefully I can find a way tonight. It's easy to let that frustration creep in and let that take a hold of your game, but I've been trying not to let that happen. You've got to feel that tonight we'll find those bounces and help our team win."
Can he do anything to force it to happen for him?
"I just gotta take a leap of faith, I guess, take a chance and hope it works out," Toews said. "I've been feeling confident in practice. I have a lot of energy and expectations for the game and it's just about going out there and making it happen."
At least the guy he's facing hasn't made it happen either. Ryan Kesler scored 41 goals during the regular season, but like Toews, he has 3 assists and a big bagel in the goal category through six playoff games.
You get the feeling if one of them gets on the board Tuesday night, his team will win.
The Blackhawks have complete faith that it's going to be their guy.
After all, it usually is.
"He's definitely had his fair share (of chances), but other guys have stepped up and scored so at this point we haven't needed it," forward Viktor Stalberg said. "I'm sure he'll find a way to get it done tonight."
Follow Dan Rosen on Twitter at: @drosennhl