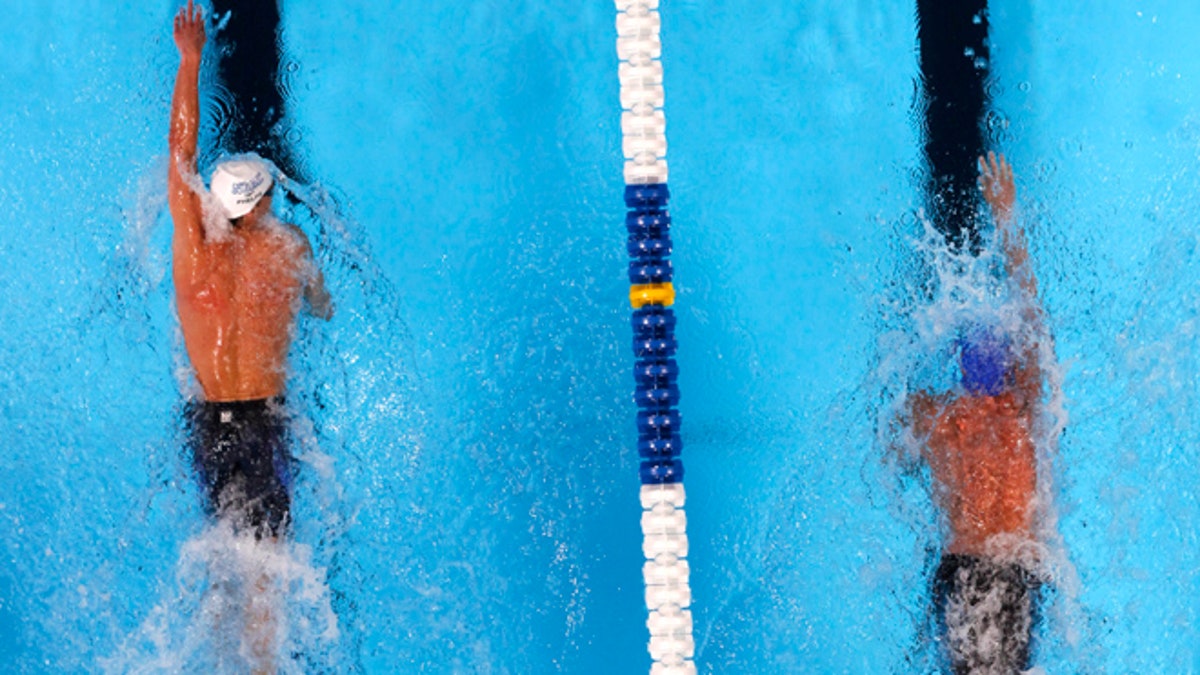 OMAHA, Neb. – The Michael Phelps and Ryan Lochte Show is down to its last act at the U.S. Olympic trials.
The world's two best swimmers go at it in the 200-meter individual medley starting with preliminaries on Friday morning. So far, they are 1-1 against each other in thrilling races.
Lochte won their first showdown in the 400 IM on opening night. Then Phelps got revenge by winning the 200 freestyle on Wednesday.
The 200 IM is up for grabs.
Lochte beat Phelps in the event at last year's world championships in Shanghai while setting the first world record since high-tech body suits were banned. But the Floridian also has to swim the prelims and semifinals of the 200 backstroke -- he is the world champ in it -- on Friday, while Phelps only has one event.
"I have a hard double tomorrow," he said.
Lochte scratched the 100 freestyle final on Friday night to ease his schedule and focus on his stronger events. Matt Grevers also scratched, and their moves opened up spots in the eight-man final for Jason Lezak and Dave Walters. Lezak saved Phelps' bid for eight gold medals in Beijing with his anchor leg of the 400 free relay.
"He better owe me something," Lochte joked when asked about giving Lezak another chance to get back to the Olympics at 36.
The 100 free is loaded with Olympic medalists like Lezak, Nathan Adrian, Ricky Berens, Cullen Jones and Garrett Weber-Gale.
While Lochte advanced through the prelims and semis of the 100 free before bowing out, Phelps scratched the event altogether so he could steal a rare morning off. He spent part of Thursday in his hotel watching "Act of Valor" and ordering room service with training partner Allison Schmitt.
"We were able to just sit around and tell jokes," he said.
In the evening, he returned to the pool and easily won the 200 butterfly, his signature event and a favorite of his family since his two older sisters used to swim it, too.
"Very relaxing day. And yeah, I think it showed in the race," Phelps said. "I was comfortable. That was something that just helped everything, and hopefully will carry through the rest of the meet."
Phelps took the lead on the third lap and he finished a body length ahead of the field in 1 minute, 53.65 seconds, his easiest final yet in Omaha.
Phelps said he will have to go even faster in London to claim his third straight gold in the 200 fly.
"It's not a good enough time to win a gold medal, but I think I'm OK with it," he said. "Going into the last wall. I didn't want to have any close ones, so I tried to stay under as long as I could. Today was the best my stroke has felt throughout the whole meet."
Phelps' biggest challenge came at the end of the night when he visited the news conference room, where the air conditioning was cranked and cold air was blowing.
"Sorry, I can't even think right now, it's freezing in this place. Holy crap," he said, his arms wrapped around his shivering body, "and I just got out of a 48-degree ice bath."
Phelps' victory locked up his third individual event for the London Games, and he's got the 200 IM and 100 butterfly left in Omaha. That sets him up to swim eight events at the Olympics, including a likely spot on all three relays, and gives him a chance to duplicate his record from the Beijing Games.
On Friday, Eric Shanteau and Brendan Hansen are the favorites in the 200 breaststroke final, although Clark Burckle goes in with the fastest qualifying time. Teresa Crippen, sister of the late open-water swimmer Fran Crippen, has a shot at making the Olympic team in the 200 butterfly final.
The other Olympic berth in the 200 fly went to Tyler Clary, who finished second with a time of 1:55.12 on Thursday.
"It was amazing," Clary said. "I can't even put into words how the end of that race felt, not only the pain in the last 20 meters but just the complete and total turnaround."
Phelps' pal Schmitt was equally dominating in winning the 200 free. She broke her own American record with a time of 1:54.40, the best in the world this year. She had already won the 400 free here.
"I didn't feel like I was on my record pace, but I could hear the crowd," Schmitt said. "And when I touched and saw the flames go off I was pretty excited before I even looked up and saw the time."
Seventeen-year-old Missy Franklin locked up another Olympic race, claiming the second 200 spot in 1:56.79. She rallied from fifth place at the first turn.
Franklin already won the 100 backstroke and looks poised to have another huge performance in London, after breaking through at last year's worlds with five medals.
Dana Vollmer and Lauren Perdue finished third and fourth, assuring themselves of being in the pool for the 800 free relay. Shannon Vreeland (fifth) and Alyssa Anderson (sixth) also are likely to be taken to London as potential relay swimmers.
Caitlin Leverenz became a first-time Olympian with a victory in the 200 IM. She was dominating on the final two legs -- breaststroke and freestyle -- and pulled away to win in 2:10.22.
Ariana Kukors, who won gold in the event at the 2009 world championships and was third at last year's worlds, rallied to claim a spot on her first Olympic team, as well. She touched second in 2:11.30, just 25-hundredths ahead of Elizabeth Pelton, who led the first two laps but couldn't hang on.