Three players accept qualifying offers; Cardinals' Heyward, Lackey don't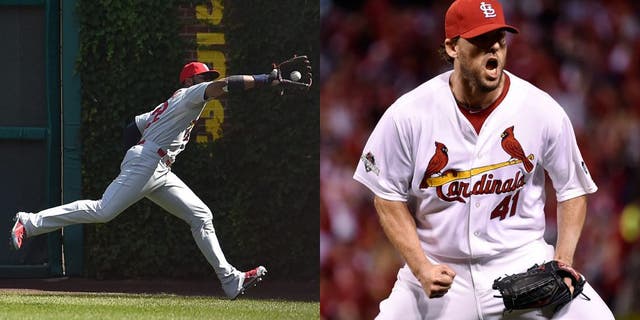 NEW YORK -- Houston outfielder Colby Rasmus, Baltimore catcher Matt Wieters and Los Angeles Dodgers pitcher Brett Anderson became the first three players to accept qualifying offers rather than remain free agents.
Right fielder Jason Heyward and right-hander John Lackey declined qualifying offers from the St. Louis Cardinals and become free agents.
The trio, who accepted $15.8 million, one-year contracts Friday, were among 20 players given the offers last week. Another in the group, Toronto pitcher Marco Estrada, agreed to a $26 million, two-year contract that was announced just before the 5 p.m. EST deadline to accept qualifying offers.
None of the 34 qualifying offers was accepted in the first three years of baseball's current collective bargaining agreement.
Among those besides Heyward and Lackey who turned down the offer this year were left fielder Alex Gordon (Royals), second baseman Daniel Murphy (Mets) and right-hander Ian Kennedy (Padres).
The 29-year-old Rasmus hit .238 with a career-high 25 homers and 61 RBIs in his first season with the Astros. He had seven homers over 27 at-bats in his last nine games, including four in six postseason games.
"I'm just happy to be an Astro. It would have been nice, obviously, to have a long-term deal and whatnot, but I feel that it worked out pretty good," Rasmus said during a conference call. "It was in my heart and my wife's heart to go to Houston."
Wieters played in 75 games last season after elbow ligament replacement surgery in 2014. He batted .267 with eight homers and 25 RBIs.
"For a one-year deal, there's no place more comfortable than playing baseball for the Orioles," the 29-year-old said.
Asked whether his family tried to talk him out of accepting, Wieters said: "They know that I'm stubborn. When I make a decision, that's it."
Anderson, a 27-year-old left-hander, was 10-9 with a 3.69 ERA.
Estrada gets a $1 million signing bonus payable by Jan. 29 and salaries of $11 million next year and $14 million in 2017. The 32-year-old right-hander was 13-8 with a 3.13 ERA, setting career bests for wins, ERA and opponents' batting average. He was 2-1 with a 2.33 ERA in the playoffs, Toronto's first postseason appearance since 1993.