The Yankees are positioned to make major moves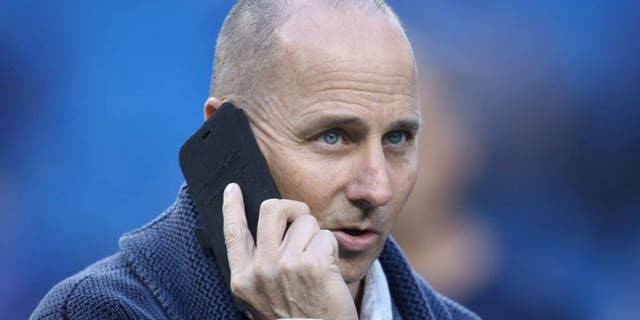 Every time I hear Brian Cashman utter his cryptic mantra, "We're open to anything," the same thought enters my head:
"Uh-oh, here come the Yankees."
The team's payroll flexibility is increasing. Its farm system is one of the game's best. And its average home attendance declined by nearly 5,000 per game from 2014 to '16.
Is this the profile of a club that is going to spend the next two seasons evaluating its young talent while awaiting the great free-agent class of 2018-19?
Not likely.
We know the Yankees are interested in signing free-agent closer Aroldis Chapman and designated hitter Carlos Beltran, and engaged on virtually every other free agent and trade possibility.
We know, from major-league sources, that they also want to beef up the rest of their bullpen. And we know, from Cashman's latest comments, that they are drawing trade inquiries on outfielder Brett Gardner and third baseman Chase Headley.
Simply re-signing Chapman and Beltran would enable the Yankees to look at Greg Bird and Tyler Austin at first base next season, and Aaron Hicks and Aaron Judge in right field. Adding a quality setup type with Chapman would give them a variation of the three-headed bullpen monster that they had in the first four months of last season -- Dellin Betances, Andrew Miller and Chapman.
But why would Cashman stop there?
The Yankees scored 680 runs last season, 12th in the American League, and the subtractions of Beltran, Brian McCann, Alex Rodriguez and Mark Teixeira cost them 66 of their 183 home runs (36 percent).
The return of Beltran alone would not be enough to boost the offense, particularly as the Yankees integrate younger players. A trade of Gardner would create additional flexibility and clear left field for say, Yoenis Cespedes.
A run at first baseman Edwin Encarnacion would seem less likely, particularly if he remains insistent on a four- or five-year deal as he turns 34. But what if Encarnacion would take three years at monster dollars? Becomes more appealing, right?
The offense, though, is just one of the Yankees' issues. Their rotation is full of questions, and the free-agent market for starters, as we all know, is rather thin.
In Jan. 2015, I wrote that the Yankees had improved their farm system to the point where they had enough talent to trade for Cole Hamels, who was then with the Phillies. Since then, the Yankees have traded Miller, Chapman, Beltran and McCann, acquiring one quality prospect after another.
Their system is deep enough for them to acquire the White Sox's Chris Sale, the Rays' Chris Archer or any other starting pitcher who is available in trade. Maybe the Yankees will decide that the acquisition costs are too high for them to act this offseason. But at some point, inevitably, they're going to strike.
The only question is when.
The Astros' evolving plan
The Astros' trade for McCann and agreement with free-agent outfielder Josh Reddick has not precluded them from continuing their pursuit of Beltran, according to major-league sources.
The most likely current scenario is that Reddick will play right field, with George Springer moving to center and Nori Aoki and Jake Marisnick platooning in left.
Beltran certainly could take some of the Aoki/Marisnick at-bats, and the Astros would not use one of their catchers, McCann or Evan Gattis, as a DH every night. A full season of Yuli Gurriel at first and Alex Bregman at third should make the team's lineup rather potent even without Beltran. But the team would benefit from Beltran's leadership and presence, just it will benefit from McCann's.
The other question with the Astros is whether they, too, will pursue a top starting pitcher in trade.
The team has parted with a considerable amount of young pitching in recent years; Jarred Cosart went to the Marlins; Josh Hader and Adrian Houser to the Brewers in the Carlos Gomez/Mike Fiers trade; Vince Velasquez, Mark Appel and others to the Phillies in the Ken Giles deal.
The Astros still believe they have enough of a prospect inventory to include pitching in a deal for a Sale or an Archer. If they're not comfortable with the asking prices, they can always start the season with Dallas Keuchel and Lance McCullers at the top of their rotation, and hope that oft-injured free-agent acquisition Charlie Morton gives them 30 starts instead of 10.
Wil Myers: The Padres' Anthony Rizzo?
I know, I know: The Padres had Rizzo, and traded him for Andrew Cashner in Jan. 2012.
The comparison, though, is more current: The Pads, in wanting to sign Myers long-term, see him evolving into the same type of centerpiece that Rizzo did with the Cubs.
Rizzo was the bridge to the Cubs' young talent, then a leader of the franchise's first World Series championship team since 1908.
Myers, who turns 26 on Dec. 10, is coming off his first full season, the kind of season long expected of him -- .797 OPS, 28 home runs, 28 stolen bases, 94 RBIs.
The Padres' talks with Myers are in the early stages, and come at a time when other teams continue to ask about him in trades, according to major-league sources. Not surprisingly, the Pads' position is that they would need to be "blown away" by any trade offer.
A failure to reach a long-term deal initially would not necessarily alter the Padres' stance: Myers is under control for three more seasons, and club officials love his makeup, athleticism and upside.
The free-agent market, meanwhile, includes a number of power bats, making it unlikely that a prospective trade partner would meet the Padres' prospect price for Myers when it could spend on a hitter instead. Then again, a club that acquires Myers would get him, at minimum, for his ages 26 to 28 seasons as opposed to say, Encarnacion at 34 and upward.
The best guess is that the Padres will fulfill their goal of keeping Myers and building around him.
Rays' direction? It all depends
Odd as it might sound, the identity of the starting pitcher the Rays trade likely will determine the course of their offseason.
The Rays, as a low-revenue club, do not have the luxury of choosing a direction. They lack the resources to add regularly through free agency, and the trade market often dictates what they can accomplish.
So, if the Rays move right-hander Alex Cobb (one year of control) or lefty Drew Smyly (two), they are more likely to try and compete than if they trade righty Jake Odorizzi (three) or Chris Archer (five).
Trading Archer could signal more of a rebuild, but team officials continue to sound reluctant to move third baseman Evan Longoria, who is under club control through 2023.
Longoria, 31, has been one of the game's most durable players the past four seasons, missing a total of only six games. His resurgence in 2016 has club officials convinced that he can be an important part of the Rays' next winning club, even if it's two or three years from now.
In any case, the perfect Rays trade is one that allows them to turn a coveted asset into future wins. Case in point: The exchange of right-hander Matt Garza and two others to the Cubs in Jan. 2011 for Archer, catcher Robinson Chirinos, outfielders Brandon Guyer and Sam Fuld and shortstop Hak-Ju Lee.
Around the horn
*The Cubs have done background work on free-agent closer Kenley Jansen, but their inquiries appear more a matter of due diligence than the foundation of a serious pursuit, major-league sources said.
Team officials repeatedly have said that their combined free-agent investment of $272 million last winter in Jason Heyward, Ben Zobrist and John Lackey amounted to two offseasons worth of spending.
The last thing the Cubs want to do is overspend on a closer when it might cost them the chance to make a run next winter at Japanese pitcher/outfielder Shohei Otani -- or pursue other opportunities in the future.
One thing the Cubs do want to add: a left-handed hitting center fielder to complement to Albert Almora Jr. The team wants to protect Almora next season, believing he will be more fully ready to emerge in 2018.
*Mookie Betts' second-place finish in the MVP voting could hurt him if his goal is to break Ryan Howard's record $10 million salary for a first-time arbitration-eligible player.
The arbitration process accounts for "special accomplishments," and an MVP award certainly would have qualified. Frankly, a fairly close second-place finish to Mike Trout should qualify, too, but that's not how the system works.
Betts, of course, will be fine -- and his potential for huge salaries in arbitration could motivate the Red Sox to sign him to an extension.
*The Rangers had interest in free-agent right-hander Edinson Volquez before they reached agreement with Andrew Cashner on a one-year, $10 million contract, pending a physical.
Volquez began his career with the Rangers as part of the DVD trio of prospects -- John Danks, Volquez, Thomas Diamond. He probably would have been a safer play than Cashner, but more costly.
*The Cardinals have floated right-hander Michael Wacha's name in trade discussions, sources say, but it's unlikely they would get much for a pitcher who has a history of shoulder trouble and had a 5.09 ERA in 138 innings last season.
Wacha, 25, is now three years removed from his rookie season, when he performed brilliantly in the playoffs and look poised to become one of the best pitchers in the sport.