The story behind Isco's new goal celebration is adorable and touching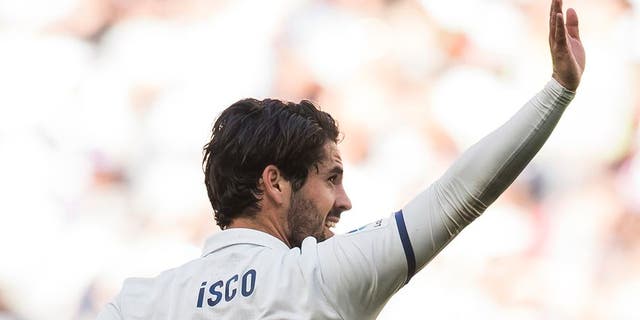 NEWYou can now listen to Fox News articles!
When Isco scored against Sporting Gijon this weekend for a big 3-2 away win, he debuted a goal celebration we've never seen before: He put both his hands out with his thumbs, index fingers and pinkies up -- he did the hand signs for, "I love you."
In case you forgot, his celebration looked like this:
But why? Well, it was a sweet gesture for a young Real Madrid fan he met before the game.
The little girl speaks sign language on behalf of her deaf parents and taught him the sign for "I love you" at a meet-and-greet. She said her parents would love to see him do the sign if he scored. That was a week before he would score his goal vs. Gijon, but he remembered it and happily obliged.
Real Madrid posted a video sharing the story of their encounter, for those who understand Spanish, and it's pretty darn adorable.
"She asked me if I scored if I could make this gesture and that it signified I love you," Isco says in the video."I remembered her and I did it."
That's a cute and classy move from the Real Madrid midfielder.
MORE FROM FOX SOCCER