The simple reason there will be fewer trades during the 2017 NFL Draft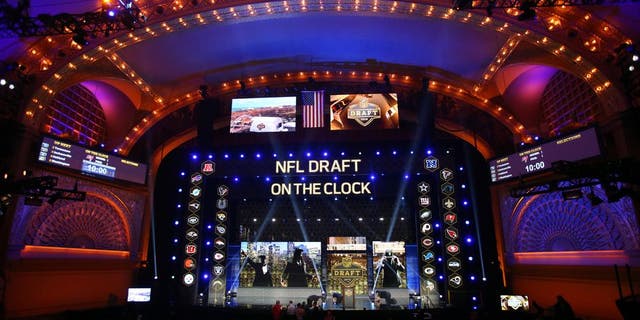 Part of what makes the NFL Draft so fascinating is the unpredictability of it all. Its truly one of the most difficult events to forecastbecause of the fact that no one truly knows what a team will do when it goes on the clock.
And thats without even mentioning the added layer of trades, which are nearly impossible to see coming.
One second the Titans hold the first pick and appear poised to nab Laremy Tunsil, and the next the Rams are on the clock after a trade to land Jared Goff. As exciting as that trade was last year, we probably wont see a similar one when the2017 draft gets started April 27. In fact, we likely wont see many trades at all, which is disappointing.
Theres a very simple reason for that: depth.
This draft class is historically deep at multiple positions. The overall wealth of talent across the board is significantly better than that of past classes, which drives up the value of draft picks.
Sure, there will be teams looking to trade down in the draft, particularlyat the top. The 49ers and Bears would be wise to slide down a few spots and add picks in the later rounds, increasing their odds of landing Day 1 starters by way of the draft. Thats the ideal scenario in a class where you can get first-round talents in the second round.
Theres just one problem: In order for a team to move back, there has to be a willing trade partner looking to come up. Good luck trying to find those in this years draft.
DIAMOND IMAGES
Very few teams will be willing to part with top-100 picks in order to jump a few spots. The Browns are obvious candidates to move up from No. 12, but they can afford to do that thanks to their two second-round picks in each of the next two drafts. The Colts could look to move up to nab an edge rusher, but would they be willing to part ways with the 46th pick in order to do so? They shouldnt.
Rather than eagerly making calls to move up in the draft, teams will be more open to standing pat and taking the best player available. Theres such great depth at key positions edge rusher, cornerback, running back, safety that teams wont feel the need to offer a third-round pick to jump a few spots in order to land acoveted player.
Its not that second- and third-round picks werent valuable last year or the year before. Its that they have some extra value this year because theres a good chance players taken in those rounds will be starters from Day 1. As many as 20 defensive backs could go in the first two rounds, which would be a remarkable number. We could see 12 to 15 edge rushers off the board before the second round is over.
Kim Klement-USA TODAY Sports
And if youre looking for a running back, youd be wise to stay put and draft the best one available because he probably isnt far behind the top players at the position. Dalvin Cook and Alvin Kamara could be available into Day 2.
Come draft night, we shouldsee a whole bunch of teams trying to move down but very few looking to come up. Jonathan Allen, Solomon Thomas and Mitchell Trubisky could be players whointrigue some GMs to explore trade options to move into the top 10, but eventhat will be relatively unlikely. Day 2 selections are simply too coveted this year for teams to throw them around like pocket change.
There aren't enough blue-chip players to force the hands of GMs to trade up in the draft. The offensive tackles are underwhelming at the top, the cornerbacks are all very close in ability, and the quarterbacks aren't worth trading multiple picks for asJared Goff and Carson Wentz were.
A combination of those factors, as well as the value in the second and third rounds, will cause teams to sit tight and pick from their original slots.
Photo by Focus on Sport/Getty Im | Getty Images