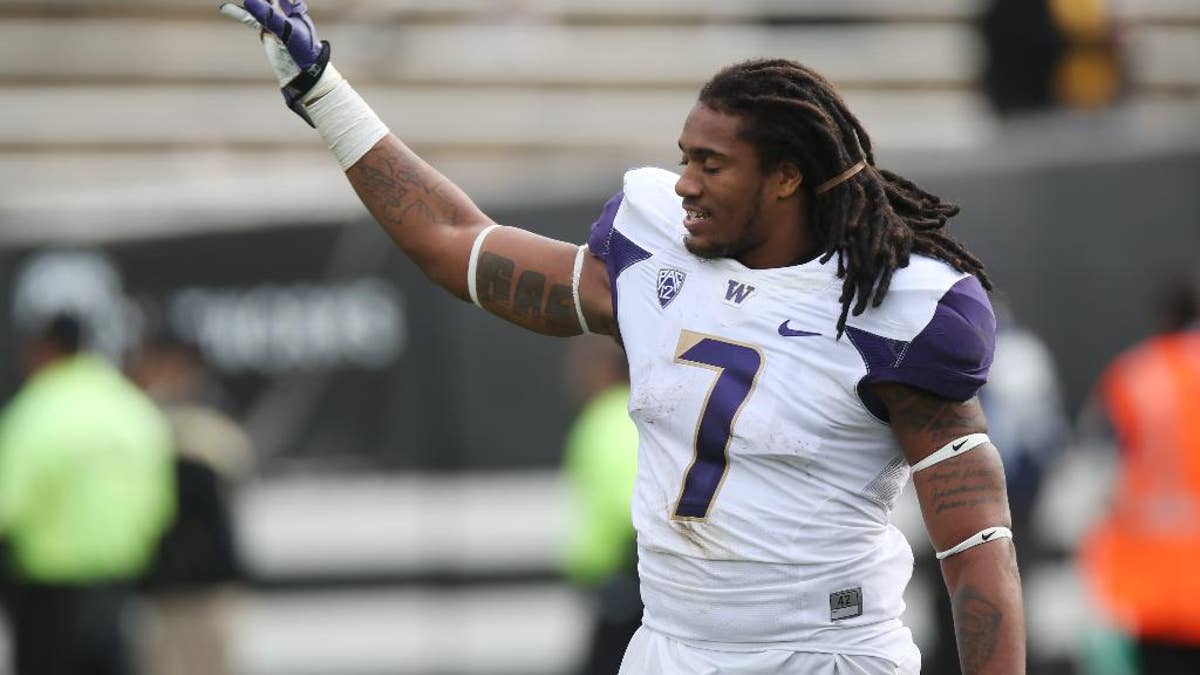 LOS ANGELES – Linebackers hit running backs, running backs hit linebackers, and UCLA's Myles Jack and Washington's Shaq Thompson will be hitting each other plenty by lining up at both positions Saturday.
"I guess we should start our own little group," Jack said. "Maybe (design) a shirt or something."
Jack electrified the Pac-12 last season by winning both the conference's offensive and defensive freshman of the year awards, but Thompson has been even more impressive by scoring four defensive touchdowns this season and rushing for 174 yards and one touchdown in a win at Colorado last week.
With Thompson likely to start at running back again and see time at linebacker against the 18th-ranked Bruins (7-2, 4-2 Pac-12), the two stars should be on the field enough to talk shop.
They already share a relationship, as Thompson hosted Jack during his official recruiting visit to Washington in 2013. They still trade text messages, with Thompson confirming he would play offense this season when Jack inquired over the summer.
And while Thompson never asked for advice on how to handle both sides of the ball, Jack definitely understands the physical and mental challenges that come with double duty, everything from learning two playbooks to the exhaustion of playing up to 100 snaps per game.
As each has the talent and work ethic necessary to succeed at both positions, Jack is looking forward to seeing how he measures up with Thompson against the Huskies (6-3, 2-3).
"I definitely think it will be a little competition between us to see, I guess, who is the best running backer. It will be fun. Hopefully he'll be on defense and I'll get to tackle him and he'll get to tackle me. I think that's good for the game."
Those collisions are more likely to come with Jack on defense. His effectiveness as a running back has dropped off significantly this season, averaging just 3.2 yards per carry, though he does have two touchdowns.
In the 17-7 win over Arizona, Jack had 13 yards on six carries as the Wildcats defense was selling out to stop the run every time he lined up in the backfield.
"The linebackers, as soon as I came in they were coming in hot," Jack said. "They were blitzing. I didn't see any pass reads in them."
Quarterback Brett Hundley hinted that aggression could be used against future opponents with play-action, though there could be limitations because of how Jack is featured. Jack plays in a heavy personnel package that lends itself mostly to short yardage and goal-line situations, while Thompson has been integrated into the entire Washington offense.
But Jack has had offers to move to running back on a permanent basis, with assistant coach Kennedy Polamalu asking once a week. He declines because "defense is a calling."
"That's really what I want to do," Jack added. "I feel like I can be a dominant player on the defensive side of the ball and still get a couple carries every once in a while on offense if need be."
Even Hundley was unaware of the standing offer.
"Really? Oh wow," Hundley said. "I'm glad he stayed on defense. He is good at linebacker. He's good at running back, too."
No change is coming, though Jack said he would consider his options if his NFL prospects would be better served by moving to offense.
"If it came from a credible source, from somebody who really thought that was the case, I would really have to look into that," Jack said. "I'm an open-minded person. I'm blessed with the ability to do both."
The immediate concern for Jack is keeping his emotions in check. Two personal foul penalties during the opening drive against Arizona effectively gifted the Wildcats their only points, and he said it won't happen again during his homecoming, as Jack grew up less than 10 miles away from Husky Stadium in Bellevue, Wash.
As for the position of "running backer" that he and Thompson share, Jack would have no qualms trading in his shirt or membership in the group.
"I'm just going to ride it for as long as it takes me," Jack said. "If linebacker doesn't work out, I guess I could migrate over to the running back side. I have options."