The quarterback all of Georgia is waiting to see is ready for his debut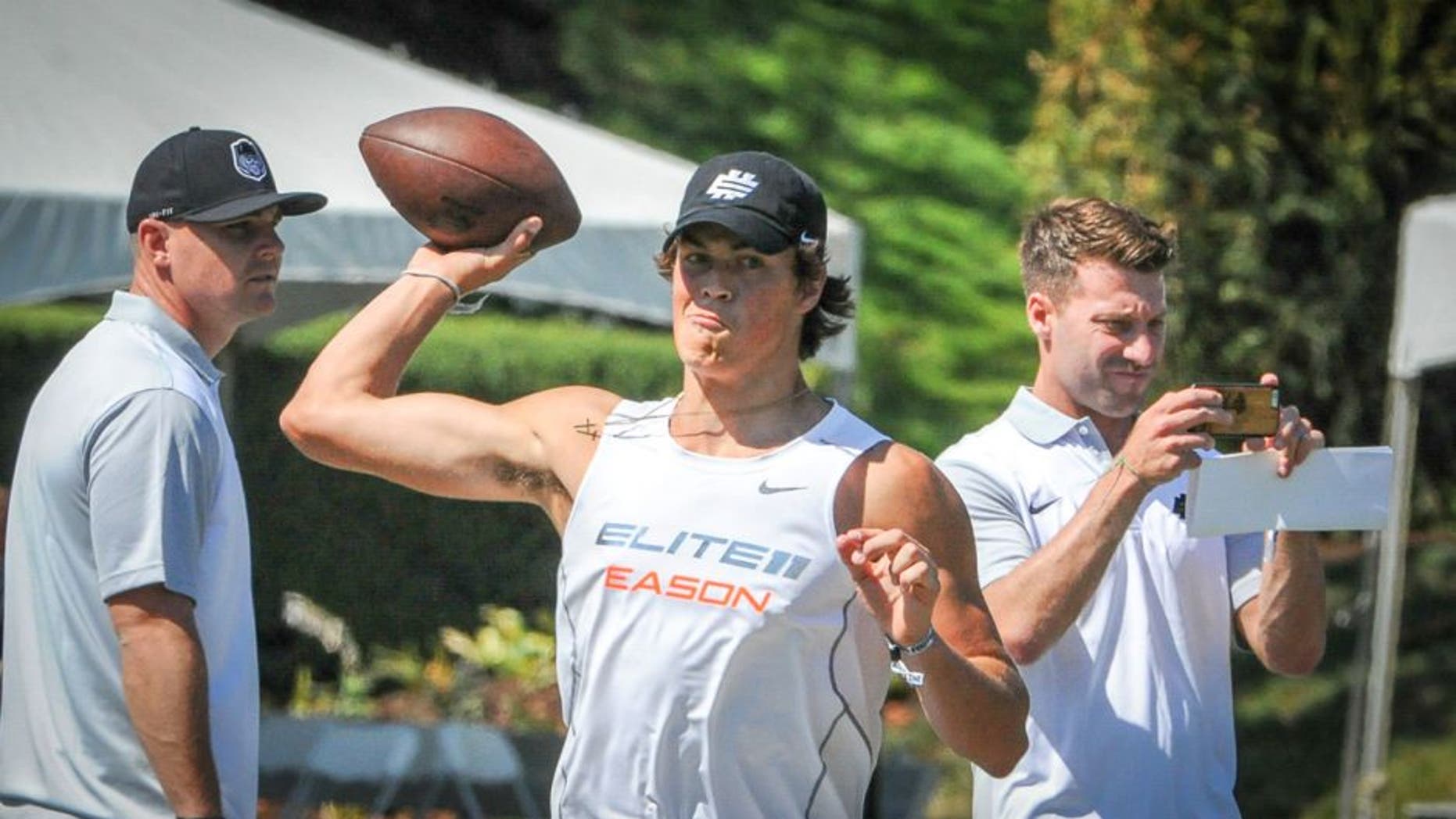 ATHENS, Ga. -- No other spring game in the country this year will garner the same level of buildup as Georgia's annual G-Day on Saturday. First-year head coach Kirby Smart has been pushing for months to get 93,000 fans to fill Sanford Stadium. The school created a #93KDAY campaign. It even booked Ludacris this week as a pregame entertainer.
With all due respect to the aforementioned Grammy winner, those 93,000 will be coming primarily to see another person.
Jacob Eason, the consensus No. 1 quarterback recruit in the class of 2016 who committed to Georgia prior to his junior year of high school, makes his long-awaited public debut. His arrival comes none too soon for a fan base that suffered through the nation's 104th-ranked passing offense last season.
They're not the only ones eager to watch the 6-foot-5, 211-pound Lake Stevens, Washington, native.
"I want to see him too," his head coach told an Atlanta radio station this week. "I want to see how he plays in front of a competitive environment."
Yet to listen to Smart during an interview in his office earlier this month, none of Georgia's three 2016 quarterback contenders -- not even Eason --€" fit the preferred style of Nick Saban's former Alabama defensive coordinator. If building his roster from scratch, Smart would likely start with the type of quarterback that gave his Crimson Tide defenses fits.
"I would love to have a pro-style system with a quarterback that can run," Smart said. "... It's not that you have to be [former Auburn stars] Nick Marshall or Cam Newton, but you've got to be able to get out of trouble."
Somewhat surprisingly, Smart cites Alabama's 2015 quarterback as a prime example of what he's describing.
"I honestly believe we won the national title last year at Alabama because Jacob Coker could run the ball," he said. "Now, we didn't call running pays for Jacob Coker, but there were a ton of plays the guy made with his feet."
Which brings us to the three pro-style quarterbacks vying for Georgia's starting job this fall. Senior Greyson Lambert, who started 12 games last season; junior Brice Ramsey, who has attempted 74 career passes; and early enrollee Eason. Do any of them fit Smart's description?
"I would say no, they don't fit that perfectly," he said. "... Greyson, that is not his strength, movement is not his featured deal. That probably helped us [at Alabama] last year against them be more successful [in a 38-10 Tide win]. Brice has that capability a little bit, and Jacob is adequate to avoid the rush, but none of them are going to be taking off running the ball by design by any means."
Many of Smart and coordinator Jim Chaney's biggest challenges this spring involve fitting square pegs into round holes on offense. After all, the defense, formerly run by fellow Saban disciple Jeremy Pruitt, was already essentially a ready-made Alabama clone. The Dawgs ranked 13th nationally last season in yards per play allowed (4.76).
On offense, Smart lamented the shortage of "big physical offensive linemen" on his roster. And for the first time in recent memory, a program that has churned out star running backs is experiencing depth issues at that position. With Nick Chubb still recovering from a knee injury, Sony Michel and Tae Crowder are the lone full-strength scholarship tailbacks until incoming freshman Elijah Holyfield arrives.
"It's affecting our ability to improve on defense, and it's affecting our ability to create an identity on offense," said Smart. "We're not getting to tackle a lot of really good backs. Were not able to [establish] a tough, physical brand of football and run right at you."
But above all, the ongoing quarterback audition stands out as Georgia's clear-cut No. 1 issue.
Many Georgia fans long ago pegged Eason to start from day one as a true freshman and may be alarmed by practice reports in which he was often relegated to third team. Smart cautioned to not read much into the media's short practice viewing windows, as the personnel on each unit constantly turns over.
"He's where he needs to be," Smart said of Eason. "I told him, you can't look at the end goal, all you can look at is day-by-day, are you getting better? ... Getting under center, getting the snap, dropping back -- he didn't do that in high school. That's all new for him."
Saturday's televised scrimmage will provide the first window into how well he's progressing. He'll make his long-awaited entrance on to the Bulldogs' stage just as soon as Ludacris steps off of it.