The <i>Other</i> Football: There's a youth soccer revolution brewing … in China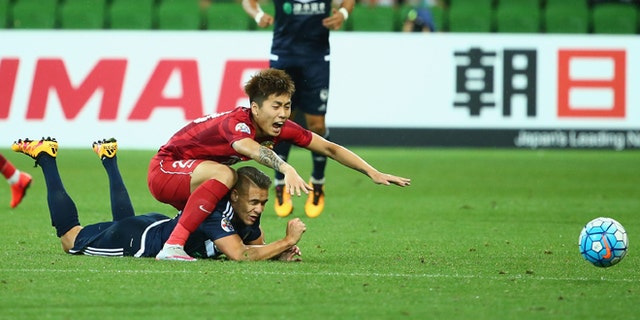 NEWYou can now listen to Fox News articles!
A few weeks ago, The Other Football examined the large sums of money being poured into certain teams in China's top professional soccer league.
Aside from garnering worldwide attention, the resources pouring into the team also provides role models and stars for millions of Chinese kids growing up with the game. It gives something to strive for. The next logical step is for the nation to develop its young players who, in turn, will be the role models of tomorrow.
And where did they look to implement this cultural shift? To an American, of all people.
Tom Byer – whose official title is "Head Technical Adviser for the Chinese School Football Program Office and Official Chinese School Football Grassroots Ambassador," is tasked with changing the country's perception of soccer at the most fundamental of levels, the young.
Many international coaches working in China have already experienced the problem. In a 2013 interview, former England manager Sven-Goran Eriksson, who now coaches Chinese Super League side Shanghai SIPG, said he was struck by how few kids play the game on the streets of China.
"If you go past a park in the city, they're not playing football like they are in parks in Manchester or London or wherever," the Swedish coach said. "Football has never been a big, big sport in China, and one of the problems is that there is no grassroots."
Byer is trying to change that. He is bringing his belief that kids should be introduced to soccer as young as possible and encouraged to kick the ball around and practice moves as much as possible.
In a recent interview in the South China Morning Post, Byer noted, "I have a very different approach to football development – whereas the traditional thought is, 'We need more coaches. It's all about the elites,' nothing could be further from the truth. It's really about trying to develop more of a football culture."
Byer is working with the Ministry of Education to get soccer on the curriculum in Chinese schools. That means teaching the teachers as well as getting parents involved.
"Education is this huge monster in China, and it's really demanding on the kids," Trevor Lamb, a former U.S. player who now heads a junior coaching program at the Hangzhou club, Sinobal. "Kids of 10 years old are doing three or four hours of homework a night. It's incredibly competitive, and there's not much room for any sport."
Most foreign-born coaches in China point to the fact that a culture shift needs to happen. Club teams need local support to survive.
Can they pull it off? Is it possible to instill an identity where there wasn't one before? Hard to say, but I agree with Sven Goran Eriksson who believes the biggest catalyst for change may be the emergence of a local superstar like Yao Ming in basketball.
"China needs a big name in football, who will be a big star internationally," he said. "Someone who could play for Manchester United, Manchester City or Chelsea. Unfortunately, we don't have one at this time."
But you never know when one may be on the way and the revolution right around the corner.
Video of the week
Wolfsburg won a huge game this week. They beat Real Madrid 2-0 in their first league of their Champions League quarterfinal clash.
Yes, it's only the first leg and Wolfsburg was at home, but without an away goal, Real will have to win by three to make sure of making the semis.
From the wires
Diego Simeone needs to find a way to beat Luis Enrique, because only a win will be enough.
Atlético Madrid will face Barcelona in the quarterfinals of the Champions League on Wednesday, a week after losing to the defending champions 2-1 in the first leg.
Simeone's Atlético has lost all seven matches against Barcelona since Enrique took over the club in 2014. The Argentine's overall record as a coach against the Catalan club boasts only one win in 16 games.
Simeone's defensive-minded style has succeeded against most teams across Europe, but not when facing Enrique's Barcelona.
Atlético has lost every league game, and two Copa del Rey matches, after Enrique's arrival in Catalonia. He had not yet taken the job when Atlético eliminated Barcelona in the Champions League quarterfinals in 2014.
The only time Simeone succeeded was when Enrique was in charge of Celta Vigo, winning their two encounters.
Last week's loss was certainly one of the toughest for Simeone, who saw Atlético dominate and open a 1-0 lead at the Camp Nou until Fernando Torres' sending off in the 35th minute allowed Barcelona to mount a comeback.
"We played a fantastic first half up to 30 minutes. In the second half, we tried to stay alive for the second leg," Simeone said. "We are still alive. I imagine the Calderón packed and chanting throughout the whole game with enthusiasm."
Atlético is trying to return to the semifinals for the first time since the runner-up finish to Real Madrid in 2014, when it eliminated Barcelona after a 1-1 draw at the Camp Nou and a 1-0 win at the Calderón. Atlético is the only team to have kept Barcelona from reaching the semifinals in the last eight seasons.
Only twice the Catalan club has failed to advance after winning the first leg in its previous 40 attempts in UEFA competitions, but Atlético has to remain optimistic after reversing 2-1 first-leg losses five out of six times it happened in European competitions.
A draw on Wednesday will be enough to keep alive Barcelona's hopes of repeating the treble of Spanish league, Copa del Rey and Champions League titles.
"We are still close to reaching our goals," Barcelona midfielder Andrés Iniesta said. "We depend on ourselves."
Shy of his 500th career goal, Lionel Messi is enduring his worst scoring slump with Barcelona in five years.
He hasn't found the net in 362 minutes, since the 3-1 win over Arsenal in the round of 16 of the Champions League.
But the playmaker has to be upbeat with his chances of ending the streak on Wednesday against Atlético, a team on which he has scored 25 goals in 29 matches, including three hat tricks. No other player has scored more goals against Atlético.
The Associated Press contributed to this report.