The <i>Other</i> Football: Ever hear of the Lamar Hunt U.S. Open Cup? You're not alone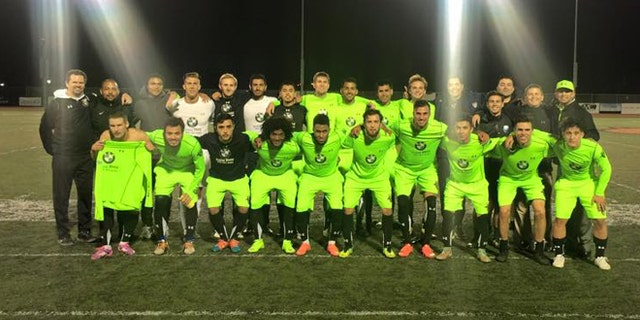 The last week brought us two big cup finals: England's FA Cup and Spain's Copa Del Rey – as well as the arrest of FIFA bigwigs and the (eventual) resignation of President Sepp Blatter.
These events so stunned key sponsors like Visa, Nike and Coca-Cola that they're reportedly "reassessing" their relationship with soccer's world governing body.
But instead of putting on a show (because we know their indignation is likely just a public-relations exercise), why don't they do something useful and pump serious cash into US Soccer's own FA Cup-like competition?
Launched in 1913, the Lamar Hunt U.S. Open Cup is the forgotten trophy of major American sports, even though it is second only to the Irish Cup – which started in 1871 – as the world's oldest continually-operating soccer tournament.
Indeed, it has the potential to be the most exciting of all U.S. championships because it offers something not found in any other sport here: The chance for amateurs to go head-to-head with the game's top professionals – and sometimes win.
"For the last 102 years it's been our national championship," said Josh Hakala, founder and editor of the TheCup.US, which is the only media outlet with in-depth coverage of the tournament.
"There have been numerous shocks and upsets over the years which is what makes this tournament unique in American sports," Hakala told Fox News Latino. "Any club, even your Sunday beer-league team, can qualify for this tournament and, if they win enough games, could find themselves on the same field as a top team from Major League Soccer."
Arguably the Cup's two biggest upsets were won by the amateur Michigan Bucks team which beat the New England Revolution, 1-0 in 2000, and 12 years later beat another MLS team, Chicago Fire, 3-2 in extra-time.
The excitement is building this year too, with last week's third-round matches seeing teams from the third-tier United Soccer League (USL) taking down formidable NASL opponents: The Charleston (S.C.) Battery battered the Fort Lauderdale Strikers, 3-2, and Minnesota United, soon to become an MLS franchise, were beaten by Saint Louis FC on penalty kicks, 1-1 (3-1).
With the fourth-round draw ushering in top-tier MLS teams, this year's last-standing amateur squad is PSA Elite of Southern California, which has just a few weeks to prepare for a trip to MLS champions, LA Galaxy, on June 17.
The Cup is "one of (our) top priorities every year, and, candidly, should be for every amateur team in the nation who value player exposure and advancement," PSA Elite President Alex Lujan told Fox News Latino.
"This is our fourth consecutive (tournament), and (we) have seen 20-plus of our 2012-14 U.S. Open Cup players go on to sign professional contracts."
The team's head coach, Jon Spencer, is under no illusion about what's needed, but says that he, his colleagues and the players are doing their homework.
"People will write this (up) as a David vs. Goliath," he said. "We will gladly be a well-prepared David."
According to Spencer, the three-week break between Cup games is a plus for his team.
"The nice advantage we have to this next round is the three-week opportunity to thoroughly scout, plan and prepare for our next opponent," he said. "We have been consistently training since May 1. We have continued to improve each week. This match ahead will be a great challenge and opportunity for our club."
Spencer added, "We walk into this game planning to win ... It's a great opportunity to showcase our players to the MLS champions."
Hakala said his wish and prediction is that the Cup will eventually catch the nation's imagination and become as important to Americans as the FA Cup is to the English.
"If it's marketed properly and more games are made available to people, then the sky is the limit," he said. "The U.S. Open Cup, over the last 102 years, has never had a peak on a national level. I look forward to someday seeing it reach that peak."
Video of the week
Is this the best cup final goal ever? Watch Leo Messi's masterful goal in Saturday's Copa del Rey final against a hapless Athletic Bilbao midfield and defensive line. Barcelona won 3-1 to get the chance to hoist the Cup.
From the wires
After one of soccer's most destructive scandals, the task facing Barcelona and Juventus in the Champions League final on Saturday seems simple. Showing the sport at its best, with an entertaining demonstration of artistry, should ensure that the limelight swings back on the players for at least a couple of hours.
It seems a heavy burden but this will be a game starring Lionel Messi, who possesses the finesse and repertoire of goals to captivate the world in an instant.
"There are moments when Messi has the ball and what happens next is only down to him," Barcelona teammate Javier Mascherano said. "No matter what his opponents do."
"An extra-terrestrial who plays with us humans," is how Juventus goalkeeper Gianluigi Buffon lauded the player he is preparing to face on Saturday.
Barcelona coach Luis Enrique cut straight to the point: "The best player in the history of football is beyond doubt."
A fourth Champions League title would enhance Messi's credentials to reclaim the Ballon D'Or trophy from Cristiano Ronaldo and become a five-time winner of soccer's top individual award.
The last week has exposed how soccer has been corrupted on a vast scale, but the Champions League finalists have not been without scandal of their own recently.
Juventus is back in the final for the first time since 2003 and the "Calciopoli" match-fixing scandal that emerged three years later.
The Catalan giants are banned from signing any players this year after being found by FIFA to have broken rules on registering minors as youth players, and the club is also facing a damaging court case.
Barca president Josep Bartomeu and predecessor Alexandre "Sandro" Rosell are accused of tax evasion, including over the signing of Brazil striker Neymar in 2013 for around $120 million.
Has Neymar's contribution to the team been worth the legal strife?
On the field, the link-up between Neymar, Messi and $110-million 2014 recruit Luis Suárez has restored the attacking swagger that naysayers predicted had gone when the team failed to collect a single trophy last season.
With the league and Spanish Cup titles already secured, a treble could herald a return to the dominant era under Pep Guardiola between 2008 and 2012.
"They have the best attack in the world," Juve midfielder Paul Pogba said.
Juve will be relying on Carlos Tevez for goals. A Champions League winner with Manchester United in 2008, the Argentinian's career appeared to freefall at Manchester City. But Tevez is thriving after two years at Juve and his radar for goal is working again.
The Associated Press contributed to this report.