The NFL's 10 most underrated offensive players for 2016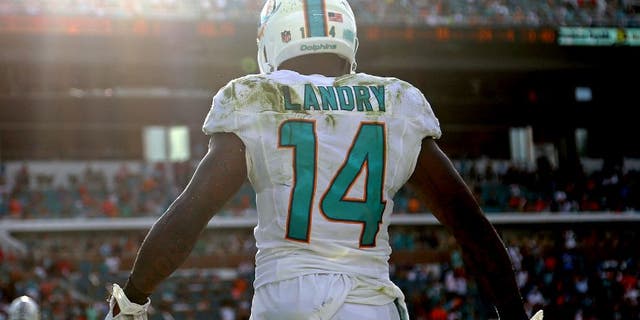 NEWYou can now listen to Fox News articles!
On each side of the ball, there are guys who garner most of the attention. The Tom Bradys, the Odell Beckhams, the Adrian Petersons. It's not wrong, but that's just the way it is, given their success in the NFL.
There are, however, plenty of players who don't get the recognition they deserve. Whether it's because of where they play, or that their team is terrible, underrated players are littered throughout the league.
These are the 10 most underrated offensive players in the NFL entering the 2016 season.
The Dolphins have been somewhat of a mess in recent years. Ryan Tannehill hasn't been the franchise quarterback they paid him to be, and the defense is full of holes on all three levels. One player who's played with unmatched heart and toughness week in and week out is Jarvis Landry. Not only does he go full speed each play, but he's incredibly talented, too. Landry set the NFL record for the most receptions in a player's first two seasons. In that span, he's hauled in 194 passes, while his 110 last year were fourth in the NFL.
Despite his record-breaking production, he doesn't attract nearly as much national attention as he should. Playing in Miami for the stagnant Dolphins doesn't help, but another impressive season in 2016 should help his exposure. Without Landry, Tannehill wouldn't be nearly as productive as he has been, and the Dolphins would have at least two fewer wins each season. He's currently the Dolphins' MVP entering this season and has a good chance to make another Pro Bowl on offense and/or special teams.
Terron Armstead was a selection made by the Saints in the third round of the 2013 draft mainly based on potential. It didn't take Armstead long to realize his capability and future as an NFL left tackle, taking over as the starter in 2014. Since then, he's thrived as the team's anchor on the left side. Considering the position he plays isn't a "glamour" position like wide receiver or running back, Armstead doesn't get much attention outside of New Orleans. But there's little doubt he deserves to be discussed among the best tackles in the league. Without him at left tackle, Drew Brees wouldn't have nearly the time he has to throw, which is a testament to Armstead's effectiveness and pass-blocking ability.
Prior to getting injured in Week 8, Keenan Allen was on a torrid pace and was among the league leaders in just about every receiving category. He had 67 catches for 725 yards in just eight games, which put him on track for 134 receptions and 1,450 yards. Those numbers would have put him up there with Julio Jones and Antonio Brown despite playing for a terrible Chargers team. Though it's hardly his fault, Allen doesn't usually get discussed among the elite receivers in the game today due to injuries. Entering his fourth NFL season, Allen hopes to stays healthy for all 16 games, something he's been unable to do thus far. If he does, surpassing 100 receptions will be a piece of cake, as will making his first Pro Bowl.
Had the Bills fielded a decent defense in 2015, they may have reached the postseason. That's because Tyrod Taylor and the rushing offense were stellar -- and they go hand-in-hand. Taylor led an injury-riddled offense with a wide receiver group that was essentially Sammy Watkins, and everyone else. Yet, all he did was toss 20 touchdowns in 14 games with a minuscule six interceptions. His passer rating was just shy of 100 (99.4) and he largely looked like a veteran quarterback even though it was his first year as a starter in the NFL. Alongside Cam Newton and Russell Wilson, Taylor is one of the three-best dual-threat quarterbacks in the league and he's only going to get better.
Adding wins and a handful of additional touchdowns will help Taylor's case as a second-tier quarterback, and he could easily make that jump in 2016. So long as he, LeSean McCoy and Watkins remain relatively healthy throughout the season, Taylor should be on track for a second Pro Bowl appearance.
Following the departure of Golden Tate and Sidney Rice in the past few years, the Seahawks have been forced to lean on Doug Baldwin. While he hasn't put up eye-popping numbers, he has been a reliable target for Russell Wilson. Last season, he caught 14 touchdowns which was tied for the most in the NFL. Seattle certainly took notice of his second-half explosion after Marshawn Lynch went down, rewarding him with a long-term contract.
Baldwin has been underrated his entire career. He went undrafted in 2011 and wasn't a go-to target for Wilson prior to 2014. He remains one of the most underrated players in the league even after signing a lucrative extension. Baldwin is expected to make a huge jump forward this season with the Seahawks figuring to throw the ball more often without Lynch.
When it comes to tight ends in the NFL, Rob Gronkowski gets most of the attention -- and rightfully so. He's the best in the game, and it's not close. That causes a lot of tight ends to get overlooked. Delanie Walker is certainly one of them. In 15 games last season, he caught 94 passes for 1,088 yards and six touchdowns. He was first in receptions among tight ends and third in yards en route to his first Pro Bowl appearance. Last season wasn't his first strong one in the NFL, either. In 2014, he caught 63 passes for 890 yards and four touchdowns.
He's not a prototypical tight end who stands at 6-foot-5 as he's built more like a stocky wide receiver -- 6-foot, 248 pounds. He plays somewhat like a receiver, too, running excellent routes and showing off his reliable hands with each pass that comes his way. Walker, who's 31, should be in line for another trip to the Pro Bowl with Marcus Mariota continuing to develop.
It just so happens to be that the two receivers who led the NFL in touchdowns are also wildly underrated. Allen Robinson also caught 14 touchdowns like Baldwin, but he received even less attention due to the fact that he plays in Jacksonville. Robinson wasn't just a touchdown-scoring machine, though. He racked up 1,400 yards on 80 receptions, elevating Blake Bortles' game greatly in 2015. Not only is Robinson a great receiver for the Jaguars, but he's one of the best in the league. He's expected to improve further in his third NFL season after doing so his first two years. If he does, Robinson could finish the season with 90-plus catches and 1,500 yards, though topping his 14-touchdown output will be hard to beat.
How is it that a player who allowed zero sacks and one quarterback hit in 2014 is underrated? That's a question many have asked regarding Andrew Whitworth, because he doesn't get nearly as much recognition as he should. The 2015 Pro Bowler is among the best tackles in the NFL and should be discussed alongside Tyron Smith and Trent Williams. He's not, however, despite allowing just 17 pressures on his quarterbacks last season. Whitworth is a big reason why Cincinnati's offensive line is as great as it is, and plays a huge role in keeping Andy Dalton upright on a consistent basis. Perhaps another playoff appearance (and maybe a win) will show the nation how important Whitworth is to the Bengals.
Oftentimes, players get overlooked because their team isn't winning enough or playing prominent games in primetime. Devonta Freeman is one of them. He's the complete package at running back, showing an outstanding ability to catch the ball out of the backfield, while also carrying it between the tackles with no problem despite being undersized. Freeman had an outstanding 2015 campaign, totaling 1,634 yards combined and 14 touchdowns. After starting the season red-hot, Freeman cooled off a bit late in the season as the Falcons went from contenders to mediocre. Had it not been for Freeman, they likely wouldn't have won six of their first seven games, in five of those games, he had 100-plus total yards and 10 touchdowns. So long as he remains on the field, Freeman will make his second Pro Bowl in 2016 and prove why he's one of the top backs in football.
For most of his career, Eric Decker has played second-fiddle to his fellow receivers. In Denver, it was Demaryius Thomas getting all of the attention. With the Jets, Brandon Marshall is the wideout who is talked about the most. Yet, all he's done is catch 49 touchdowns in the past five seasons. That puts him fifth in that category since 2011, up there with the likes of Rob Gronkowski, Dez Bryant and Calvin Johnson. For whatever reason, though, no one talks about Decker as one of the best receivers in the league. Perhaps it's because his yardage totals rarely go well over 1,000 yards, or that he isn't a true No. 1 receiver. But he deserves to be mentioned as a top red zone target at the very least. Without Decker, the Jets and Marshall wouldn't have had nearly the success they did in 2015.