The NCAA needs to make an example of Ole Miss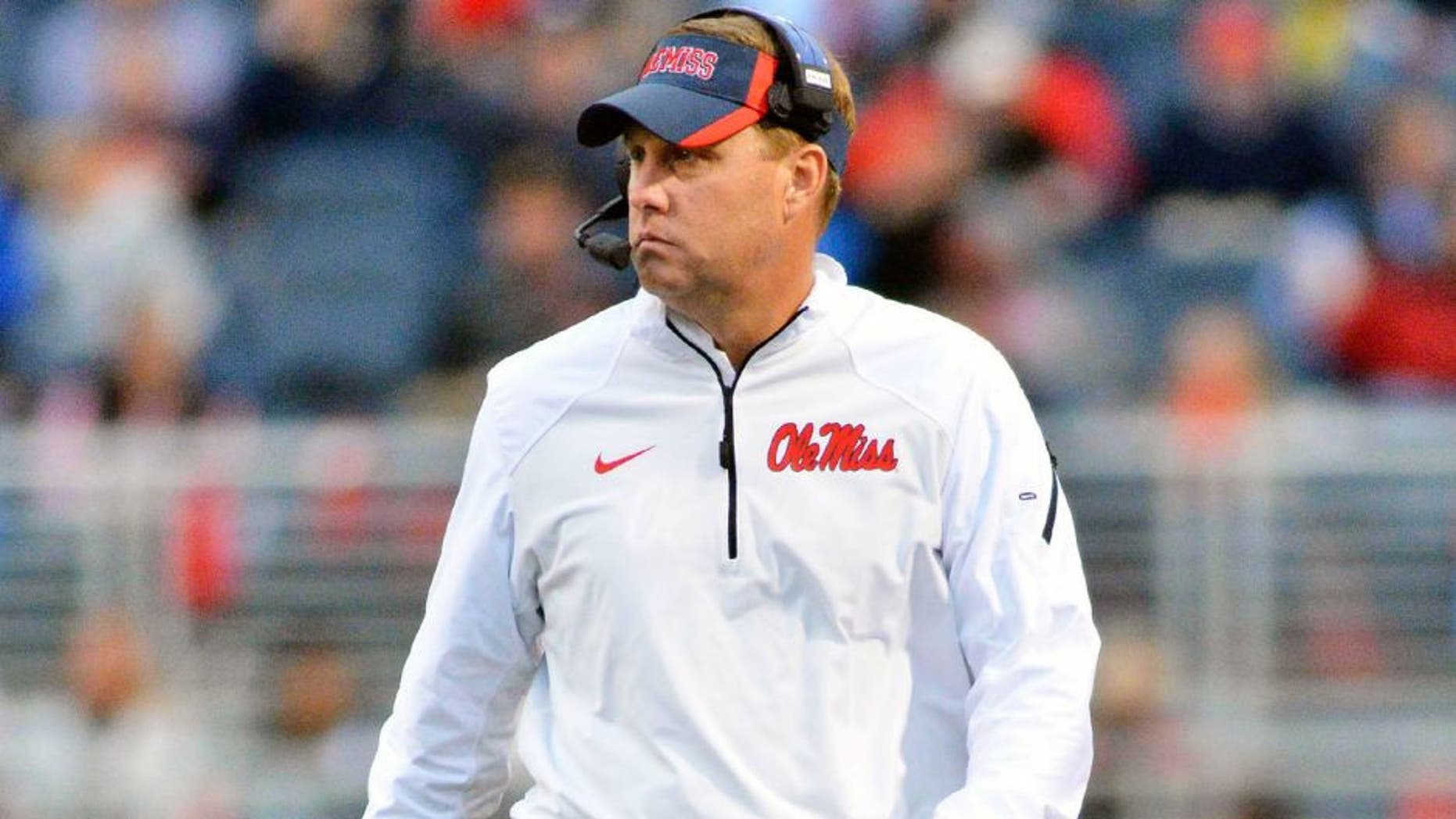 We all know the NCAA system is broken when it comes to college football. The sport is a billion-dollar industry, but the employees of the companies that make up that industry aren't fairly compensated for their work.
That should change in the future, but for the past few decades, that's been the reality, and it's starkest in the Power Five conferences.
In this flawed system, the incentive to cheat is high. Schools continue to invest hundreds of millions of dollars in college football, hoping that the money will trickle down to the lowest reaches of their athletic departments. They pay football coaches big money and give them short periods of time to turn bad, sometimes insolvent programs into exceptional, profitable ones, and the most obvious and direct way for a coach to do that is to recruit better players.
But when you're a bad program competing for the same talent as a good one, you need to have a little something extra up your sleeve. What's the real cost of a down payment on a 2010 Dodge Challenger, or a $2,250 cash handout, or a fraudulent ACT score if it improves the team and increases a coaches' earning power 10 times over?
The NCAA should let Ole Miss know.
Ole Miss released a 154-page response to the NCAA's 52-page notice of allegations on Friday, in which the school admitted to a wide variety of violations that range from the outrageous (Ole Miss arranged for the ACT scores of three future football players to be changed to meet NCAA requirements) to the tame (paying for parents' lodging and meals during an official visit) in three sports, but most prominently football, with most of those violations happening under coach Hugh Freeze's watch.
Ole Miss has docked itself 11 football scholarships over the next four years, "disassociated" with a few people, put the athletic program on three years probation, and instituted "reduced evaluation opportunities" in 2016, taking football coaches off the road for 21 days in a move they will surely cheer. (Less work!)
The NCAA can now decide whether it wants to increase those penalties. It should.
The landscape of college football is changing rapidly. Schools are now covering the full cost of attendance, and payment to athletes, in some form or another, will soon be coming to the Power Five conferences. But college sports will never be a free-market economy -- €" not every Division 1 team can afford to pay players (there are Power Five schools that will struggle to meet the cost of "stipends") and so the inequality that is currently manifested in kickbacks and recruiting "incentives" won't go away. The baseline cost of doing business might go up, but the incentive to pay above the "minimum wage" won't change.
And that's why the NCAA needs to make an example out of Ole Miss. It's not just because the school broke the rules -- €" everyone at that level of college football is breaking the rules (and if they aren't they won't be long for their jobs) -- €" it's because Ole Miss was so brazen about it. Ole Miss might be the last major violator in the current NCAA paradigm, and if the NCAA doesn't participate in the sanctioning process, its authority will be an afterthought going forward.
Say what you will about the NCAA -- €" it's made a lot of terrible, dumb, hubristic decisions in the last decade -- €" but you can't have schools and conferences policing themselves.
When Freeze went from signing the 12th-best recruiting class in his conference to one of the nation's best in the span of a year, speculation of impropriety flew, and Freeze was incredulous.
"If you have facts about a violation, email compliance@olemiss.edu. If not, please don't slander the young men," he tweeted.
Is a 52-page report, detailing 13 football violations, eight of them of the most serious variety (with more to come) enough evidence?
Were those violations that bad? Save for the faux ACT scores, not really. But when the NCAA released its notice of allegations earlier this year, Ole Miss tried to spin it as pertaining mostly to events that happened before Freeze came to town and turned the Rebels into SEC West contenders. The school was doing everything in its power to avoid confirming the speculation that has lingered around Freeze's program.
Ole Miss can't avoid it anymore.
And this is not even done yet. Ole Miss has asked the NCAA's Committee on Infractions to remove this case from its summer docket as it awaits the findings of an investigation into former offensive lineman Laremy Tunsil's conversations with an Ole Miss staffer allegedly in reference to receiving cash for rent and his family's bills -- €" another major violation.
Seeing as both parties have admitted to the veracity of the text messages, which were posted to Tunsil's Instagram account on the night of the first round of the NFL Draft, Ole Miss might not have sanctioned itself enough.
Precedent tells us that the NCAA can blast Ole Miss for what it has admitted to doing. USC lost 30 football scholarships and was levied a two-year postseason ban for illegal benefits that mostly went to Reggie Bush. The NCAA said USC lacked institutional control. And while the NCAA's public standing has fallen dramatically since then, it's still the body tasked with enforcement in situations like this.
USC-level sanctions are probably too much, but just because the NCAA messed up that case doesn't mean Ole Miss should slide. Ole Miss clearly lacks institutional control -- €" it spit in the face of the rules and was unabashed about doing so, daring someone to catch it.
Now it's been caught. Comeuppance should be on its way.