The five most underrated quarterbacks in the NFL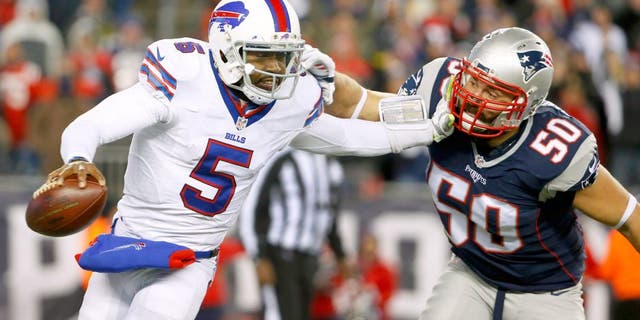 NEWYou can now listen to Fox News articles!
Often with quarterbacks, we like to categorize them into tiers. Not every signal caller is considered "elite," rather only a few are. Others are pegged as "game managers," lacking playmaking ability. And then there are the others who fall somewhere in between -- the Tony Romos, the Matt Ryans, the Joe Flaccos.
However, by dubbing these quarterbacks as such, some are misperceived or don't receive as much credit as they should. We call those players underrated. There are several quarterbacks considered to be just that and are on the brink of elevating their game to garner more attention.
In no particular order, these are the five most underrated quarterbacks in the league.
It's been a while since Bills fans were treated to exciting quarterback play. The days of Jim Kelly slinging it around the field, taking Buffalo to Super Bowls are long gone. It had been 13 years since a Bills quarterback (Drew Bledsoe in 2002) made the Pro Bowl prior to Tyrod Taylor making it in 2015. Was his season a fluke, or a one-year wonder? Some will say yes, but it wasn't. Taylor is here to stay as an NFL starting quarterback.
Last season, Taylor threw 20 touchdown passes and just six interceptions, posting a quarterback rating of 99.4, seventh-best among qualified quarterbacks. And that's not even considering his best asset: his legs. Taylor racked up 568 rushing yards in 14 games, finding the end zone four times. He was a big reason why the Bills led the league in rushing, which not enough people give him credit for.
Sure, there are areas of his game that need to improve: going through his progressions, performing late in games, holding onto the football. But those are aspects that will improve as he gains experience. Remember, last season was his first as a full-time starter. He had never started a single NFL game prior to then. What also makes him so underrated is that he put up strong numbers with a not-so-great supporting cast.
Sammy Watkins missed three games, and the team's second-best receiver was Robert Woods, who was mainly used as a blocker with Watkins on the field. LeSean McCoy also missed four games. Taylor had a mediocre group of receivers to throw to, and it'll be even thinner in 2016 with Chris Hogan's departure. He'll prove to be a valuable asset and an underrated player next season.
"Andy Dalton has never won a playoff game!" Yes, this is true. No, it's not completely his fault. His 1-to-6 touchdown-to-interception ratio doesn't look great on paper, nor does his 55.7 completion percentage, but he's been the reason for Cincinnati's resurgence in recent years. In each of his five years, Dalton has led the Bengals to the playoffs. Prior to his arrival, the Bengals made the postseason twice since 1991. Carson Palmer was the quarterback in both years, but those were the only two playoff trips he made in Cincinnati.
Dalton takes a lot of heat for not winning enough, as if that's a quarterback statistic. Newsflash: it isn't. There are 52 other players that suit up in a given week. Dalton touches the football more than anyone and has the most control, but his career numbers are better than average. He has 124 touchdowns and 73 interceptions and a passer rating of 88.4.
For those who want to argue that a quarterback's record is most important, consider this. Dalton's record sits at 50-26-1 for his career, which averages out to 10 wins a season. Not even the highly praised Joe Flacco or Eli Manning win at that rate. Not to mention, he has 12 fourth-quarter comebacks and 16 game-winning drives in five seasons.
Dalton isn't an elite quarterback, but he's better than people give him credit for. He just needs to win in the postseason and prove the doubters wrong.
Alex Smith: former No. 1 overall pick who signed a six-year, $49.5 million contract as a rookie and never panned out. That was the past narrative for Smith. He's no longer a draft bust thanks to his recent success in Kansas City. Since joining the Chiefs following a trade from the 49ers, Smith has led them to a 30-16 record and two playoff appearances in three seasons. Some of that has been thanks to Jamaal Charles and Kansas City's defense, but he's revitalized his career and hasn't received enough credit for it.
In thet past three seasons, he's thrown 60 touchdown passes and just 20 interceptions -- or an average of 20 and seven, respectively, per year. For a team that likes to run the ball and execute a West Coast Offense, Smith is the perfect quarterback. He has great short-to-mid accuracy and is decent throwing it downfield, though he doesn't have the best arm. But where Smith succeeds most is outside the pocket.
He's a much better runner than most think, as evidenced by his 498 rushing yards last season. That was good for fourth in the league among quarterbacks, trailing just Cam Newton, Tyrod Taylor and Russell Wilson. That aspect of his game can't be ignored even though it tends to get overlooked. Smith has found the perfect fit in Kansas City and while he'll never be listed alongside Aaron Rodgers or Tom Brady, he's better than an average quarterback.
Prior to last season, Kirk Cousins was known as the guy who the Redskins took after selecting Robert Griffin III second overall. It was a selection that raised many eyebrows at the time, but one that has worked out wonderfully for Washington. Cousins took over as the undoubted starter last year, playing all 16 games for the first time in his career. He managed to win nine games, throwing 29 touchdowns with just 11 interceptions.
Given the fact that he was in RG3's shadow for most of his career, Cousins doesn't get much attention as a Pro Bowl-caliber player. However, that's what he is. Consider this: He was one of just four quarterbacks with 4,100 yards, at least 29 touchdowns, fewer than 12 picks and a passer rating over 100. Those are great numbers, especially for a guy in his first season as a starter.
Perhaps Cousins' lack of credit is due to the lack of elite competition he played against last season. After all, only three of the Redskins' opponents had winning records, all of which they lost to. However, give Cousins credit for leading a poor offense to a 9-7 record and the postseason. And upon reaching the playoffs, he played extremely well. In the Redskins' loss to the Packers, he totaled 329 yards through the air with a completion percentage of 63, one touchdown pass and no picks.
Cousins will earn plenty of respect next season in what's sure to be his first Pro Bowl year.
The Minnesota Vikings made the postseason for the first time since 2012 last season, surprisingly finishing with an 11-5 record after going 7-9 the year prior. Adrian Peterson's return certainly helped -- he led the league in rushing, after all -- but Teddy Bridgewater also played a big role in the team's success. In his second NFL season, Bridgewater threw for 3,231 yards, 14 touchdowns and nine interceptions. His numbers certainly leave plenty to be desired, but his passer rating was a respectable 88.7.
Bridgewater hasn't done much for improving statistically, but his decision-making and leadership qualities have noticeably developed. He took more command of the offense last season after being more of a game manager in 2014. That will continue to improve next season and as his career rolls on. And while he doesn't get much credit for being a quarterback that takes shots downfield, he's better than most think.
He averaged 7.23 yards per attempt, which was higher than Eli Manning, Sam Bradford, Derek Carr, Aaron Rodgers and Joe Flacco. Obviously, that doesn't mean he always completes deep passes, but he's not constantly throwing the ball behind the line of scrimmage or checking it down to Peterson.
The biggest reason why he's underrated is because of the cast he had a year ago. His wide receivers weren't exactly elite, and Stefon Diggs didn't emerge as a No. 1 threat until midseason. In 2016, he'll have Diggs back to go along with a big possession receiver in Laquon Treadwell. With a better supporting cast and Peterson lining up behind him, Bridgewater should garner more respect next season.