The Early Look: Jon Jones vs. Ovince Saint Preux, at UFC 197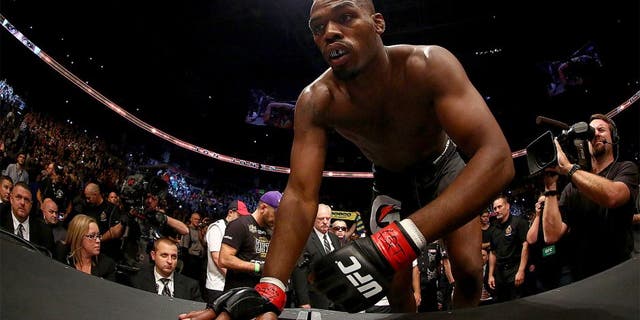 Here's the truth - Jon Jones is a tough guy for anyone to beat, under any circumstances. So, coming in as a last-minute replacement to face the former light heavyweight champion doesn't give Ovince Saint Preux great odds to beat "Bones."
Jones has the big-fight experience advantage. He's shown that he can go all five championship rounds and get stronger with each minute.
Jones has the reach advantage here, and in all fights. He's also got underrated striking power (He may not have many KO's, but his one-shot power can turn the tide of a fight, as it did in 2013, against Alexander Gustafson).
Most importantly, Jones has an MMA wrestling advantage here, and in just about any conceivable fight he could enter. Suffice to say that OSP will have his hands full later this month, at UFC 197.
Still, he has some great qualities that make him dangerous. Saint Preux isn't some polished combination puncher (neither is Jones), but he has shown the ability to time big strikes well enough to hurt the best of the best.
OSP also closes distance really fast while striking. The former NCAA Division I football player is one of the better athletes in the UFC, and it makes him capable of brilliant explosions of brilliance.
Jones will ultimately want to try and take Saint Preux down, because that is where he is most likely to have the clearest and cleanest path to victory. OSP isn't easy to take or keep down - just ask Patrick Cummins - but if Jones' entries aren't telegraphed he should be able to get Saint Preux to the mat.
Once there, we will likely get to see how much Jones' ground game may or may not have improved. He has murderous ground striking, but I'll personally be interested to see if he can snatch OSPs neck during get-up attempts and scrambles after takedowns.
I think it is entirely possible. OSP has to play a cautious game of footwork for the first couple rounds to try and get into the second half of the fight without having sustained too much damage.
Then, he'll have more of a chance to surprised Jones with quick lunges and strikes. If Jones angles-out well, or times those well enough to change levels and score takedowns, he should be fine.
If OSP catches Jones sleeping for even a moment, however, he's a KO threat.
Conditioning will come into play if OSP is able to take the fight deep. You have to assume Jones will have the edge, here, if for no other reason than he's put in a full training camp, while OSP was readying for birthday celebrations before gamely stepping in for Daniel Cormier.
Furthermore, Jones usually strikes with a little less efficiency. OSP has a tendency to either throw everything into a big shot and expend a lot of energy, or jab half-heartedly in a manner that Jones may be able to take advantage of.
Lastly, we have no real reason to doubt that Jones' gas tank will suffice. He's appeared to take his training between fights much more seriously in the last year.
In the past, he would enter training camps soft and fat, and then party and do drugs during camp. Still, he was always able to gut out tough fights and look great on game night, even down the stretch.
It is hard to imagine it being possible, but I'll assume that Jones' conditioning will be even better, this time out.
In the end, OSP is dangerous because of his speed and power, and the fact that he's a completely different fighter than the man Jones has been preparing for. Jones is still the smart pick, here, however, because his wrestling, conditioning, and big-fight experience.
Prediction: Jones by fourth round ground strike stoppage