Texans offer their reactions to 'Hard Knocks' premiere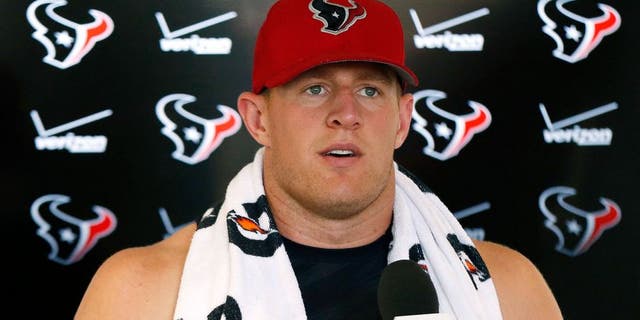 NEWYou can now listen to Fox News articles!
After watching Tuesday night's season premiere of "Hard Knocks," Texans head coach Bill O'Brien and some of his players offered their thoughts on what it's like to be part of the series documenting Houston's 2015 training camp.
O'Brien said his first takeaway from the episode was that he needs to work on his language, at least for his mother's sake.
"Yeah, I need to stop swearing, or cut it down at least," O'Brien said, via the team's official website. "My brother texted me, he thought it was awesome. My mom texted me, she didn't think it was too awesome."
Center Ben Jones said he had no idea the cameras caught him relating a story about the time he vomited on the football during college.
"I didn't know they were around," Jones said. "It was pre-practice. It was at 7:35 in the morning. I was like, I'm not mic'd up, where did that camera come from? I swear they've got cameras everywhere out here."
Defensive end J.J. Watt didn't get to see the entire episode on Tuesday, but said what the cameras captured was completely authentic.
"What you see is what you get," Watt said. "That's the Houston Texans. We're guys who come out here every day. Clearly, we use some interesting language at times, but we come out here every day and we work our asses off and we put in the time and we put in the effort and we got so many different guys putting in the work. It's a lot of fun.
"The nation is seeing the Houston Texans and nobody is putting on a show, nobody is putting on a front and sometimes that means some verbiage is used, but like I said, it's all real. It's all real."
It may be real, but no everyone is a fan. Backup quarterback Tom Savage said he had no plans to watch the show.
"No, I haven't watched it," Savage said. "I don't watch that. I don't plan on watching it either."
Count O'Brien among those who would prefer not to see himself on TV as well.
"Can't stand it," O'Brien said. "(It's) part of the job obviously. They pay you a lot of money and there's a lot of things that come with that job and that responsibility and you take it very seriously. But when it comes to those things, I'm a football coach and that's not something that I'm real comfortable with."
If he gets as much screen time as he did in the first episode, O'Brien may be a lot more comfortable with TV stardom by the end of the show's five-episode run.
(h/t Houston Texans)