Tensions linger between Brian Scott, 'Bubba' Wallace after meeting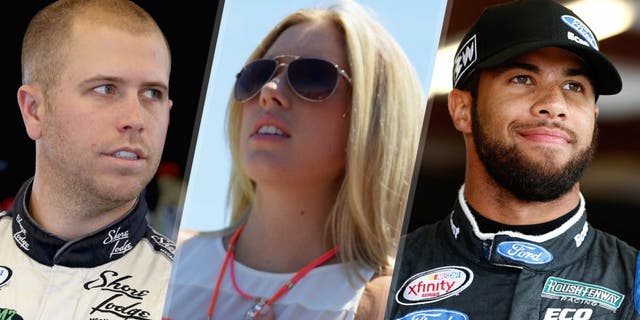 NEWYou can now listen to Fox News articles!
It's been almost two weeks since the post-race confrontation between XFINITY Series drivers Darrell "Bubba" Wallace Jr. and Brian Scott that erupted into a profanity-laced shouting match involving multiple parties, including Scott's wife, Whitney.
So have the two main combatants, whose war of words on pit road at Kentucky Speedway later spilled over to Twitter, patched things up?
Asked if they've reached some kind of understanding following a pre-arranged meeting in the NASCAR hauler last weekend at Dover, it doesn't sound as if the two drivers are going to be going out for coffee anytime soon.
"He's got his side," Wallace told FOXSports.com on Thursday at Charlotte Motor Speedway. "I've got my side. It's all good."
Scott's account of the meeting was only slightly more encouraging.
"We talked in the NASCAR hauler at Dover to try to put the on-track incident and stuff like that behind us so we can race as professionals," Scott said.
So is that actually going to happen moving forward?
"I feel like we'll race each other hard just because of the incident and the feelings that linger afterward," Scott told FOXSports.com at CMS, site of Friday night's XFINITY Series race.

Asked if anything good came from the meeting, Wallace was terse and cynical.
"Sure," the Roush Fenway Racing driver said. "We had a meeting. NASCAR's happy."
Scott, who twice confronted Wallace after the race to express his frustration over late-race contact, avoided being penalized for his actions. The same was not true for wife Whitney, who NASCAR placed on probation through the end of the year for her actions toward Wallace.

"It's NASCAR responding to an incident and responding to things that they hear," Scott said of the penalty against his wife.

Wallace received a matching probation for his role in the post-race run-in, which reached a boiling point when he allegedly called Scott's wife a disparaging name.
Also involved in the fracas was Brian Scott's motorhome driver, who NASCAR suspended indefinitely.
Was Wallace surprised that Brian Scott wasn't also penalized for his role in the incident?
"No, not really, but, hey that's NASCAR-driven," he said. "I don't call the penalties. Props to them."
Scott, meanwhile, remains less than remorseful about taking issue with Wallace after the two drivers tangled on a late restart.
"I felt like I was in the tire tracks of all the other cars," said Scott, who finished 13th, four positions behind Wallace. "I restarted on the bottom, I don't feel like I came up any higher than any of them, and I felt like he tried to pinch me off and he took my arch away from the corner and when I went to arch into the corner, he had me pinched down and he didn't give me the lane that is the customary bottom lane, and after that we got a right-front wheel that shook loose and it ruined our day when obviously we had led like 50 laps.
"Up to that point I thought we had a car in contention, so that frustrated me more than a normal racing incident because I felt like we had a good car and a car capable of winning."
A day after being penalized, Wallace apologized on Twitter to his team, but didn't mention Scott or his wife.
What prompted his apology?
"Be the better man," Wallace said. "I'm trying to let it pass by, not keep talking about it."
And least that's one thing that Scott and Wallace seem to be able to agree on.
"It is what it is," Scott said. "I mean, NASCAR did what they felt like they needed to do, and we'll just focus our energy on moving on."