Teenage Brazilian fan confesses to setting off flare that killed Bolivian boy in stadium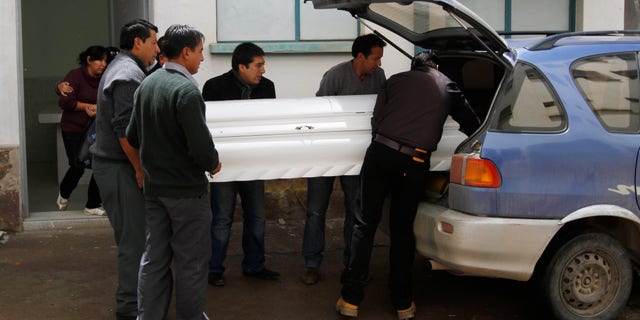 NEWYou can now listen to Fox News articles!
SAO PAULO – A 17-year-old Corinthians fan has confessed that he set off a flare that killed a 14-year-old Bolivian boy in a Copa Libertadores match last week.
The teenager, whose name was not disclosed, confessed to a Brazilian television channel late Sunday, with his mother by his side. He was expected to turn himself in to local police later Monday, according to his lawyer.
His confession came as 12 Corinthians fans remained in custody in Bolivia after being arrested following last Wednesday's match. The South American federation was also expected to rule on the team's appeal against the punishment of having to play its remaining home games in the tournament in an empty stadium.
On Sunday, Corinthians fans held up a banner honoring the Bolivian boy during a match in the Sao Paulo state championship.
Wearing a jersey of the team's biggest fan group, the teen said in his interview that he was not deliberately aiming the device at the Bolivian fans when it allegedly went off accidentally, hitting Kevin Beltran Espada in the face and killing him.
"When I first pulled the cord to set it off nothing happened. I didn't know how to handle it," he told Globo TV. "When I pulled it again it just went off. I wasn't aiming it; I didn't know it was going to take off like that."
With his face not shown because of his age, the teen apologized and asked for forgiveness.
"When I found out what happened I just thought, 'My life is over. What am I going to do? I just killed a 14-year-old kid,'" he said. "I feel like I'm the worst person in the world. I don't know what I'll do with my life. I deeply regret what happened."
As a minor, the Brazilian cannot be extradited to Bolivia to face charges for the crime. He may just end up facing community service in Brazil.
"He will turn himself in, with his mother by his side," said Ricardo Cabral, the lawyer representing the teen. "A judge will likely give him a social-educational sentence in this first moment."
The teen may later face up to three years in a juvenile detention center.
Two of the 12 fans in Bolivia have been formally accused of setting off the flare that killed Espada, while the others are being held as accomplices.
The Brazilian teen said that he didn't know the flare had killed the boy until after the match and decided not to turn himself in to Bolivian police after talking to other members of the group.
"I was scared at the time. I didn't know what to do," he said. "I thought the other guys would be released right away."
He dismissed the notion that he was confessing just to protect those detained in Bolivia, knowing that as a minor he didn't face extradition or a harsher punishment.
"It's just not right for people to pay for what they didn't do," he said. "If I was in their position, I also wouldn't want to pay for something I didn't do."
The South American soccer federation last week said Corinthians, the defending Copa Libertadores champion, will play without its fans for the next 60 days because of what happened in Bolivia.
The team, which had already sold more than 80,000 tickets for its group stage matches, has appealed, and another decision by the federation was expected later Monday.
___
Follow Tales Azzoni at http://twitter.com/tazzoni