Team USA's 'B-Team' Wins Basketball World Cup, Recalls Success Of '92 Dream Team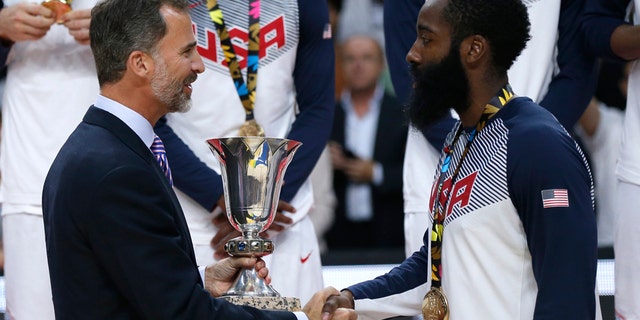 When the U.S. men's basketball team beat Serbia on Sunday, 129-92, in Madrid to win the Basketball World Cup and an automatic berth at the 2016 Olympic Games, it was undeniably a highlight of Team USA's international competition.
After all, the Mike Krzyzewski's crew dominated every game – their closest match was a 21-point win against Turkey – despite big-name NBA stars like LeBron James, Carmelo Anthony, Kobe Bryant, Kevin Love, Chris Paul, Blake Griffin and Kevin Durant missing out on the fun.
"It kind of was, again, a smack to our face, saying the U.S. was sending the B-team to go play in the World Cup," Denver forward Kenneth Faried said.
Indiana's Kyrie Irving was the Tournament MVP, scoring 26 in the final to lead eight U.S. players in double figures. Houston's James Harden scored 23.
"Obviously we didn't have a very close game all tournament, but for that to happen we had to play hard for 40 minutes and not relax and not give any inch while we were out there," Golden State guard Stephen Curry said.
But as impressive as the three-week championship performance was, it isn't the most important moment that Team USA has had in Spain.
For that, you have to go back 22 years to what was, officially, the 1992 U.S. Olympic team, together for just a few weeks.
But to the basketball world, it was the Dream Team, and its gold-medal run changed hoops forever.
An American sport was transformed into a global phenomenon when Michael Jordan, Magic Johnson, Larry Bird and the rest of the NBA's best arrived in Barcelona for the 1992 Olympics. They sparked an interest in basketball that continues to impact the NBA —on and off the court.
The league is now a $5.5 billion industry and arguably the most popular international sport behind soccer.
"I think basketball was about to explode and the dynamite stick to explode it was the Dream Team," said U.S. coach Mike Krzyzewski, an assistant on that team.
Springfield, Massachusetts, is basketball's official birthplace. But the modern NBA game was born in Barcelona.
Major league baseball and the NFL would like to emulate the NBA's international success. Since 1992, the league has played about 150 international basketball games and its contests been televised in more than 200 countries and territories.
THE PLAYERS
When Jerry Colangelo went to sign the first players from behind the Iron Curtain, he didn't do a Pat Riley and drop a couple of championship rings on the table to woo Georgi Glushkov.
It was the mid-1980s, and the former Phoenix owner had been told about the Bulgarian big man who had done a good job against Hall of Fame center Arvydas Sabonis in a European tournament. So Colangelo and a Suns assistant traveled to Sofia to negotiate a contract.
Colangelo walked into a room at the Office of Sports Ministry to find six Bulgarians, some shot glasses and a Coke as a chaser.
"We talked a few hours, made a deal where the government was getting most of the money and the player getting a small piece of it," Colangelo said.
While the 6-foot-8 Glushkov's career was short-lived — he's now the president of Bulgaria's basketball federation — it's much easier finding international prospects with NBA scouts packing under-19 and under-18 tournaments around the globe.
The 1992 Olympics "just all kind of changed everything," said Colangelo, chairman of USA Basketball. "It opened the door for a lot of people and then people started to jump into it."
People including eventual NBA MVPs, league champions, No. 1 draft picks — players like Dirk Nowitzki, Pau Gasol and Tony Parker.
But Jordi Villacampa, president of the Spanish basketball club Joventut Badalona, cautions that just like American college kids, some international players bolt to the NBA too early.
"For me it is important that players, before going to the NBA, master the game and play very well and for several years growing in the European leagues, in our case, in the ACB," said Villacampa, who played for Spain at the Barcelona Games and is the Spanish league's No. 2 scorer. "Perhaps the timing (of some players) hasn't been the best to get the most out of their talent."
Still, more than 90 international players began last season on NBA rosters
INTERNATONAL INFLUENCE
As beautiful as the Dream Team made the game look, basketball in the NBA was getting pretty ugly.
The Detroit Pistons of Chuck Daly, who coached the Dream Team, were known as the "Bad Boys," a rough unit that played hard and fouled harder in winning consecutive NBA titles. Pat Riley's Knicks of the early and mid-1990s would play the same way, and offensive creativity had given way to post-ups and isolation play.
Enter the international influence.
Rather than pound the ball inside, they spread the floor and put good-shooting big men on the perimeter.
"Now we've gone more that way, because there aren't that many good big post players to start out with," said Rod Thorn, NBA president of operations. "We didn't have what is called a stretch 4 until we started getting all these kids from Europe. The Nowitzkis of the world in particular, guys who could shoot the ball out on the court and were big, and now everybody looks for a stretch 4."
Nowhere is the change more evident than with the Spurs.
Their first title in 1999 was won the old way, throwing it into David Robinson and Tim Duncan, and it wasn't much fun to watch. But the basketball they played to win the title in June didn't look like that.
This year's collection of Spurs looked like, well, the Dream Team — but with a roster comprised of nine players born outside the U.S.
GLOBAL MARKETING
The NBA was the first U.S. pro league to play regular-season games outside North America when Phoenix and Utah met in Japan in 1990. But it wasn't until after the Dream Team that interest there really took off.
"The finals in '93 between Phoenix and the Bulls, I think we probably had like 20 (Japanese) media, but '92 there were only me and the cameraman between the Bulls and Blazers," journalist Yoko Miyaji said.
The NBA took notice.
Building in Asia became a priority, particularly in China, where an NBA China division was launched and where the league estimated there were 300 million people playing basketball at the time of the 2008 Olympics. Shanghai and Beijing, with state of the art arenas that would make many U.S. cities envious, have become regular stops on the preseason schedule, and the Philippines joined them last year with its own sparkling facility.
Eric Doust, vice president of global marketing at SQ1 Agency, believes the NBA has done as well as any league growing internationally, in part because of its diverse rosters.
"They've got so many international players now, and you can see that from Spain in the FIBA World Cup," Doust said. "So that's where I think they gain a lot of leverage as well versus other leagues. ... That's where their growth is going to come from as well."
Doust said there were 16 billion page views and more than 9 billion video views on NBA.com China over a three-year period.
Now it's on to India and Africa, where the league will stage an exhibition game next summer.
LeBron James' first game against Miami will come in none other than Brazil, hosting another preseason game as the league ramps up its marketing efforts before the 2016 Olympics.
Barcelona showed just how big NBA players were — Thorn and Krzyzewski say players on the Dream Team "were like the Beatles" — and now the sport is bigger than ever.
"I would say today maybe there are a couple of soccer players that might be as popular as LeBron James around the world, maybe," Thorn said, "but he's right in there with anybody."
Along with the NBA.
Based on reporting by the Associated Press.
Follow us on twitter.com/foxnewslatino
Like us at facebook.com/foxnewslatino