TBT: That time the Raiders and Chargers botched a play so badly it became a rule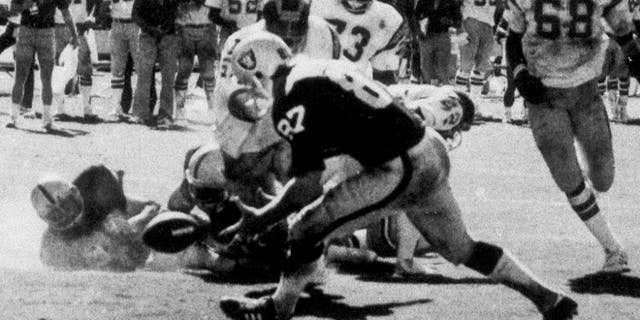 You've all heard of the rule.
It goes a little something like this: "If a player fumbles in the last two minutes of a half, or on fourth down at any time during the game, only the fumbling player can recover and advance the ball."
Sure, you remember now, but it took an epic disaster of a play to get that rule instituted. The play that gave birth to the rule even has one of the best nicknames in sports: The Holy Roller.
And since the Raiders and Chargers renew their rivalry this Sunday, here's how it all went down.
On Sept. 10, 1978, with the Raiders trailing 20-14 at their own 14-yard line, quarterback Kenny Stabler dropped back with :10 remaining.
Stabler, now at the 24 and about to be hit by Chargers linebacker Woodrow Lowe, fumbled the ball forward. Raiders running back Pete Banaszak attempted to recover the ball near the 12-yard line, but ended up knocking it forward into the end zone.
In comes Raiders tight end Dave Casper to fall on the ball, in the end zone no less. The play was ruled a touchdown because referees could not determine if Raiders players intentionally batted the ball forward. Here's the picture of Casper coming up with the ball.
After the extra point the Raiders won, 21-20, and in the offseason, the rule on fumbles was changed.
While the play is regarded as one of the most iconic plays in NFL history, referee Jerry Markbreit, who was an official for 43 years and a referee for 23, doesn't reflect on The Holy Roller as fondly.
"Every once in a while I see the play on television and I cringe," he said.
Given that the NFL is having some issues legislating plays these days, it's fitting that the Raiders and Chargers lock horns on Sunday.
For a look back on the play and some of its key players, here's a video review.