TBT: Browns haven't been to playoffs since 2002, when Steelers broke their hearts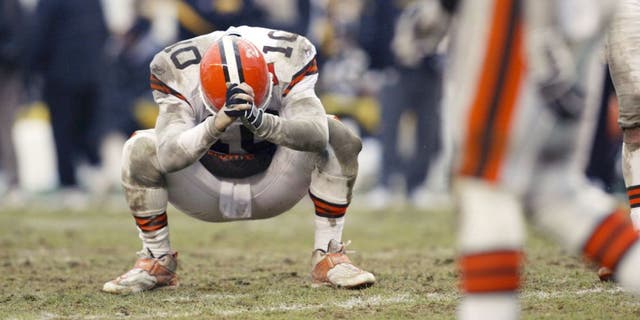 NEWYou can now listen to Fox News articles!
The Steelers and Browns meet this Sunday with playoff hopes for Pittsburgh on the line, but despite the fierce rivalry between these two, they have only met in the postseason twice.
The first time was in 1994, a blowout win by Pittsburgh. But the second time came in the 2002-03 Wild-Card playoffs, and that wasn't nearly as easy to swallow for the reborn Browns.
On Jan. 5, 2003, just four short years after their return to the NFL, the Browns were cruising against their division rivals. They were up 24-7 in the third quarter with none other than Kelly Holcomb at the helm.
The Steelers began mounting a rally but the Browns still led 33-21 with 10:17 left. Even after they gave up a touchdown pass to Hines Ward from Tommy Maddox to cut the score to 33-28 with 3:08 left, all the Browns needed to do was run out the clock.
The Browns needed only a first down or two to run it out.
"I don't think anybody in the building thought we weren't going to win,'' Holcomb said. "I think everybody thought we were going to go on.''
But wide receiver Dennis Northcutt, who had made big play after big play with two scoring catches and a long punt return, couldn't hold onto a throw from Holcomb on third-and-12 and the Browns punted.
"I just dropped it, plain and simple,'' Northcutt said.
Chris Fuamatu-Ma'afala's 3-yard touchdown run with 54 seconds capped the comeback and the 36-33 win.
Steelers quarterback Tommy Maddox, the NFL's Comeback Player of the Year, led three touchdown drives in the final 19 minutes as the Steelers rallied from a 17-point deficit. The Steelers scored 22 fourth-quarter points.
"I can't believe this. I just can't believe this happened to us,'' Browns wide receiver Earl Little said after the game.
The Browns, who trail the all-time series to the Steelers, 69-58, haven't sniffed the playoffs since.
But a win on Sunday behind the Johnny Manziel-led Browns could exact some revenge on the current version of the Steelers, who need a win and some help to make the postseason this year.
James Parziale is an NFL editor at FOXSports.com. You can tell him how much you love him or hate him on Twitter.